Elive Beta With Enlightenment Is Brilliant, but Don't Get Lost in the Maze
Submitted by Rianne Schestowitz on Friday 6th of March 2020 05:44:23 PM
Filed under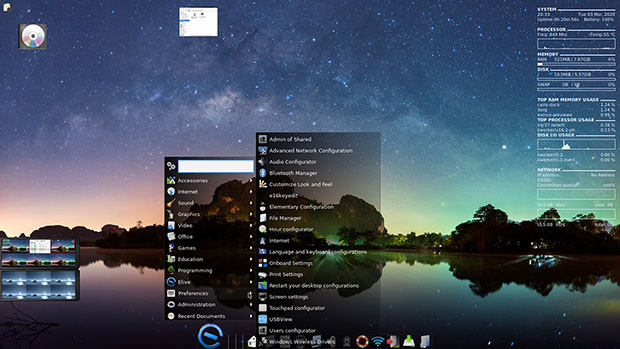 If you take the time to fiddle with Elive's design controls, you can finesse its desktop appearance and functionality like a painter creating a scene on a canvas. Do not get too involved with configuring all of the settings, though, or you will find yourself in a timeless void.
The default settings work fine. Take your time to get used to the default settings. Then investigate all that you can do to modify the appearance and functionality as you become more "enlightened."
If you have lots of time to devote to learning something new within something old, check out Enlightenment -- but do it through a distro built around it. Do not try to do your own Enlightenment integration by manually adding Enlightenment packages to your current Linux distro.
Baggen includes several self-help displays and clear documentation to teach you the basics, along with some advanced tips.
»
Printer-friendly version

1937 reads

PDF version
More in Tux Machines
Android Leftovers

Stable Kernels: 5.5.15, 5.4.30, 4.19.114, 4.14.175, 4.9.218, and 4.4.218

I'm announcing the release of the 5.5.15 kernel. All users of the 5.5 kernel series must upgrade. The updated 5.5.y git tree can be found at: git://git.kernel.org/pub/scm/linux/kernel/git/stable/linux-stable.git linux-5.5.y and can be browsed at the normal kernel.org git web browser: https://git.kernel.org/?p=linux/kernel/git/stable/linux-s...

Android Leftovers

System76 Thelio Major Proves To Be A Major Player For Linux Workstations

For the past two months we have been testing the System76 Thelio Major and it's been working out extremely well with performance and reliability. The Thelio Major offering with options for Intel Core X-Series or AMD Ryzen Threadripper and resides between their standard Thelio desktop with Ryzen/Core CPUs and the Thelio Massive that sports dual Intel Xeon CPUs. The Thelio Major is the platform we have been using for all of our AMD Ryzen Threadripper 3990X testing and it's been working out great. The Thelio Major besides having Threadripper and Core X-Series CPU options can be configured with up to 256GB of RAM, up to two GPUs, and up to 46TB of storage for really yielding incredibly powerful Linux workstation performance potential.