Kanguru Defender Bio-Elite30 fingerprint-encrypted USB flash drive — great for storage, perfect for Tails Linux [Review]
Submitted by Rianne Schestowitz on Monday 9th of March 2020 01:05:00 AM
Filed under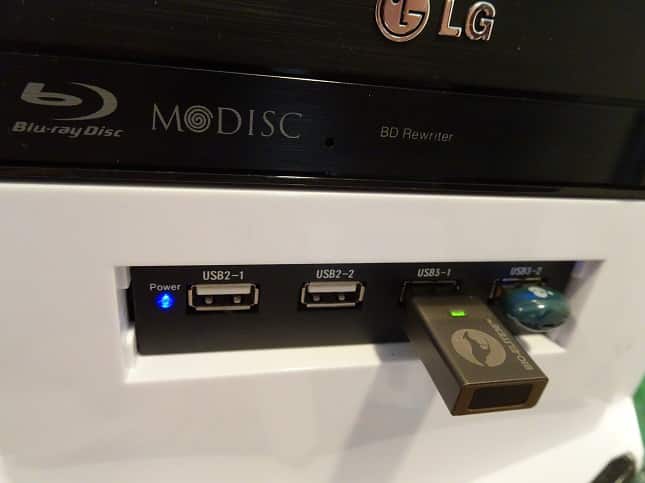 As I expected, this went wonderfully. I again decrypted the drive, but this time, I wrote the Tails image file to the Bio-Elite30. I then plugged it into a computer and didn't touch my finger to the reader. Guess what? The drive was not bootable. Next, I rebooted the computer and decrypted it immediately with my finger. This time, Tails was recognized and booted right up! It is almost like the Bio-Elite30 was designed for Tails -- it is a match made in heaven.
Do I recommend the Kanguru Defender Bio-Elite30 fingerprint encrypted flash drive? Absolutely. True, it is disappointing that the initial set up cannot be done on Linux, but as long as you can temporarily borrow someone's Windows PC or Mac, that shouldn't be a deal-breaker. The Tails aspect is wonderful, making an already privacy-focused operating system even more secure. I do wish that the drive was a bit faster though.
If you want to buy your own, it can be had using the below links in your choice of three capacities -- 16GB, 32GB, and 64GB. We used the 16GB variant in this review.
»
Printer-friendly version

1525 reads

PDF version
More in Tux Machines
Red Hat Fluff and News

Audio and Video: GNU World Order, Test and Code, More

Linux Lite 5.0 Final Released

Linux Lite 5.0 Final Codename Emerald is now available for download and installation. This is the most feature rich, complete Linux Lite release to date. This is the release many people have been waiting for. See below for details. Also new: Whonix VirtualBox 15.0.1.3.4 - Point Release!

Open Data and GIS

Scale AI says COVID-19 has shown the value of autonomous vehicles for no-contact delivery. They're making real-world road data available to train machine learning models to this end. Last week, Scale AI released PandaSet to the open-source community. According to Scale AI, PandaSet is the world's first publicly-available machine learning dataset to include images from forward-facing solid-state LiDARs and mechanical spinning LiDARs. These two LiDAR technologies from Hesai will allow ML development teams to reap complex, real-world road data.

Nicolai Reith, Head of the Control and Communication department and advisor to the Mayor of Herrenberg, told Cities Today: "You don't have to make a decision and then see [what happens]; you can see before you make the decision what the effect will be via the digital twin. This makes it easier to make the right decision for our city council, politicians, and citizens."Herrenberg is already using the digital twin, which incorporates super-computing and technologies typically deployed in advanced aerospace, to visualize city data and citizens' emotional responses to inform better decision-making. There are now plans to develop the emerging area of virtual tourism for the town, which has a population of around 31,000. "We have a very beautiful city center so tourists can explore it in a digital way with VR glasses before they come to Herrenberg, which is an interesting benefit for the future," Reith said. [...] The team then added in geographic information system (GIS) data and traffic control systems data to incorporate topography, road geometry , and detailed traffic flows. Using the open-source fluid dynamics code OpenFOAM — which is typically used for modeling fuel injector sprays or airplane aerodynamics —they also created realistic models of the movement of wind and emissions through the city.