Kanguru Defender Bio-Elite30 fingerprint-encrypted USB flash drive — great for storage, perfect for Tails Linux [Review]
Submitted by Rianne Schestowitz on Monday 9th of March 2020 01:05:00 AM
Filed under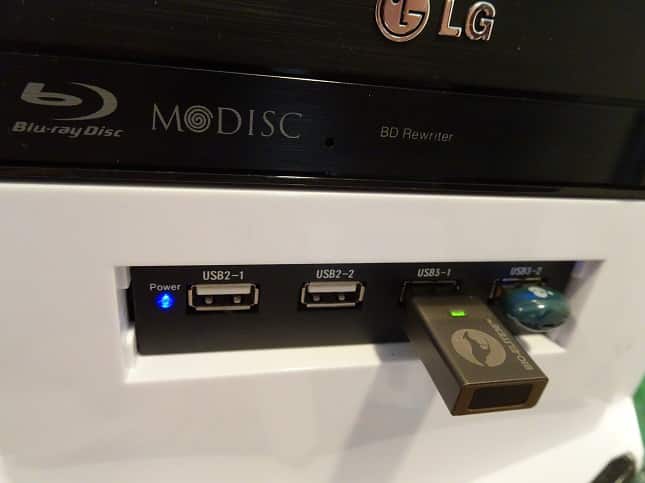 As I expected, this went wonderfully. I again decrypted the drive, but this time, I wrote the Tails image file to the Bio-Elite30. I then plugged it into a computer and didn't touch my finger to the reader. Guess what? The drive was not bootable. Next, I rebooted the computer and decrypted it immediately with my finger. This time, Tails was recognized and booted right up! It is almost like the Bio-Elite30 was designed for Tails -- it is a match made in heaven.
Do I recommend the Kanguru Defender Bio-Elite30 fingerprint encrypted flash drive? Absolutely. True, it is disappointing that the initial set up cannot be done on Linux, but as long as you can temporarily borrow someone's Windows PC or Mac, that shouldn't be a deal-breaker. The Tails aspect is wonderful, making an already privacy-focused operating system even more secure. I do wish that the drive was a bit faster though.
If you want to buy your own, it can be had using the below links in your choice of three capacities -- 16GB, 32GB, and 64GB. We used the 16GB variant in this review.
»
Printer-friendly version

1700 reads

PDF version
More in Tux Machines
Plasma Browser Integration 1.8

I'm pleased to announce the immediate availability of Plasma Browser Integration version 1.8 on the Chrome Web Store as well as Firefox Add-Ons page. This release was originally intended to be just a bugfix update, but instead comes with new features, the usual slew of bug fixes and translation updates, but more importantly: it's now available on the Microsoft Edge store (needs Plasma 5.21)!

RHEL no-cost* vs openSUSE Leap

Ever since Red Hat announced that they are changing the development model of CentOS and making it an upstream project rather than downstream, it left many CentOS users frowning. No matter what argument brought forward, CentOS users, especially running production machines, relied on the stability of an enterprise-grade Linux distribution. Compiled from RHEL sources, CentOS offered such stability that it powered many web servers and enjoyed a massive 20% share of the top 500 supercomputers of the world.

10 of the Best Linux Debuggers for Software Engineers

Debuggers are essential for locating bugs in programs. There is a plethora of robust Linux debuggers that make it easy to find weak points in your applications. We will outline some of these applications in this guide. Try some of these tools to get a feel of how debugging works in Linux.

Snapcraft GNOME Extension Update

Snaps are confined software packages for Linux. They were originally designed / intended for IoT use cases so are optimised for size, bundling dependencies, are compressed on disk and auto update. They can also be used to package server software, like NextCloud, and desktop software like Signal Desktop. There's millions of desktops, routers, servers and other interesting devices with snaps installed. There's a bunch of common components that snap publishers started bundling in their snaps which bloated them out a bit. Snaps have had (for some time) a concept of "shared content" such that one snap may consume assets from another snap. The reason we use the hand-wavy term "assets" and "content" is because while it could be binary programs and libraries which are shared between snaps, it's not just limited to that. A theme or bundle of themes can be shared too.