So what happened to PC-BSD?
Submitted by Rianne Schestowitz on Monday 9th of March 2020 05:39:17 AM
Filed under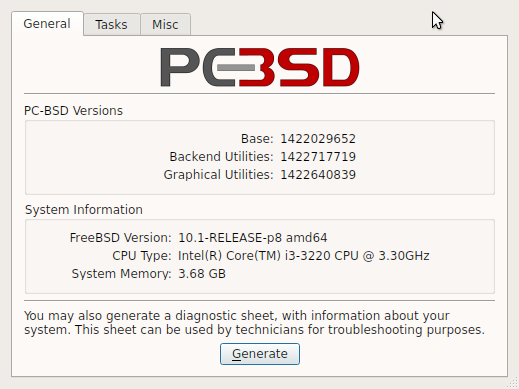 Remember PC-BSD? As a desktop, FreeBSD-based operating system, It's effectively dead.
Here's a summary of what happened.
For a long time, PC-BSD was the lone, usable, for most users, BSD distribution targeted at desktop users, with KDE as the desktop environment of choice. And it remained that way until 2017 when the developers started their own desktop environment called Lumina. The first iterations were terrible. At some point there was a server-oriented implementation called TrueOS. By 2018, the direction of the project had changed, with the merging of both projects under the TrueOS brand. By the end of that year, the desktop end of the project under the TrueOS name was effectively dead, and by early 2019, the first edition of the project under the Project Trident name was released, still with Lumina as the desktop environment.
»
Printer-friendly version

1342 reads

PDF version
More in Tux Machines
Android Leftovers

Stable Kernels: 5.5.15, 5.4.30, 4.19.114, 4.14.175, 4.9.218, and 4.4.218

I'm announcing the release of the 5.5.15 kernel. All users of the 5.5 kernel series must upgrade. The updated 5.5.y git tree can be found at: git://git.kernel.org/pub/scm/linux/kernel/git/stable/linux-stable.git linux-5.5.y and can be browsed at the normal kernel.org git web browser: https://git.kernel.org/?p=linux/kernel/git/stable/linux-s...

Android Leftovers

System76 Thelio Major Proves To Be A Major Player For Linux Workstations

For the past two months we have been testing the System76 Thelio Major and it's been working out extremely well with performance and reliability. The Thelio Major offering with options for Intel Core X-Series or AMD Ryzen Threadripper and resides between their standard Thelio desktop with Ryzen/Core CPUs and the Thelio Massive that sports dual Intel Xeon CPUs. The Thelio Major is the platform we have been using for all of our AMD Ryzen Threadripper 3990X testing and it's been working out great. The Thelio Major besides having Threadripper and Core X-Series CPU options can be configured with up to 256GB of RAM, up to two GPUs, and up to 46TB of storage for really yielding incredibly powerful Linux workstation performance potential.