Meet the Chinese operating system that's trying to shift the country off Windows
Submitted by Rianne Schestowitz on Wednesday 18th of March 2020 04:13:26 AM
Filed under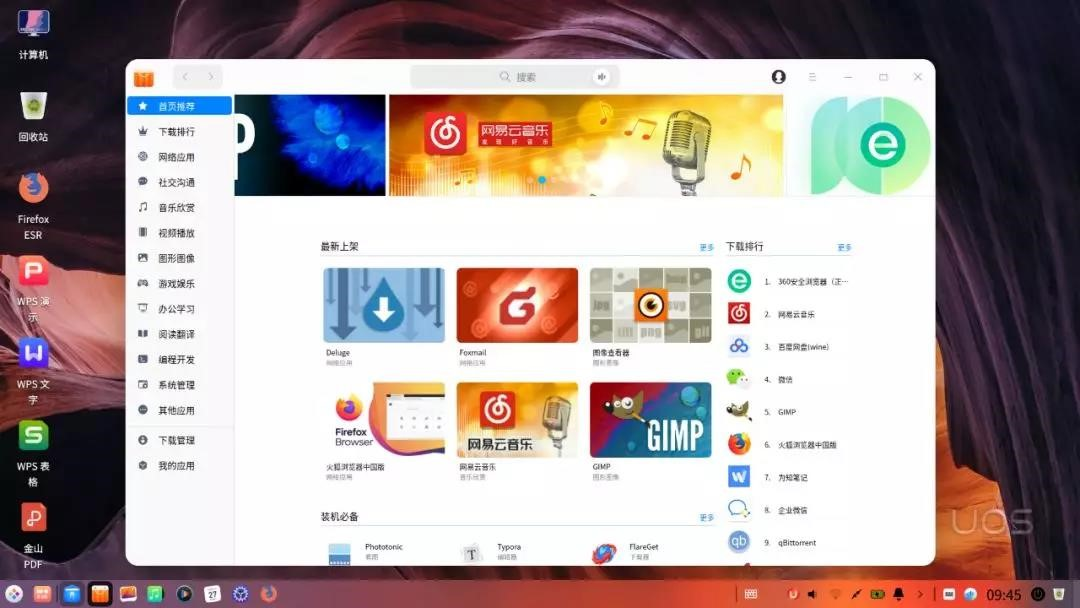 China's homegrown operating systems haven't made much of a dent on the global stage. Now there's a Linux-based system that's aimed at weaning the country off Windows.
UOS, or Unified Operating System, hit a new milestone after its first stable release in January: Union Tech's OS can now boot in 30 seconds on China-made chips.
[...]
The "current international climate" has made it imperative for China to have its own foundational software to avoid being cut off by the US, said the general manager of Union Tech, Liu Wenhan. While Chinese operating systems currently account for less than 1% of the market, Liu said he expects them to grow to 20% to 30% in the future.
Integrating homegrown Chinese chips could be the biggest accomplishment of UOS if it pans out. Although Chinese computer chips still don't approach the sophistication of those created by US-based companies, Union Tech said that it is actively working with Chinese chipmakers like Loongson and Sunway to facilitate the gradual replacement of American technology in the Chinese government and pillar industries. In December, Beijing ordered all government offices and public institutions to remove foreign computer equipment and software within three years, according to the Financial Times.
UOS is based on the Deepin operating system, China's most successful Linux distribution. Union Tech actually started as a joint venture between state-run corporations and Wuhan Deepin Technology. It eventually acquired Deepin, and Deepin founder Liu Wenhan became Union Tech's general manager.
Liu has experience with building operating systems. Since launching in 2011, the OS has amassed an active community of users.
Deepin appeals to many Linux enthusiasts because of a user interface that copies liberally from other operating systems. It has a dock, launchpad and file browser that are similar to those in macOS. It also has Android-style notifications and control panels. And it includes a Windows-style start button.
»
Printer-friendly version

1755 reads

PDF version
More in Tux Machines
Staying "safe" while you stream: DBD's tips on living DRM-free during quarantine

As most of us are cooped up in our homes due to the ongoing COVID-19 pandemic, it's somewhat natural that we turn to online movies, music, and other media to help pass the time. For most people, this involves turning to Internet streaming for convenient, "all-in-one" services that promise an endless array of recommendations to while away the hours. "Binging" is all well and good every once in a while, but we should remain careful that the ways we're getting our media don't come with compromises to our freedom. As we've mentioned before, Netflix and other giant media providers are responsible for keeping the practice of DRM (Digital Restrictions Management) alive, and it's important not to provide them with the subscription fees they need to keep going. It's also important, even under less dire circumstances, to support businesses and Web sites that provide DRM-free media, and to promote them to our friends. So to help provide you with a plethora of DRM-free and often gratis places to stream from while keeping your rights, here's a few choice selections from our Guide to DRM-free Living. When it comes to finding good videos to watch during times of crisis, we'd be remiss if we didn't mention the Internet Archive. This section of the digital library contains bona-fide cinematic masterpieces like Nosferatu, as well as "classics" of a different sort like Plan 9 from Outer Space. Many of these works have been voluntarily uploaded to the Archive by their creators, or, like Night of the Living Dead, have fallen into the public domain due to some of the vagaries and finer points in United States copyright law.

Signage SBC showcases hexa-core S922X

Shenzhen Tomato's "XYT-6689" SBC runs Android 9.0 on a 2GHz hexa-core -A73 and -A53 Amlogic S922X with up to 4GB RAM and 64GB eMMC. Display interfaces including HDMI 2.1, LVDS, eDP, and V-by-One. Shenzhen Tomato has posted a product page for a signage-oriented XYT-6689 (Amlogic S922X Digital Signage) SBC that runs Android 9.0 on Amlogic's S922X. The only other S922X-based SBC we've seen is Hardkernel's community-backed Odroid-N2, which supports it with Ubuntu 18.04 in addition to Android 9. The unpriced XYT-6689 is designed for digital signage, intelligent display terminal equipment, industrial automation terminals, and gaming and AI computers.

today's howtos

Software: PeaZip, GIMP, Chrome, YADM and Homeshick