NXP LX2160A based NSA 6310 uCPE Runs Ubuntu, Supports up to 25Gbps Ethernet
Submitted by Roy Schestowitz on Tuesday 24th of March 2020 05:48:51 AM
Filed under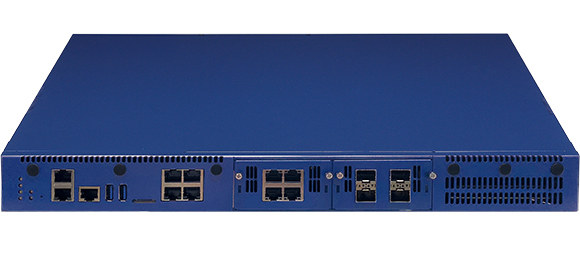 NXP QorIQ LayerScape LX2160A networking processor with 16 Cortex-A72 cores, 16 Ethernet interfaces with support for up to 100GbE connectivity, 4 SATA III, and 24 SerDes lanes, was first announced in 2018, and at the time the company expected the processor to be found in enterprise storage controllers, appliances handling network function virtualization (NFV), white-box switching (e.g. control plane for L2 switches in TOR and EOR applications), and 5G packet processing.
So far, we've reported about one appliance using the processor, namely SolidRun Janux GS31 Edge AI Server that combines the NXP networking processor with up to 128 AI accelerators for inference at the edge. The just-announced Nexcom NSA 6310 uCPE (Universal Consumer Premise Equipment) serves several purposes aiming to help telecom companies build virtualization environments, and with the ability to connect FPGA and AI/ML accelerators via PCIe interface can also support AI edge processing.
»
Printer-friendly version

1238 reads

PDF version
More in Tux Machines
Android Leftovers

today's howtos

Foundations: prpl Foundation, Cloud Foundry and ASF

Adaptive Spectrum and Signal Alignment, Inc. (ASSIA®) the market-leading supplier of AI-driven broadband and Wi-Fi optimization software, announced its official involvement in the prpl Foundation, an open-source, community-driven, not-for-profit consortium with a focus on enabling the security and interoperability of embedded devices for the smart society of the future. ASSIA makes it possible for service providers' Wi-Fi management solutions to work with any Wi-Fi router and middleware solution and interoperate, scale, and evolve with technology and standards.

Cloud Foundry, an open-source foundation dedicated to a cloud-oriented application platform, is now incubating the KubeCF project, and has also welcomed Google upgrading its membership to platinum – the highest level. Google has been a member of Cloud Foundry since January 2017, but platinum membership represents a higher level of commitment. Google's Jennifer Phillips, head of Open Source Programs, is to be on the foundation's board of directors. The other platinum members are Dell EMC, IBM, SAP, SUSE and VMware.

The Apache Software Foundation (ASF), the all-volunteer developers, stewards, and incubators of more than 350 Open Source projects and initiatives, announced today its 21st Anniversary.

LibreOffice 6.4.3 Release Candidate Version 1 Released Today!

LibreOffice 6.4.3 RC1 Released: LibreOffice is one of the best open-source text editors. LibreOffice comes as default application release of Linux OS. LibreOffice is developed by Team Document Foundation. Today they announced that the LibreOffice 6.4.3 RC1 version has been released. As per their calendar, LibreOffice 6.4.3 RC1 has been released exactly on today!. This RC1 version has many bugs fixes and tweaks in essential features.