Why Components Of Login Screen In Ubuntu 20.04 Looks So Misaligned?
Submitted by Rianne Schestowitz on Tuesday 24th of March 2020 03:26:56 PM
Filed under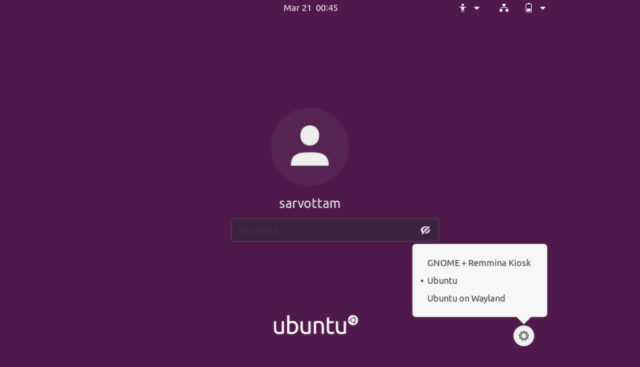 On March 19, 2020, Ubuntu developers stabilized the user interface development of the upcoming Ubuntu 20.04 LTS. It indicates the beginning of the documentation process and end of user interface updates. However, changes can still be made by taking approval of the release team.
The next day, when I tried the daily builds of v20.04, I found something very odd with the login screen. Of course, I noticed other updates as well like a beep sound at the start of installation. It is okay for me, but, more than that, I've got a concern about the alignment of the input box at the login window.
»
Printer-friendly version

1356 reads

PDF version
More in Tux Machines
Android Leftovers

today's howtos

Foundations: prpl Foundation, Cloud Foundry and ASF

Adaptive Spectrum and Signal Alignment, Inc. (ASSIA®) the market-leading supplier of AI-driven broadband and Wi-Fi optimization software, announced its official involvement in the prpl Foundation, an open-source, community-driven, not-for-profit consortium with a focus on enabling the security and interoperability of embedded devices for the smart society of the future. ASSIA makes it possible for service providers' Wi-Fi management solutions to work with any Wi-Fi router and middleware solution and interoperate, scale, and evolve with technology and standards.

Cloud Foundry, an open-source foundation dedicated to a cloud-oriented application platform, is now incubating the KubeCF project, and has also welcomed Google upgrading its membership to platinum – the highest level. Google has been a member of Cloud Foundry since January 2017, but platinum membership represents a higher level of commitment. Google's Jennifer Phillips, head of Open Source Programs, is to be on the foundation's board of directors. The other platinum members are Dell EMC, IBM, SAP, SUSE and VMware.

The Apache Software Foundation (ASF), the all-volunteer developers, stewards, and incubators of more than 350 Open Source projects and initiatives, announced today its 21st Anniversary.

LibreOffice 6.4.3 Release Candidate Version 1 Released Today!

LibreOffice 6.4.3 RC1 Released: LibreOffice is one of the best open-source text editors. LibreOffice comes as default application release of Linux OS. LibreOffice is developed by Team Document Foundation. Today they announced that the LibreOffice 6.4.3 RC1 version has been released. As per their calendar, LibreOffice 6.4.3 RC1 has been released exactly on today!. This RC1 version has many bugs fixes and tweaks in essential features.