Plasma Bigscreen
Submitted by Roy Schestowitz on Wednesday 25th of March 2020 04:17:32 PM
Filed under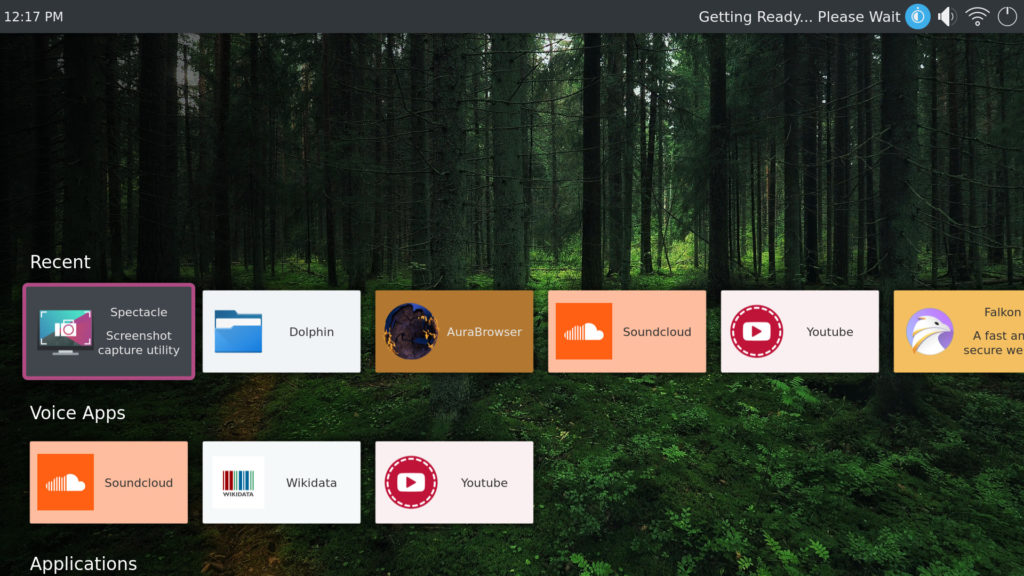 In this blog post I would like take you through an introduction to Mycroft GUI Skills and Voice Applications technology on Plasma Bigscreen and showcase some of the interesting stuff I have been working on for the Plasma Bigscreen Project which are available on the beta image release for the Raspberry PI 4. This beta image show cases not only media-rich voice applications but also applications specialised to fit the Bigscreen experience all developed under an open process, more information on them in the sections below.

Plasma Bigscreen is the free open-source user interface experience for those big TV Screens, It consist of KDE Plasma technology powering the User Interface with Mycroft AI's voice assistance technology packaged together on the image to provide a Smart TV platform and is based on KDE Neon.

The experience when sitting 10 feet away from your TV just isn't complete without having the ease of access to control it and that's exactly the space in which Mycroft AI the open-source voice assistant experience fits right in to provide you with that hands free easy interaction.

Today I want to introduce a project I have been working on together (mostly in the background) with some colleagues of mine… Now with beta status reached, it's time to more publicly talk about it: enter Plasma Bigscreen.

Smart TVs are becoming more and more complete computers, but unfortunately there the experience tends to be a tight walled garden between proprietary platform, services and privacy-infringing features. Features which are very cool, like voice control, but in order to not pose a threat to the user privacy should be on a free software stack and depending less on proprietary cloud platforms where possible.

Plasma BigScreen is a platform intended to use on smart TVs (trough a powerful enough small computing platform, such as the Raspberry Pi4, or any tiny computer if you need more power) with big remote-friendly UI controls, and Voice activation. What technology did we use for it? Plasma (of course!) and Mycroft.
»
Printer-friendly version

5905 reads

PDF version
More in Tux Machines
Android Leftovers

GNOME 40 Desktop Environment Slated for Release on March 24th, 2021

Public testers will be able to get their hands on the GNOME 40 alpha release as soon as early January 2021, while the beta and RC releases are expected to hit the streets in mid-February and March respectively. The final release of the GNOME 40 desktop environment series is set for March 24th, 2021, just in time for the Ubuntu 21.04 (Hirsute Hippo) operating system, due for release on April 22nd, or Fedora 34, due for release on April 27th.

Freespire 7.0 Released with the Xfce Desktop, Based on Ubuntu 20.04 LTS

Arriving more than nine months after Freespire 6.0, the Freespire 7.0 release is based on the Ubuntu 20.04 LTS (Focal Fossa) operating system series with the long-term supported Linux 5.4 kernel and uses the latest Xfce 4.14 desktop environment by default. Freespire 7.0 is packed with many popular applications, including the latest Chromium 86 web browser, Mozilla Thunderbird 68.12 email client, Synaptic package manager, Abiword word processor, Gnumeric spreadsheet editor, Parole media player, Transmission torrent downloader, KolourPaint digital painting app, as well as the KPatience card sorting game and DreamChess chess game.

LibreOffice 7.0.3 Released With 90+ Bug Fixes and More Compatibility

The bleeding-edge version of LibreOffice 7.0.3 is released by The Document Foundation (TDF) and it is immediately available for download or update. This is the third point release in the LibreOffice 7.0 release which brings a huge set of changes to this free and open-source office suite.