Plasma Bigscreen
Submitted by Roy Schestowitz on Wednesday 25th of March 2020 04:17:32 PM
Filed under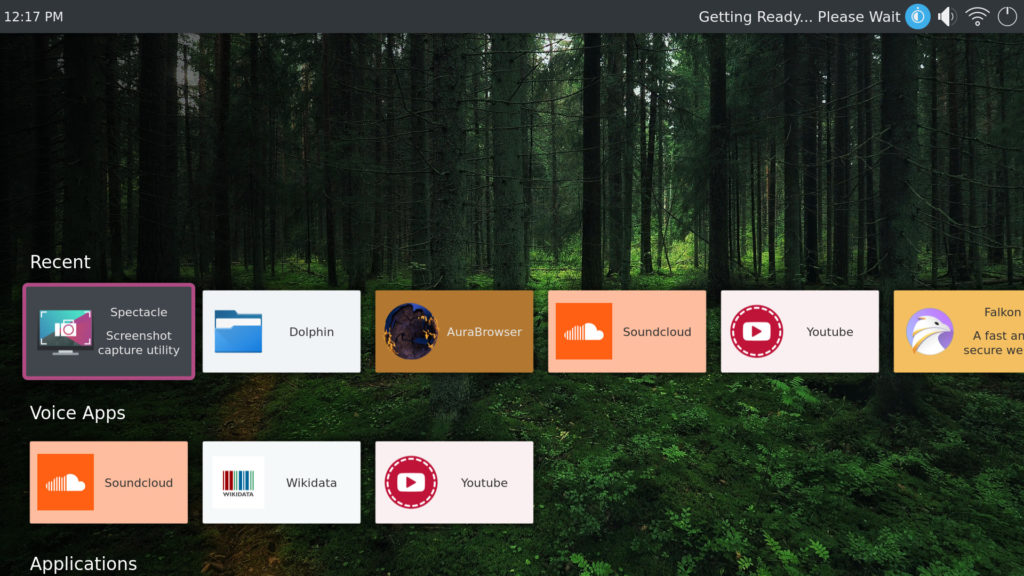 In this blog post I would like take you through an introduction to Mycroft GUI Skills and Voice Applications technology on Plasma Bigscreen and showcase some of the interesting stuff I have been working on for the Plasma Bigscreen Project which are available on the beta image release for the Raspberry PI 4. This beta image show cases not only media-rich voice applications but also applications specialised to fit the Bigscreen experience all developed under an open process, more information on them in the sections below.

Plasma Bigscreen is the free open-source user interface experience for those big TV Screens, It consist of KDE Plasma technology powering the User Interface with Mycroft AI's voice assistance technology packaged together on the image to provide a Smart TV platform and is based on KDE Neon.

The experience when sitting 10 feet away from your TV just isn't complete without having the ease of access to control it and that's exactly the space in which Mycroft AI the open-source voice assistant experience fits right in to provide you with that hands free easy interaction.

Today I want to introduce a project I have been working on together (mostly in the background) with some colleagues of mine… Now with beta status reached, it's time to more publicly talk about it: enter Plasma Bigscreen.

Smart TVs are becoming more and more complete computers, but unfortunately there the experience tends to be a tight walled garden between proprietary platform, services and privacy-infringing features. Features which are very cool, like voice control, but in order to not pose a threat to the user privacy should be on a free software stack and depending less on proprietary cloud platforms where possible.

Plasma BigScreen is a platform intended to use on smart TVs (trough a powerful enough small computing platform, such as the Raspberry Pi4, or any tiny computer if you need more power) with big remote-friendly UI controls, and Voice activation. What technology did we use for it? Plasma (of course!) and Mycroft.
»
Printer-friendly version

3551 reads

PDF version
More in Tux Machines
LibreOffice 6.4.3 Release Candidate Version 1 Released Today!

LibreOffice 6.4.3 RC1 Released: LibreOffice is one of the best open-source text editors. LibreOffice comes as default application release of Linux OS. LibreOffice is developed by Team Document Foundation. Today they announced that the LibreOffice 6.4.3 RC1 version has been released. As per their calendar, LibreOffice 6.4.3 RC1 has been released exactly on today!. This RC1 version has many bugs fixes and tweaks in essential features.

Unifont 13.0.01 Released

Unifont 13.0.01 is now available. This is a major release. Significant changes in this version include the addition of these new scripts in Unicode 13.0.0: U+10E80..U+10EBF: Yezidi, by Johnnie Weaver U+10FB0..U+10FDF: Chorasmian, by Johnnie Weaver U+11900..U+1195F: Dives Akuru, by David Corbett U+18B00..U+18CFF: Khitan Small Script, by Johnnie Weaver U+1FB00..U+1FBFF: Symbols for Legacy Computing, by Rebecca Bettencourt

Programming: micro.sth, RProtoBuf, Perl and Python

today's howtos

Kripton is a dark, flat-style GTK theme for Gnome-like desktop environments, with a heavy focus on colors that are easy on the eyes. Suffice it to say if you like dark themes, Kripton is for you. Follow along below to learn to install the Kripton GTK theme on Linux!

A while ago, we posted some good alternatives to Linux man pages. Those tools skips all theoretical part and gives concise Linux command examples.

Django is an Open-Source application framework written in Python. A framework is a collection of modules to make development easier. It encourages rapid development and clean, pragmatic design.