KDE's May 2020 Apps Update
Submitted by Roy Schestowitz on Friday 15th of May 2020 04:00:42 PM
Filed under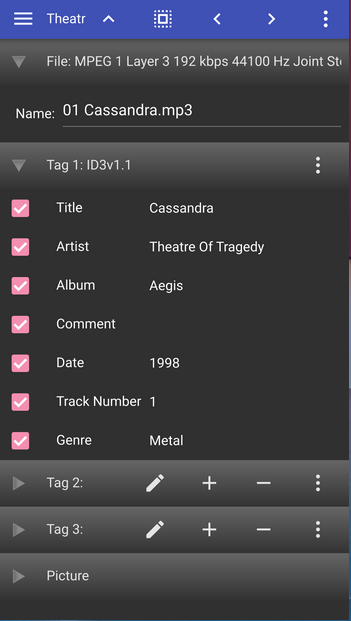 Kid3 is a handy but powerful music tagging program which lets you edit the ID3 tags and similar formats on MP3 and other music files.
This month is has moved to be hosted by KDE and has made its first release as a KDE app. The release note says:
"Besides bug fixes, this release provides usability improvements, additional keyboard shortcuts and user action scripts. Special thanks go to various people at KDE, who translated the user interface and the handbook to new languages."
Kid3 is available in for Linux, Windows, Mac and Android. You can download from the website or through your distro and the stores Chocolatey, Homebrew and F-droid.
»
Printer-friendly version

1649 reads

PDF version
More in Tux Machines
Vote for the Debian GNU/Linux 11 "Bullseye" Desktop Artwork Now

Opened to submissions since early August, the artwork proposals for Debian GNU/Linux 11 "Bullseye," the next major release of the popular Debian GNU/Linux operating system, has reached its deadline last week on October 15th, and now the community can vote for the winner. Jonathan Carter announced today that it's time for the Debian community to choose the desktop artwork to be used in Debian GNU/Linux 11 "Bullseye." The review period for the final proposals starts today, October 26th, until November 9th, and winners will be unveiled in mid-November.

Games: AntiMicroX in Linux, GOG, Life of Delta, 9 Monkeys of Shaolin, Gravity Ace

today's howtos

It's Official: Linux Kernel 5.10 Will Be an LTS Release

According to a recent tweet from renowned Linux kernel developer Greg Kroah-Hartman, the next LTS (Long Term Support) kernel release will be Linux 5.10, which recently entered development with a first Release Candidate (RC) milestone already available for public testing. This means that Linux kernel 5.10, which will probably see the light of day near the Christmas 2020 holidays, will receive updates for at least two years. But, as it happened with previous LTS kernel series, support could be extended to up to six years, probably until December 2026.