Linux distro review: Fedora Workstation 32
Submitted by Rianne Schestowitz on Tuesday 19th of May 2020 12:51:48 PM
Filed under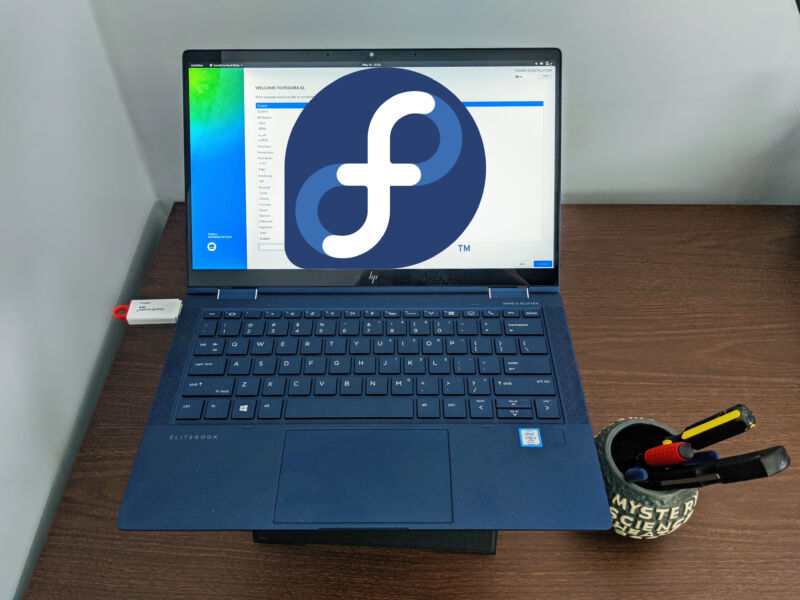 Fedora is a pretty different beast than what I'm used to from my Ubuntu daily drivers. It's a lot closer to the Gnome upstream than Ubuntu is... and while some people might like that, I discovered that I really don't.
The use of the Wayland display server instead of the much older Xorg didn't make much difference on the i7-powered HP Dragonfly Elite G1 I tested it on. Windows dragged smoothly and videos were tear-free—but they had been on an Xorg-powered distribution, too. I don't think Wayland is a big draw for me personally—at least not yet. I'm more than content to let it cook for however much longer it needs to before it succeeds in supplanting Xorg.
For the most part—and to my surprise—Fedora felt more sluggish than I'm used to. Reboots were significantly slower and Firefox application launches laggier than Ubuntu on the same hardware, and I believe on, eg, Clear Linux or GhostBSD either. There were exceptions to this rule, though—Gnome's Software Center was much snappier on Fedora than I'm used to in Ubuntu.
I'm unlikely to switch to Fedora any time soon—but if I did, it would probably be for Matthew Miller's promise of routine, painless six-month upgrades. I normally keep to Ubuntu's every-two-year LTS (Long Term Support) releases, because I don't like broken stuff. Then again, I encountered more broken stuff just in the course of a daily package upgrade here than I expected.
Fedora is probably best-suited to people who like to tinker and get really, really antsy if they don't have the absolute latest version of every software package. Both its repositories and its kernel tend to get updated considerably faster than Ubuntu's. For example, even though Ubuntu 20.04 is less than a month old, Fedora 32 already has a newer kernel—5.6.12, to Ubuntu's 5.4.0.
»
Printer-friendly version

1830 reads

PDF version
More in Tux Machines
Best Free Android Apps: OpenWeather – weather forecast tool

There's a strict eligibility criteria for inclusion in this series. See the Eligibility Criteria section below. OpenWeather is an app that offers a simple way to access the latest weather forecast from your Android device. All data is provided by One Call API. The software aggregates meteorological data from tens of thousands of weather stations, on-ground radars and satellites. Here's a selection of images showing the app in action.

Quark 20.04 review

Quark is a fairly new project and this is its first stable release. We don't usually review such young projects, but we were lured in by its polished Windows 10 desktop replica. In a nutshell, think of Quark as Q4OS working on top of Ubuntu LTS, or more accurately Kubuntu. The developers tell us that their objective with Quark is to bring Q4OS goodness to Ubuntu users. Because Q4OS is based on Debian, it didn't take the developers much effort to compile the Q4OS tools for Ubuntu.

Framework Laptop Brings Hardware Upgrade to a New Level

Think about this. What if, you buy a laptop today and can simply swap and upgrade hardware components when needed and use that device for decades. Sounds interesting, isn't it? Introducing Framework Laptop.

Top 10 Best Arch-based Linux Distros Available To Check Out

Finally, I've decided to make a list of the best Arch-based Linux distros I've used and tried so far. I was a full-time Debian user. And, because I am a distro hopper, you will find me moving to and from various Debian-based distros. In fact, most of the beginners in Linux tend to go for Debian. Because it's easy to use and there are tons of prebuilt packages. But when I came to know about Arch Linux for the first time, I fall in love with it. However, I will not suggest the vanilla Arch Linux to the newbie users. It's because Arch follows a rolling release model, and you can build your own OS image based on your favorite packages. This leads to some complications, which might be annoying for beginners. But apart from that, if you want complete flexibility and customizations with the latest packages, there's no alternative to Arch Linux. In fact, if you are a power user like me, you will even get a performance boost in Arch.