This DIY laptop costs as much as a MacBook Air — How is it selling so well?
Submitted by Roy Schestowitz on Thursday 21st of May 2020 04:13:03 PM
Filed under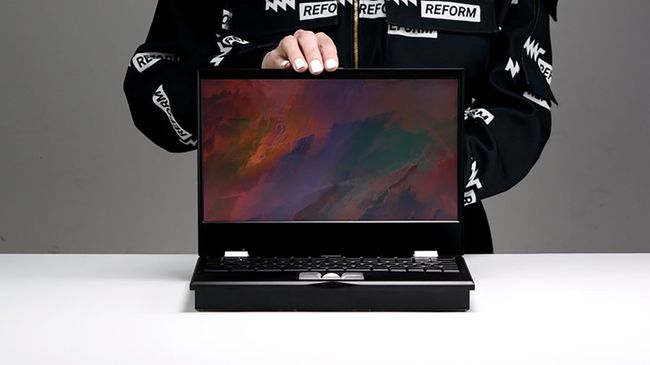 Storage can either be via an SSD in the M.2 socket or there is an SD slot as well. The company views the latter as a nice option for those with particularly sensitive data that could run a separate OS or leave their sensitive work on that SD card to be easily removed when traveling.
The MNT Reform features a full HD 12.5-inch IPS display and while it lacks any USB-C ports, it has an abundance of USB Type-A with three external USB 3.0 ports and 2 USB 2.0 ports inside. It also includes HDMI, a 3.5mm headphone jack, an SD card reader, gigabit ethernet, and a power input jack.
The keyboard is a point of pride for the MNT Reform team, this laptop isn't shooting for any thin and light awards which leaves plenty of room for the mechanical keyboard with Hailh Choc Brown switches and a dimmable backlight. It should make for a pretty untouchable laptop typing experience.
Related (Purism): Anti-interdiction Update: Six Month Retrospective
»
Printer-friendly version

4103 reads

PDF version
More in Tux Machines
Open Hardware: Raspberry Pi and Arduino

Red Hat's Disruption of CentOS Unleashes Storm of Dissent

Five weeks after angering much of the CentOS Linux developer community by unveiling controversial changes to the no-cost CentOS operating system, Red Hat has unveiled alternatives for affected users that give them several options for using existing Red Hat products. But for many users of CentOS Linux, the Red Hat options won't solve the huge problems that were created for them when Red Hat announced Dec. 8 that CentOS would no longer include a stable version with a long, steady future. Instead, CentOS will now only be offered as a free CentOS Stream operating system which will be a rolling release with frequent updates, essentially turning it into a beta OS that is no longer suitable for reliable production workloads. For users who have deployed CentOS throughout the internet, data centers, corporate and business uses and more, this is a potentially major blow. Also: Fedora program update: 2021-03

The Demise of Chromium as Free Software

Jochen Eisinger from Google team mentioned in a discussion thread that they will be banning sync support system of Chromium. This lead to lot of frustration in the Linux Dev community & rage against googles sudden decision. This Decision can kill small browser projects & lead the web to single browser monopoly i.e. Google Chrome! As a result of the googles decision multiple distros are strictly considering removal of Chromium from their official repositories. Leading distros like Arch Linux, Fedora, Debian, Slackware & OpenSUSE have stated that if the sync support goes down from google they will definitely remove chromium from their official repositories.

I uploaded a set of chromium packages to my repository today. Chromium 88.0.4324.96 sources were released two days ago. The release notes on the Google Chrome Releases Blog mention 36 security fixes with at least one being tagged as "critical" but the article does not mention that Flash support has been entirely removed from Chromium now. Adobe's Flash was already actively being blocked for a long time and you had to consciously enable Flash content on web pages, but after Adobe discontinued Flash on 1st of January 2021 it was only a matter of time before support in web browsers would be removed as well. Let's also briefly revisit the topic of my previous post – Google will remove access to Chrome Sync for all community builds of the open source variant of their Chrome browser: Chromium… thereby crippling it as far as I am concerned.

Now that Chrome 88 released, attention is turning to Chrome 89 of which an interesting technical change is the enabling of AV1 encode support within the web browser. Going back to 2018 there's been AV1 decode support within the browser when wanting to enjoy content encoded in this royalty-free, modern codec. But now for Chrome 89 is coming AV1 encode support. AV1 encode support is being added for the WebRTC use-case for real-time conferencing. Web applications like WebEx, Meet, and Duo (among others) already support using AV1 for better compression efficiency, improved low-bandwidth handling, and greater screen sharing efficiency. While hardware-based AV1 encoding isn't yet common, Chrome Linux/macOS/Windows desktop builds are adding the ability to use CPU-based AV1 encoding.

José Antonio Rey: New times, new solutions

Just as humans change, the Ubuntu community is also changing. People interact in different ways. Platforms that did not exist before are now available, and the community changes as the humans in it change as well. When we started the Local Communities project several years ago, we did it with the sole purpose of celebrating Ubuntu. The ways in which we celebrated included release parties, conferences, and gatherings in IRC. However, we have lately seen a decline in the momentum we had with regards to participation in this project. We have not done a review of the project since its inception, and inevitably, the Community Council believes that it is time to do a deep dive at how we can regain that momentum and continue getting together to celebrate Ubuntu. As such, we are putting together the Local Communities Research Committee, an independent entity overseen by the Community Council, which will help us understand the behavior of Local Community teams, how to better adapt to their needs, and to create a model that is suitable for the world we are living in today. Also: Bits from Debian: New Debian Maintainers (November and December 2020)