Chromium-based browsers pros and cons
Submitted by Roy Schestowitz on Monday 29th of June 2020 09:20:32 PM
Filed under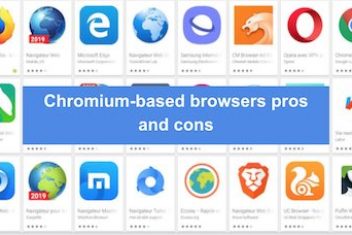 How much do you think about your internet browser? Not much, right? If it gets you to your target web destination, that's all that matters. For most, it's a choice between Chrome or Firefox, with Edge and Safari coming not far behind.
While most internet users opt for Chrome, many people don't realize that many of the other leading browsers in the world are not so different from it. They use the Chromium source code.
While Chrome and Chromium are separate projects, one is Google's proprietary web tool, and the other is open source. But there are a lot of similarities between the two.
Developers love Chromium. It's easy to work with, has tons of extensions and API kits, and more. You can even swap out Chrome and use Chromium directly instead as your browser.
»
Printer-friendly version

1622 reads

PDF version
More in Tux Machines
Programming: GStreamer, Drat, RasPi, Python

       

A few months ago I wrote a new GStreamer plugin: an audio filter for live loudness normalization and automatic gain control. The plugin can be found as part of the GStreamer Rust plugin in the audiofx plugin. It's also included in the recent 0.6.0 release of the GStreamer Rust plugins and available from crates.io. Its code is based on Kyle Swanson's great FFmpeg filter af_loudnorm, about which he wrote some more technical details on his blog a few years back. I'm not going to repeat all that here, if you're interested in those details and further links please read Kyle's blog post.

A new version of drat arrived on CRAN yesterday. Once again, this release is mostly the work of Felix Ernst who extended some work from the previous release, and added support for repository updates (outside of package insertion) and more. drat stands for drat R Archive Template, and helps with easy-to-create and easy-to-use repositories for R packages. Since its inception in early 2015 it has found reasonably widespread adoption among R users because repositories with marked releases is the better way to distribute code. As your mother told you: Friends don't let friends install random git commit snapshots. Rolled-up releases it is. drat is easy to use, documented by five vignettes and just works.

KF6 Progress Report: Almost Bastille Day (July) Edition

So the world has been hectic lately, dunno if you've seen the news, but that means that I didn't publish an update since my previous KF6 progress report back in February! Now that the lock down has been (temporarily?) lifted where I live and that things are a bit less crazy, it's time for an update. An actual Qt 6 is not published yet and we didn't branch for KF6 yet either. Still as can be seen on the KF6 Workboard there are plenty of tasks in our backlog which can be acted upon now. No need to wait to participate, all the work done now will make the transition to KF6 easier later on anyway. What has been done since the last post? On the workboard, we currently have 22 tasks in progress and 4 tasks done. Clearly that's not a huge activity in more than four months but the state of the world might explain it in part. Obviously with so little tasks done, they mostly revolve around our usual suspects. If you fancy becoming one of the unsung heroes of KDE, come and help working tasks from the KF6 Workboard! More hands are needed and right now is a good time to discover it and get into it than when Qt6 will be released. Indeed, when Qt6 will be around it will be much less quiet around here. :-)

today's howtos

Android Leftovers