20 Best Free Stacking Window Managers
Submitted by Roy Schestowitz on Thursday 9th of July 2020 12:56:44 PM
Filed under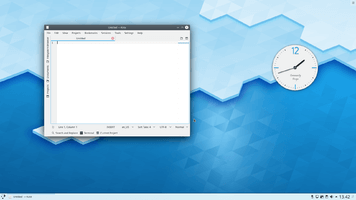 A window manager is software that manages the windows that applications bring up. For example, when you start an application, there will be a window manager running in the background, responsible for the placement and appearance of windows.
It is important not to confuse a window manager with a desktop environment. A desktop environment typically consists of icons, windows, toolbars, folders, wallpapers, and desktop widgets. They provide a collection of libraries and applications made to operate cohesively together. A desktop environment contains its own window manager.
There are a few different types of window managers. This article focuses on stacking window managers which are also known as floating window managers. This is a type of window manager that draws all windows in a specific order, allowing them to overlap, using a technique called painter's algorithm. All window managers that allow the overlapping of windows but are not compositing window managers are considered stacking window managers, although they can use different methods.
Stacking window managers allow windows to overlap by drawing them one at a time. Stacking, or repainting (in reference to painter's algorithm) refers to the rendering of each window as an image, painted directly over the desktop, and over any other windows that might already have been drawn, effectively erasing the areas that are covered. The process usually starts with the desktop, and proceeds by drawing each window and any child windows from back to front, until finally the foreground window is drawn.
Here's our recommended free stacking window managers. All of them are free and open source software.
»
Printer-friendly version

1808 reads

PDF version
More in Tux Machines
Lightweight Linux Distros for Old Laptop (2020)

Do not discard that old PC or laptop yet. You can use a lightweight Linux distro to make them as good as new. Some of these Linux distros are specifically for use in older machines. You can use any of the lightweight Linux distros and bring your old machine back to life. In as much we focus on the old distros, we do have some new releases that do not require many resources that can re-invent your old computers.

The 40 Best Raspberry Pi Blogs For The Pi Geeks

If you are a Raspberry Pi Geek, then this article about the Raspberry Pi blogs is sure to take the nerves out of you. It is often that you get stuck with a new project and crave for the accurate tutorials. Also, some beginners get confused about where to start and wish they had a resource to start with. To help with that, many Raspberry Pi enthusiasts like you have created blogging sites that are being updated regularly. In this modern world, with the emerging importance of IoT and machine learning, Raspberry Pi is a must to learn. In this article, I am going to talk about 40 best Raspberry Pi blogs you should really look into. If you are thinking of starting a new project or making your own invention using the Raspberry Pi, you are ought to need these blog sites.

Audiocasts/Shows: Destination Linux, FLOSS Weekly, Unfettered Freedom, TLLTS and Noodlings

Java Programming