Free software is what unites us
Submitted by Roy Schestowitz on Friday 17th of July 2020 04:30:18 AM
Filed under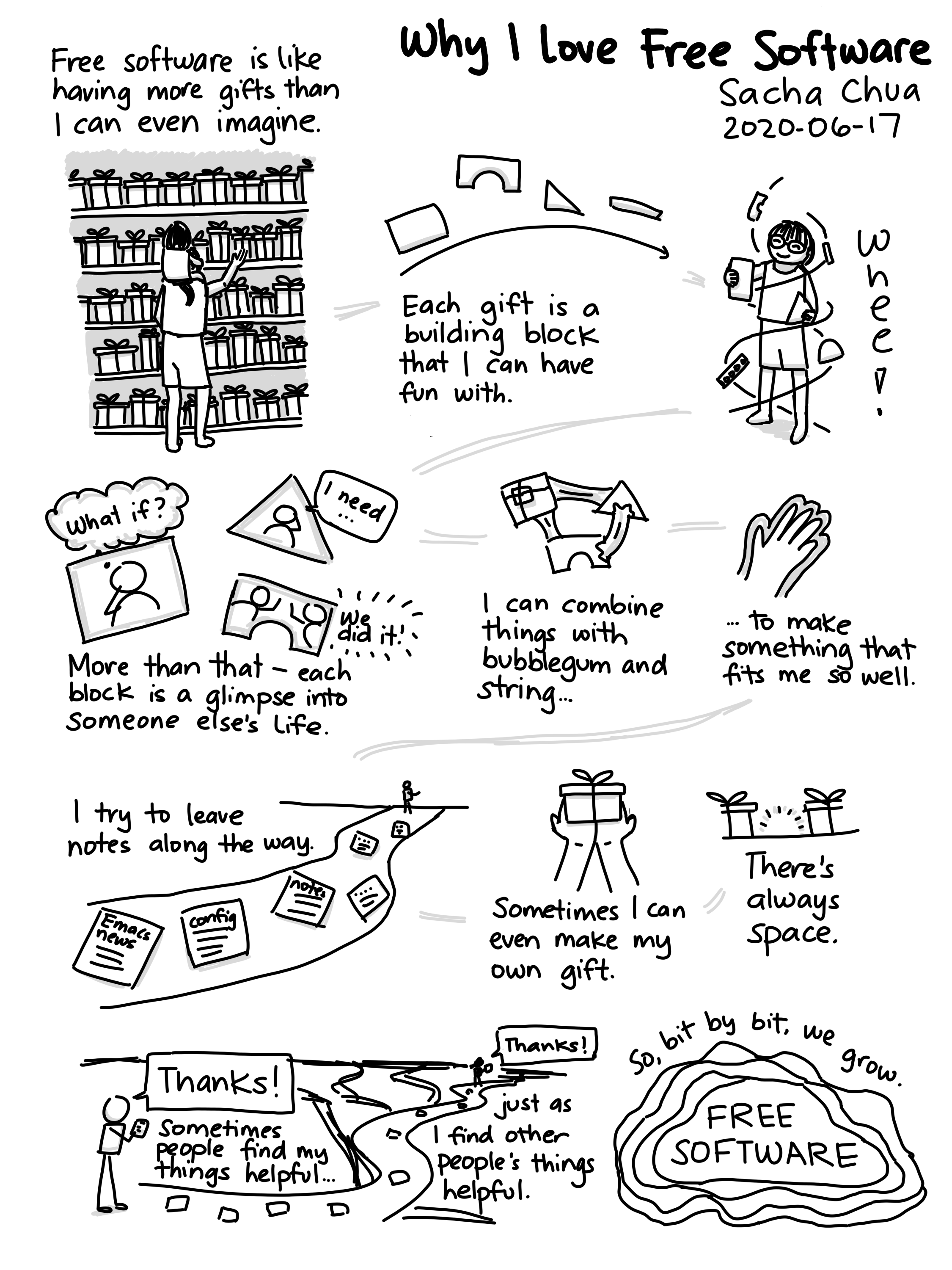 This spring, as the time for planning our biannual appeal came around, we discussed the difficult time all of us are experiencing: charities like us, the free software community, and every individual. And it led us to consider why people from all walks of life cherish user freedom.
The socially distant, digital way in which we are carrying on our work and private lives is affecting our software freedom. Globally, decisions to transition to an online and remote life were made with less consideration than we normally put into them, giving proprietary corporations access to parts of our lives we normally protect. Lately, we have been pointing to grim examples of bulk surveillance and privacy violations in the realms of education and communication to help everyone understand why this fight is so important.
But we shouldn't forget that free software is an inherently positive story. It celebrates the creativity and skill that come from collaboration, and the freedom that you have if you understand a program or can freely choose to rely on information about it from someone you trust. Having the right to read, modify, contribute to, and share software we use has changed our lives, and countless others. There are so many people who continue to motivate us to fight for free software with their work, so we decided to ask them to share their stories on why they love free software, and what user freedom means to them or their business.
»
Printer-friendly version

2132 reads

PDF version
More in Tux Machines
Linux for Starters: Your Guide to Linux – Wine – Part 21

This is a series that offers a gentle introduction to Linux for newcomers. Part 20 of this series explored VirtualBox, virtualisation software that lets you run operating systems (including Windows) as a guest operating system. With VirtualBox you can therefore run Windows software on a Linux machine. There is another, and very different way, of running native Windows software. It's called Wine. Wine (originally an acronym for "Wine Is Not an Emulator") is a free and open-source compatibility layer that aims to allow computer programs developed for Microsoft Windows to run on Unix-like operating systems including Linux.

Android Leftovers

Redcore Linux Still Aims to Bring Gentoo Linux to the Masses, Now Ships with Linux 5.14

Over the past five years, Redcore Linux's goal has always been to bring the power of the source-based Gentoo Linux operating system to the masses, offering users up-to-date and hardened live ISO images with the most recent KDE Plasma desktop environment and a carefully selected set of applications for office, multimedia, gaming, and Internet browsing needs.

Ubuntu 21.04 and 20.04 LTS Users Get New Linux Kernel Security Update, Patch Now

Coming only three weeks after the previous kernel security update, the new one is currently only available for Ubuntu 21.04 (Hirsute Hippo) and Ubuntu 20.04.3 LTS (Focal Fossa) systems running the Linux 5.11 kernel series, and it's available for all supported architectures and kernel flavors that Ubuntu supports.