Hardware/Modding: Arduino Nano, Raspberry Pi CM3 and Linux-ready UP Xtreme Lite
Submitted by Rianne Schestowitz on Wednesday 29th of July 2020 10:19:38 PM
Filed under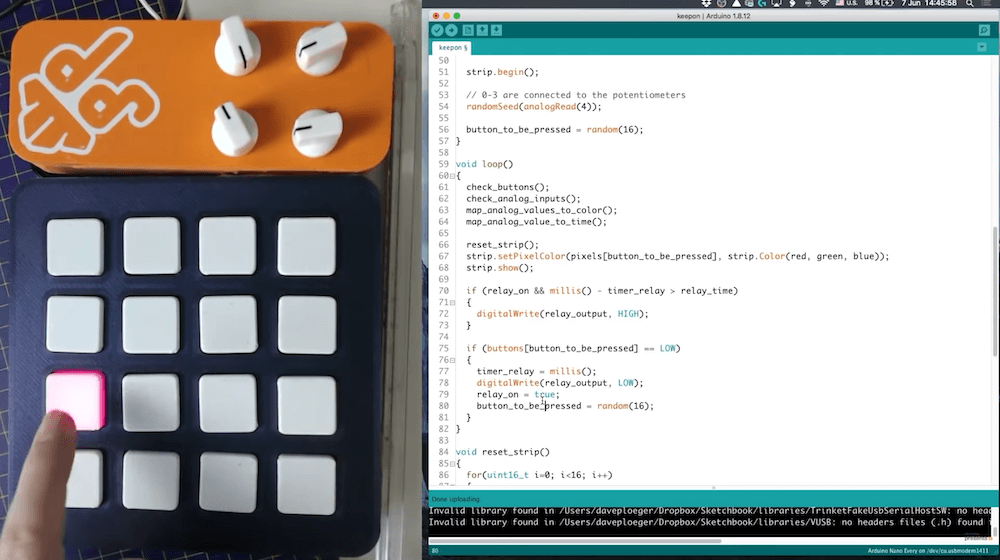 It's generally not advisable to leave equipment running when unattended. As a safeguard against this possibility at hackerspaces and elsewhere, element14 Presents' Dave Darko built a custom switch that requires users to intermittently push a button in order to produce additional 'on' time.

The trick here is that instead of having one keep-alive button, the unit has a matrix of 16 buttons that light up randomly to be pressed. The idea is to prevent someone from setting up a second device to simply poke the same key over and over.

The 'unhackable' switch, which resembles a MIDI sequencer input, runs on an Arduino Nano Every and uses a relay to directly control the power state. It's demonstrated toward the end of the video below, where Darko plays a sort of simple button-based game to keep an LED fixture on.

Comfile's 15-inch "ComfilePi CPi-A150WR" touch-panel computer is built around a Raspberry Pi Compute Module 3 and offers an IP65 protected, 1024 x 768 resistive touchscreen pus USB, LAN, serial, and 22x GPIO.

Comfile Technology has added to its line of ComfilePi touch panel computers built around the Raspberry Pi Compute Module 3 (CM3). The new 15-inch ComfilePi CPi-A150WR follows its earlier, 7-inch ComfilePi CPi-A070WR and 10.2-inch CPi-A102WR.

Aaeon announced a slightly scaled down "UP Xtreme Lite" variant of its 8th Gen U-series based UP Xtreme SBC that provides up to 16GB DDR4, 2x GbE, 4x USB 3.2, and 3x M.2 plus SATA, HDMI, DP, and 40-pin GPIO.

Aaeon announced a Linux-ready UP Xtreme Lite version of its Kickstarter-backed UP Xtreme SBC, which has also been featured as the mainboard for Aaeon's UPX Edge embedded system. Aaeon claims the UP Xtreme Lite will be more affordable than the original. Yet, this is the first UP board announced without individual pricing or any promises of community support from its UP project. It is possible that both will be forthcoming.
»
Printer-friendly version

1868 reads

PDF version
More in Tux Machines
Mozilla is laying off 250 people and planning a 'new focus' on making money

As part of the layoffs, Baker laid out a series of new focuses for Mozilla to set a stronger course for the company. That includes focuses on building community, building new products that "mitigate harms" and "that people love and want" to use, and crucially, to build out new revenue streams. Mozilla makes most of its money from companies paying to make their search engine the default in Firefox. This includes deals with Baidu in China, Yandex in Russia, and most notably, Google in the US and most of the rest of the world. The company also makes money from royalties, subscriptions, and advertising, but those search deals still represent the "majority" of its revenue. Baker says Mozilla will initially focus on products such as Pocket, its VPN service, its VR chatroom Hubs, and new "security and privacy" tools. The company started launching paid consumer services over the past year, offering a news subscription and access to a VPN from directly within Firefox. Firefox is also getting a stronger focus on user growth "through differentiated user experiences." That means reducing investment in other areas, though, such as in building out developer tools. Mozilla has had a rough decade, as Firefox's market share dwindled and attempts at bigger projects — like a Firefox phone running Firefox OS — fell apart. Baker seems to recognize that Mozilla needs to meet people where they are, building products that people want to use on the platforms they're already using. She became CEO in April and was appointed interim CEO in December 2019; Baker has been the chair of the Mozilla Foundation since 2003.

Stable Kernels: 5.8.1, 5.7.15, 5.4.58, and 4.19.139

I'm announcing the release of the 5.8.1 kernel. All users of the 5.8 kernel series must upgrade. The updated 5.8.y git tree can be found at: git://git.kernel.org/pub/scm/linux/kernel/git/stable/linux-stable.git linux-5.8.y and can be browsed at the normal kernel.org git web browser: https://git.kernel.org/?p=linux/kernel/git/stable/linux-s...

Games: Drink More Glurp, RimWorld, Jumpala and More

Android Leftovers