Intel Celeron G5900 + Pentium Gold G6400 Benchmarks - Low-Price Comet Lake CPUs
Submitted by Rianne Schestowitz on Thursday 30th of July 2020 05:11:33 PM
Filed under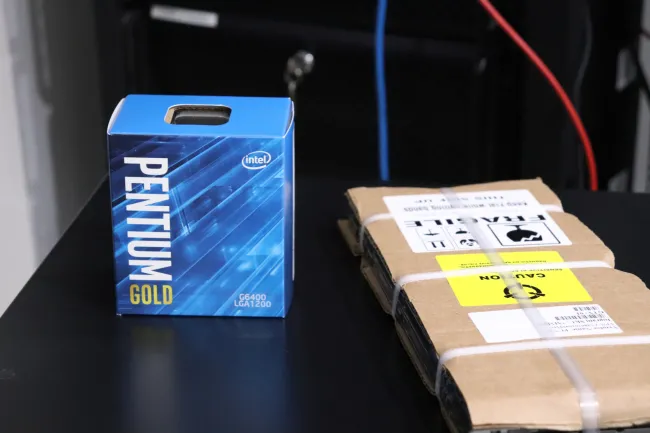 While we have looked a lot at how the Core i9 10900K performs at the top-end of Intel's Comet Lake line-up as well as with the likes of the i5-10600K and i3-10100, here is our first look at the very bottom of the stack with the new Celeron and Pentium processors. Benchmarked today are the Celeron G5900 as a ~$40 processor and the Pentium Gold G6400 that retails for around $60 and compared against other low-end Intel and AMD processors as well as older Intel Core i3 CPUs.
The Intel Celeron G5900 is one of the lowest-end Comet Lake processors offered. For $42 USD (indeed was able to purchase it for that price) is a dual-core processor with a 3.4GHz clock frequency. The CPU has just a 2MB cache, no turbo frequency, support for dual channel DDR4-2666 memory, no form of AVX support, 2MB L3 cache, UHD Graphics 610 that clock up to 1.05GHz, and a 58 Watt TDP. It's a CPU quite at the bottom of the gutter by 2020 standards.
»
Printer-friendly version

2704 reads

PDF version
More in Tux Machines
Hangover Alpha 2 Lets Windows x86/x64 Programs Run On ARM64, POWER 64-bit

The Wine program for running Windows games/applications on Linux and other platforms can run on a number of different architectures, but Wine doesn't handle the emulation of running Windows x86/x64 binaries on other architectures like 64-bit ARM or PowerPC. But that's what the Wine-based Hangover is about with currently allowing those conventional Windows binaries to run on AArch64 (ARM64) and 64-bit POWER too. Hangover started out with a focus on Windows x64 binaries on ARM64 in looking at the possible use-case of running Windows software on ARM mobile devices and more. This year with the help of Raptor Computing Systems there has been Hangover support added for IBM POWER 64-bit. Also: Come And Find Out About Her Story

Jonathan Dieter: Switching to OSTree

Given our shift towards containers, the most obvious solution would have been to switch to Fedora CoreOS, but a number of our call servers have Sangoma telephony cards with kernel drivers that are, unfortunately, out-of-tree. While there are some elegant ways to load custom kernel modules into Fedora CoreOS, we needed a more stable kernel, due to the (lack of) speed in which these modules are updated to build with new kernels. So we decided to go with a custom OSTree distribution (surprisingly named SpearlineOS), built using rpm-ostree and CentOS 8. SpearlineOS has two streams, staging and production. At the moment, we're manually building each new release, pushing it to staging, running it through some smoke tests, and, then, finally, pushing it to production. We are in the process of setting up a full staging environment with automatic builds and automatic promotion to production once a build has been functioning correctly for set period of time. We've also setup greenboot in SpearlineOS so that our servers are able to fail back to an older release if the current one fails for any reason.

Python Programming

KDE Bug-squashing

This week the bug squashing continues at full speed! We've made short work of tons of bugs throughout our software stack, including the infamous login sound bug, some very important and longstanding issues with extended attributes, and a ton of quality-of-life improvements for the Plasma Wayland session. But we also managed to add a few nice new features that I think you'll like.

The bug fixing in KDE land continues and ends the month with a "bug massacre", for how KDE developer Nate Graham describes it in his weekly recaps.  Graham also commented of this week's KDE efforts as "bug squashing continues at full speed!" Some of the work that got addressed this week for KDE includes:  - The KDE Plasma Wayland session no longer requires manually setting an environment variable to make NVIDIA GPUs with the proprietary driver properly function. This change is with KDE Plasma 5.20.2 for offering a better KDE Wayland out-of-the-box experience on NVIDIA's proprietary driver. This is addressed by automatically detecting the NVIDIA proprietary driver and EGLStreams rather than making the user set KWIN_DRM_USE_EGL_STREAMS.