GNU/FSF: GNU Debugger (GDB), Free Software Foundation (FSF) Tech Team and Freedom Isn't Free
Submitted by Roy Schestowitz on Wednesday 5th of August 2020 07:54:47 AM
Filed under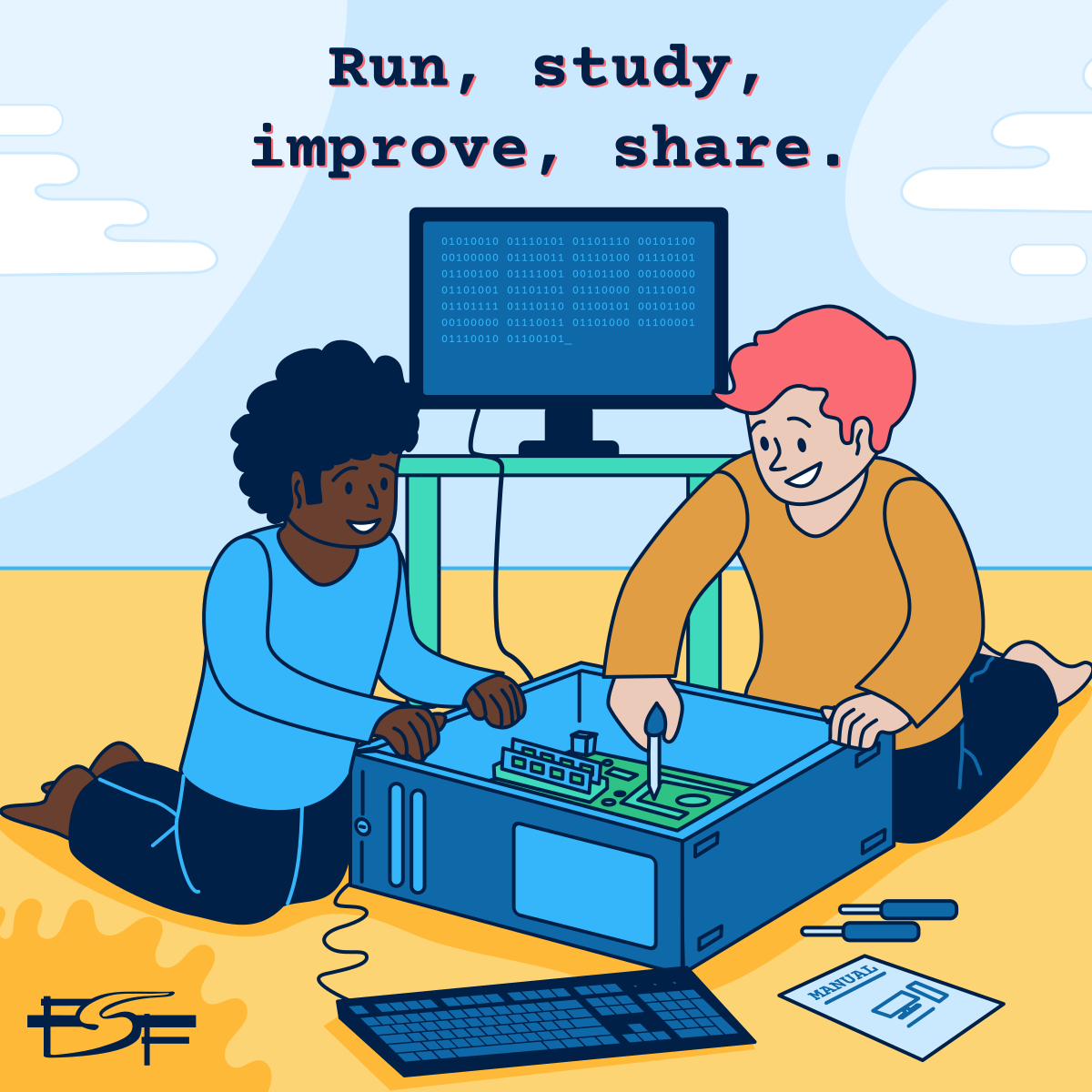 The GNU Debugger (GDB) has merged initial support for debugging of eBPF code that is traditionally consumed by the Linux kernel as part of this in-kernel special purpose virtual machine. 

Oracle engineer Jose Marchesi contributed the new target of (e)BPF for basic debugging at this point. 

The Free Software Foundation (FSF) tech team is the four-person cornerstone of the primary infrastructure of the FSF and the GNU Project, providing the backbone for hundreds of free software projects, and they epitomize the hard work, creativity, and can-do attitude that characterize the free software movement. They're pretty modest about it, but I think they deserve some serious credit: it's only because of their everyday efforts (with the help of volunteers all over the world) that the FSF can boast that we can host our own services entirely on free software, and help other people to become freer every day. It's also largely to their credit that the FSF staff were able to shift to mostly remote work this spring with barely a blip in our operations.

Seen in that vein, the radical undertones of open source didn't just come out of nowhere, and they're not unique to software. Instead, open source is simply a response to the very real contradictions that abound when property rights are applied to information. Where it fails is by offering an easy way out—by creating a microcosm, itself commodified, that suspends intellectual [sic] property [sic] conventions on a small scale, without ever presenting a viable alternative to the wider intellectual property regime required under capitalism.
»
Printer-friendly version

3257 reads

PDF version
More in Tux Machines
Compute module and dev kit aim Snapdragon 865 at AR/VR

Lantronix has launched 50 x 29mm "Open-Q 865XR SOM" and $995 dev kit that runs Android 10 on a 15-TOPS NPU equipped Snapdragon 865 with 6GB LPDDR5, 802.11ax, and triple MIPI-CSI interfaces. Intrinsyc, a subsidiary of Lantronix, has introduced an IoT-oriented compute module and development kit based on Qualcomm's Snapdragon 865 (SXR2130P) SoC. The $445 Open-Q 865XR SOM and $995 Open-Q 865XR SOM Development Kit follow Intrinsyc's more smartphone-oriented Snapdragon 865 Mobile HDK. The Open-Q 865XR targets imaging intensive embedded applications including Augmented Reality/Virtual Reality (AR/VR) applications in AI machine learning, medical, gaming, logistics and retail sectors.

Programming: Git and Qt

Dell XPS 13 Developer Edition Gets 11th-Gen Intel Refresh, Ubuntu 20.04 LTS

The revised model doesn't buck any conventions. It's a refreshed version of the XPS 13 model released earlier this year, albeit offering the latest 11th generation Intel processors, Intel Iris Xe graphics, Thunderbolt 4 ports, and up to 32GB 4267MHz LPDDR4x RAM. These are also the first Dell portables to carry Intel "Evo" certification. What's Intel Evo? Think of it as an assurance. Evo certified notebooks have 11th gen Intel chips, can wake from sleep in under 1s, offer at least 9 hours battery life (with a Full HD screen), and support fast charging (with up to 4 hours from a single 30 min charge) — if they can't meet any of those criteria they don't get certified.

Vulkan 1.2.155 Released and AMDVLK 2020.Q3.6 Vulkan Driver Brings Several Fixes

Vulkan 1.2.155 is out this morning as a small weekly update over last week's spec revision that brought the Vulkan Portability Extension 1.0 for easing software-based Vulkan implementations running atop other graphics APIs. Vulkan 1.2.155 is quite a tiny release after that big release last week, but there aren't even any documentation corrections/clarifications and just a sole new extension.

AMD driver developers today released AMDVLK 2020.Q3.6 as their latest open-source snapshot of their official Vulkan graphics driver. The primary new feature of this AMDVLK driver update is VK_EXT_robustness2, which mandates stricter requirements around dealing with out-of-bounds reads/writes. Robustness2 requires greater bounds checking, discarding out-of-bounds writes, and out-of-bounds reads must return zero. This extension debuted back in April as part of Vulkan 1.2.139.