Software: Clipboard Managers, Gscan2pdf and Ventoy
Submitted by Roy Schestowitz on Friday 7th of August 2020 08:50:47 AM
Filed under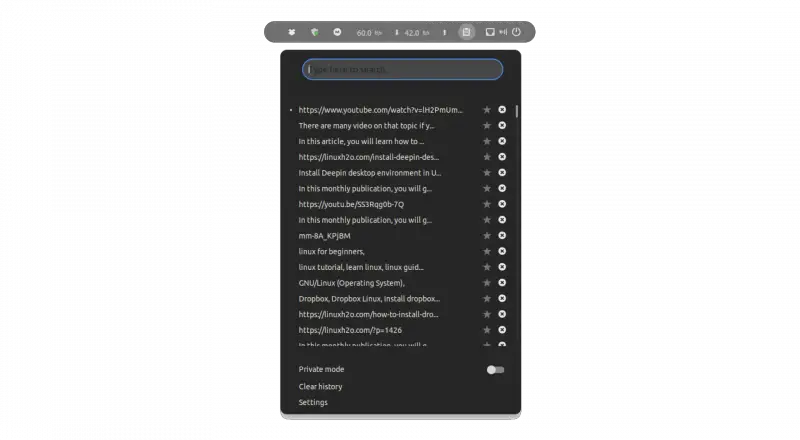 In this article, you will learn about clipboard managers and what are the different clipboard managers available for Linux.

A clipboard manager keeps track of the things that you have copied in your system. It keeps the history of it just like the history command that has all the commands list that you have executed in the shell so far.

Gscan2pdf is a document scanning tool that allows you to easily post-process and create PDF or DjVu documents from your scanned pages. It has support for Optical Character Recognition (OCR), and also has a number of different image enhancing filters.

Gscan2pdf is pretty straightforward to use. Just hit the little scanner button in the toolbar to open up the Scan Document window. From here, you can select your scanner from the dropdown menu (Scanning in Gscan2pdf is handled via the SANE library). There are some options available for changing the color mode, page size and rotation, double or single sided page mode, number of pages to be scanned, hue, brightness, white level, and numerous other settings.

       

USB flash drives on Linux have always been problematic. Aside from the nostalgic unetbootin, the bootable USB solutions on Linux are always lame. Either you don't have all the features of the Windows programs, or it's complicated and laborious to make it work.

Just for comparison, Windows has Wubi, Rufus, Yumi, Universal USB Installer, LiLi USB Creator, and the list goes on and on.

On Linux, we had Unetbootin, which was a very good tool, but which did not continue development in the jump from 32 to 64 bits. Really, it did not improve as it should, lagging behind other solutions. So, we who use Linux have been orphaned of some solution that was practical, easy and that effectively worked.
»
Printer-friendly version

1682 reads

PDF version
More in Tux Machines
Fedora 33 Beta Released with Massive Changes

The next version of the Fedora Linux Operating system - Fedora 33 Beta is released. Some massive updates coming up in this installment of Fedora.

Security Leftovers

The Electronic Frontier Foundation (EFF) has released YAYA (which stands for Yet Another YARA Automation), an open source tool to help manage multiple YARA rule repositories. The open source YARA tool helps malware researchers identify and classify malware samples. According to the EFF announcement, "YARA lets you create descriptions of malware (YARA rules) and scan files or processes with them to see if they match."

An unintended or accidental flaw in the software code or any system that makes it potentially exploitable in terms of access to illegitimate users, malicious behaviours like viruses, trojans, worms, or any other malware is called a security vulnerability. The use of software that has already been exploited or the use of weak and default passwords also results in making the system vulnerable to the outside world. These types of security vulnerabilities require patching to prevent hackers from using previously used exploits on them again to gain unauthorized access to the system. A security vulnerability also called security hole or weakness is a flaw, a bug, or a fault in the implementation of code, design, and architecture of a web application and servers, which when left unaddressed can result in compromising of the system and makes the whole network vulnerable to the attack. The people going to be infected include the application owner, application users, and any other person relying on that application. Let's look at the most dangerous and common security risks to web applications.

It's been six years since Heartbleed was first discovered, and the OpenSSL vulnerability can still be found and exploited across the internet. As a matter of fact, 19% of global attacks target the OpenSSL Heartbleed vulnerability due to the volume of unpatched public-facing servers. Whether it's from poor scanning or fear of rebooting production servers, leaving servers open to OpenSSL exploits leaves customers and their data at risk. This article takes a deep dive into Heartbleed and the threat it has on data privacy and compliance. It also discusses how to identify if your processes still use outdated libraries, even if you've updated them on disk.

New in YouTube Shows (Regarding GNU/Linux)

People have been bugging me about setting up MPD for a long time now so I thought I might as well do so and I might as well make a bit of a tutorial out of it, in particular showing you how to setup your media keys with MPD if you want to use a tool like PlayerCTL rather than a tool specifically made for MPD, but it doesn't have mpris support out of the box so we need to fix that with mpdris2

We all have our favourite Linux distros, but what if I told you that it's more about choosing the right desktop environment? Here's my recommendations for the best Linux distribution for each of the main Linux desktop environments including GNOME, KDE, Xfce, Budgie, Deepin, LXQt, Pantheon and more.

Raspberry Pis and Arduino Projects