AMD Ryzen Embedded SBC Review with Ubuntu 20.04
Submitted by Rianne Schestowitz on Monday 10th of August 2020 04:32:29 PM
Filed under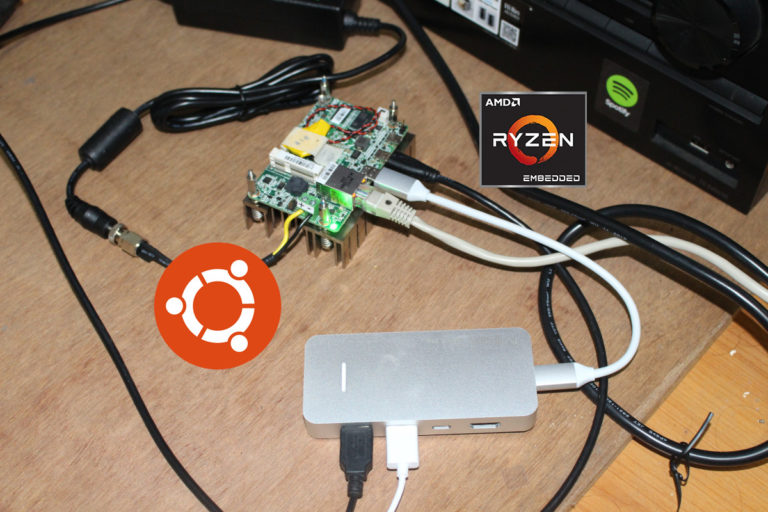 DFI GHF51 Ryzen Embedded SBC runs about as well in Ubuntu 20.04 as it does in Windows 10. Everything basically works and performs well. Our testing shows AMD Ryzen Embedded R1606G processor to offer slightly better performance than the top of the line Intel Gemini Lake Pentium J5005 processor.
I also had one of the same issues as in Windows: one Seagate USB hard drive would not work reliability at all with transfer stalled. That's probably just a hardware incompatibility, as the drive works with other platforms, and other USB storage devices achieve normal performance when connected to DFI SBC. I also noticed some artifacts with one 3D graphics benchmark, but those did not show up in other 3D accelerated programs.
DFI GHF51 is an impressive piece of hardware as it packs lots of CPU and GPU power in a form factor similar to Raspberry Pi 4 SBC. I'd like to thank DFI for sending a review sample. If you plan to buy in large quantities to integrate the board into your product, you could contact the company via the product page. It's used to be available as a sample on the company's DFI-ITOX online store for $378, but it has been taken down since last time.
»
Printer-friendly version

2117 reads

PDF version
More in Tux Machines
Compute module and dev kit aim Snapdragon 865 at AR/VR

Lantronix has launched 50 x 29mm "Open-Q 865XR SOM" and $995 dev kit that runs Android 10 on a 15-TOPS NPU equipped Snapdragon 865 with 6GB LPDDR5, 802.11ax, and triple MIPI-CSI interfaces. Intrinsyc, a subsidiary of Lantronix, has introduced an IoT-oriented compute module and development kit based on Qualcomm's Snapdragon 865 (SXR2130P) SoC. The $445 Open-Q 865XR SOM and $995 Open-Q 865XR SOM Development Kit follow Intrinsyc's more smartphone-oriented Snapdragon 865 Mobile HDK. The Open-Q 865XR targets imaging intensive embedded applications including Augmented Reality/Virtual Reality (AR/VR) applications in AI machine learning, medical, gaming, logistics and retail sectors.

Programming: Git and Qt

Dell XPS 13 Developer Edition Gets 11th-Gen Intel Refresh, Ubuntu 20.04 LTS

The revised model doesn't buck any conventions. It's a refreshed version of the XPS 13 model released earlier this year, albeit offering the latest 11th generation Intel processors, Intel Iris Xe graphics, Thunderbolt 4 ports, and up to 32GB 4267MHz LPDDR4x RAM. These are also the first Dell portables to carry Intel "Evo" certification. What's Intel Evo? Think of it as an assurance. Evo certified notebooks have 11th gen Intel chips, can wake from sleep in under 1s, offer at least 9 hours battery life (with a Full HD screen), and support fast charging (with up to 4 hours from a single 30 min charge) — if they can't meet any of those criteria they don't get certified.

Vulkan 1.2.155 Released and AMDVLK 2020.Q3.6 Vulkan Driver Brings Several Fixes

Vulkan 1.2.155 is out this morning as a small weekly update over last week's spec revision that brought the Vulkan Portability Extension 1.0 for easing software-based Vulkan implementations running atop other graphics APIs. Vulkan 1.2.155 is quite a tiny release after that big release last week, but there aren't even any documentation corrections/clarifications and just a sole new extension.

AMD driver developers today released AMDVLK 2020.Q3.6 as their latest open-source snapshot of their official Vulkan graphics driver. The primary new feature of this AMDVLK driver update is VK_EXT_robustness2, which mandates stricter requirements around dealing with out-of-bounds reads/writes. Robustness2 requires greater bounds checking, discarding out-of-bounds writes, and out-of-bounds reads must return zero. This extension debuted back in April as part of Vulkan 1.2.139.