Software: MailSpring and NewFlash for E-mail and RSS
Submitted by Roy Schestowitz on Tuesday 11th of August 2020 10:34:58 PM
Filed under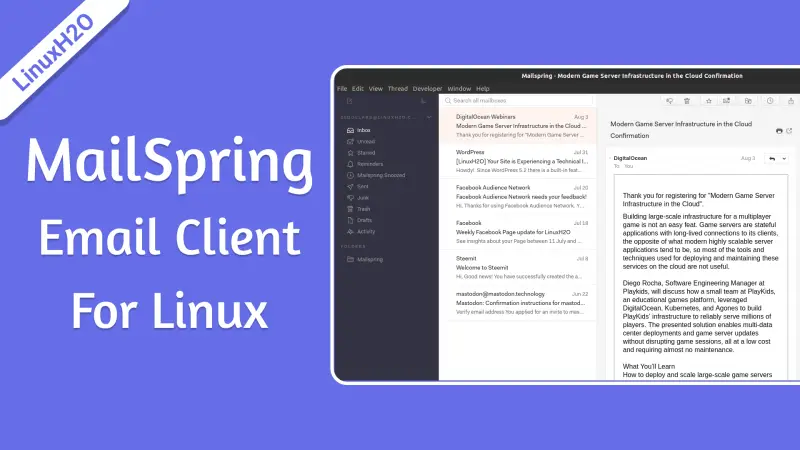 In this article, we will review MailSpring – an amazing email client for Linux. We will also go through the guide on how to install MailSpring on any Linux distribution.

A few years back an open-source email client called Nylas became sensational in the Linux community. People were just loving it. You may ask why? Because it was just amazing, the design was cool and the features were even cooler.

Unfortunately, the company behind the client decided to drop-out the project probably due to the financial constraints. However, few brave souls raised the project and forked it into what is known as now – MailSpring.

       

        NewFlash, spiritual successor to FeedReader, is a modern feed reader designed for the GNOME desktop.

NewsFlash is a program designed to complement an already existing web-based RSS reader account. It combines all the advantages of web based services like syncing across all your devices with everything you expect from a modern desktop program: Desktop notifications, fast search and filtering, tagging, handy keyboard shortcuts and having access to all your articles as long as you like.
»
Printer-friendly version

2099 reads

PDF version
More in Tux Machines
today's leftovers

Debian and Ubuntu Leftovers

Android Leftovers

Initial Fedora 32 vs. Fedora 33 Beta Benchmarks Point To Slightly Higher Performance

In addition to Fedora Workstation 33 switching to Btrfs, there are a number of key components updated in Fedora 33 as well as finally enabling link-time optimizations (LTO) for package builds that make this next Fedora Linux installment quite interesting from a performance perspective. Here are some initial benchmarks of Fedora Workstation 32 against the Fedora Workstation 33 Beta on an Intel Core i9 10900K system. Given the Fedora 33 beta release, here are our initial benchmarks of Fedora 33 that is due for its official release in late October. Over the past few days I've been testing the test compose of Fedora 33 Beta with all updates applied -- it's been quite a nice experience. There hasn't been any show-stopping bugs and all-around running nicely.