Announcement of LibreOffice 6.4.6
Submitted by Roy Schestowitz on Thursday 13th of August 2020 02:18:58 PM
Filed under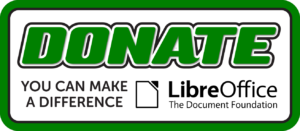 The Document Foundation announces the availability of LibreOffice 6.4.6, the 6th minor release of the LibreOffice 6.4 family, targeted at all users relying on the best free office suite ever for desktop productivity. LibreOffice 6.4.6 includes bug fixes and improvements to document compatibility and interoperability with software from other vendors.
LibreOffice 6.4.6 is optimized for use in every environment, even by more conservative users, as it now includes several months of work on bug fixes. Users of LibreOffice 6.3.6 and previous versions should update to LibreOffice 6.4.6, as this is now the best choice in term of robustness for their productivity needs.
For enterprise class deployments, TDF strongly recommends sourcing LibreOffice from one of the ecosystem partners, to get long-term supported releases, dedicated assistance, custom new features and other benefits, including SLAs (Service Level Agreements): https://www.libreoffice.org/download/libreoffice-in-business/. Also, the work done by ecosystem partners flows back into the LibreOffice project, and this represents an advantage for everyone.
»
Printer-friendly version

2441 reads

PDF version
More in Tux Machines
Intel: DG1, Media Driver 2020.3 and Key Locker Support

The sixth spin of Intel DG1 discrete graphics card patches have now been sent out for review, amounting to just about 700 lines of new driver code due to building off the existing DG1 work and more broadly the Gen12/Xe support that's been refined in mainline for months. With these patches it would appear the Intel DG1 is then in good shape under Linux but due to the timing is unlikely to be mainlined until a stable kernel release in early 2021. Intel's Gen12 / Xe Graphics as found in Tiger Lake appears to be in good shape with the latest mainline code (soon to be tested at Phoronix) but for the DG1 discrete graphics card there have been patches lingering.

Just in time for the end of the quarter Intel's open-source multimedia team has released the Media Driver 2020.3 package for the Intel graphics accelerated media encode/decode component on Linux platforms. The Intel Media Decode Driver 2020.3 is notable in that it rounds out the Gen12/Xe support. This support is not only for the Tiger Lake support now beginning to appear in shipping notebooks but also for DG1 and upcoming Rocket Lake and SG1 solutions as well.

Last week on the GNU toolchain side was initial work on supporting Intel Key Locker while this week Key Locker support has come to LLVM. Intel Key Locker is a means of encrypting/decrypting data with an AES key without having access to the raw key. Key Locker relies on converting AES keys into handles that are then used in place of the actual key, until revoked by the system. The goal with this feature is for preventing any rogue attackers from obtaining the actual AES keys on the system.

today's howtos

Android Leftovers

Benchmarking Firefox 83 Nightly With "Warp" Against Google Chrome On Linux

Following last week's news of Firefox Nightly flipping on their new JIT "Warp" update I was eager to run fresh benchmarks of the current Firefox releases compared to Google Chrome under Ubuntu Linux. Warp was enabled last week for Firefox 83 nightly builds with this "Warp" just-in-time JavaScript compiler update having various improvements in an effort to provide greater responsiveness and faster page load speeds. Numbers cited by Mozilla engineers on their JavaScript/SpiderMonkey team were frequently in the 5~15% range. Even instances like Google Docs load times on Windows was around 20% faster with Warp. This round of benchmarking was done with Firefox 81, Firefox 82 Beta 3, and Firefox 83 Alpha 1 nightly as of last week after Warp landed. A secondary run of Firefox 83 nightly was also done with WebRender force enabled on Linux. Plus Google Chrome 85 was also tested as the latest stable release.