Mobile/Desktop Convergence
Submitted by Roy Schestowitz on Monday 23rd of November 2020 11:55:28 PM
Filed under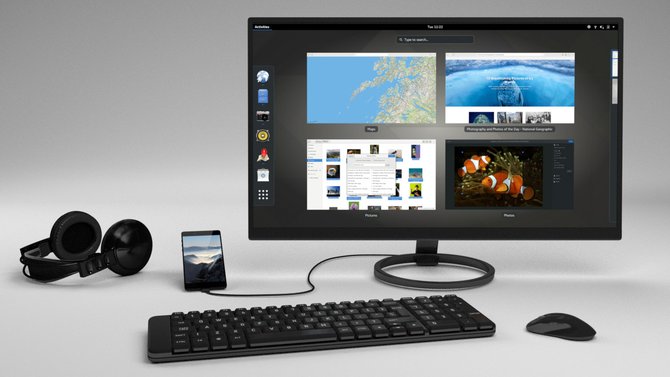 Mobile/Desktop convergence is something that Purism had planned and has been developing since the launch of the Librem 5.
It all started with the amazing work that Adrien initiated with the libhandy library, that let the default Librem 5 applications be adapted from the exact same applications running on the laptops.
Now the Librem 5 team is moving a step further by letting the Librem 5 being used as a real desktop computer by simply plugging it into an external monitor, keyboard and mouse through a single USB hub. The feature is still under active development at the time of writing this article, but the different components are starting to come together and it is already pretty functional.
»
Printer-friendly version

2097 reads

PDF version
More in Tux Machines
Getting to know Kyeong Sang Kim, Red Hat general manager for Korea

We're delighted to welcome Kyeong Sang Kim to Red Hat as a general manager for Korea. In the new role, he will be responsible for Red Hat's business operations in the country. Kyeong Sang is an expert in the field of IT consulting, supporting numerous business innovation projects for more than 25 years. Prior to joining Red Hat, Kyeong Sang served as the CEO of SICC (Ssangyong Information & Communications Corp), where he successfully led the company's digital transformation to the cloud. He has also held several other leadership roles at global companies, including Accenture. We caught up with Kyeong Sang to find out more about his interest in open source and Red Hat, and his insights on leadership.

CentOS is gone—but RHEL is now free for up to 16 production servers

Last month, Red Hat caused a lot of consternation in the enthusiast and small business Linux world when it announced the discontinuation of CentOS Linux. Long-standing tradition—and ambiguity in Red Hat's posted terms—led users to believe that CentOS 8 would be available until 2029, just like the RHEL 8 it was based on. Red Hat's early termination of CentOS 8 in 2021 cut eight of those 10 years away, leaving thousands of users stranded. As of February 1, 2021, Red Hat will make RHEL available at no cost for small-production workloads—with "small" defined as 16 systems or fewer. This access to no-cost production RHEL is by way of the newly expanded Red Hat Developer Subscription program, and it comes with no strings—in Red Hat's words, "this isn't a sales program, and no sales representative will follow up."

Linux at Home: Digital Music Production with Linux

We are told by our governments that in the current crisis the single most important action we can take is to stay at home and minimise the amount of contact with others. The new variants of Covid-19 are much more transmissible than the virus's previous version. The advice to stay safe is therefore even more important. It's only with everyone abiding by the law can we protect our health services and save lives. In this series, we look at a range of home activities where Linux can play its part, making the most of our time at home, keeping active and engaged. The change of lifestyle enforced by Covid-19 is an opportunity to expand our horizons, and spend more time on activities we have neglected in the past.

Android Leftovers