DIGITAL HOARDING: UBUNTU MIRROR
Submitted by Rianne Schestowitz on Wednesday 13th of January 2021 10:51:57 AM
Filed under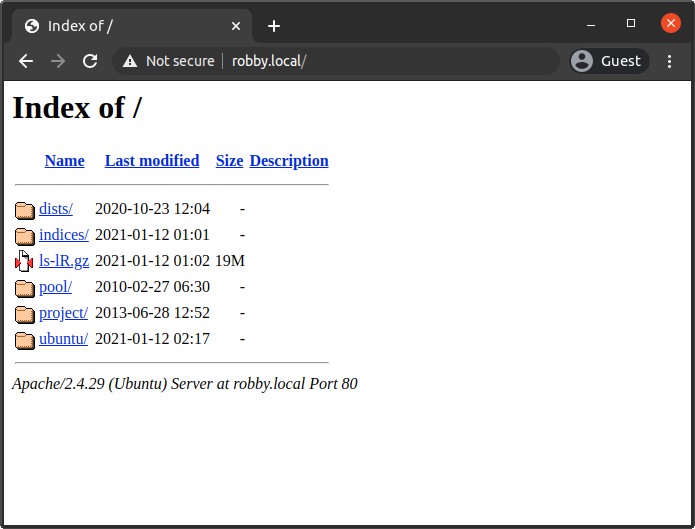 I have a bunch of Ubuntu machines on my local network at home. They all periodically need to check for updates then download & install them. Rather than have them all reach out to the official mirrors externally to my network, I decided to run my own mirror internally. This post is just a set of notes for anyone else who might be looking to do something similar.
I also do a lot of software building, and re-building, which pulls all kinds of random libraries, compilers and other packages from the archive. Having it local saves me repeatedly downloading from the 'net while the kids are on Netflix School Zoom classes.
Don't do this if you're on a super slow connection because the mirror will probably never finish building. Also probably don't do it if you have a per-byte billing arrangement with your provider. This will chew quite a bit of bandwidth, especially the first run. But even subsequent runs can do too, depending on how much chrurn in the Ubuntu Archive there's been since it was last executed.
»
Printer-friendly version

919 reads

PDF version
More in Tux Machines
Proprietary Software and Digital Restrictions (DRM)

Debian Developers: Christian Kastner, Junichi Uekawa, and Michael Prokop

I've tried numerous coolers in the past, some of monstrous proportions (always thinking that more mass must be better, and reputable brands are equally good), but I was never really satisfied; hence, I was doubtful that trying yet another cooler would make a difference. I'm glad I tried the Noctua NH-D15 anyway. With some tweaking to the fan profile in the BIOS, it's totally inaudible at normal to medium workloads, and just a very gentle hum at full load—subtle enough to disappear in the background. For the past decade, I've also regularly purchased sound-proofed cases, but this habit appears anachronistic now. Years ago, sound-proofed cases helped contain the noise of a few HDDs. However, all of my boxes now contain NVMe drives (which, to me, are the biggest improvement to computing since CPUs going multi-core). On the other hand, some of my boxes now contain powerful GPUs used for GPGPU computing, and with the recent higher-end Nvidia and AMD cards all pulling in over 300W, there is a lot of heat to manage. The best way to quickly dump heat is with good airflow. Sound-proofing works against that. Its insulation restricts airflow, which ultimately causes even more noise, as the GPU's fans need to spin at very high RPMs. This is, of course, totally obvious in hindsight.

It's been 20 years since I became a Debian Developer. Lots of fun things happened, and I think fondly of the team. I am no longer active for the past 10 years due to family reasons, and it's surprising that I have been inactive for that long. I still use Debian, and I still participate in the local Debian meetings.

Mainly to recall what happened last year and to give thoughts and plan for the upcoming year(s) I'm once again revisiting my previous year (previous editions: 2019, 2018, 2017, 2016, 2015, 2014, 2013 + 2012). Due to the Coronavirus disease (COVID-19) pandemic, 2020 was special™ for several reasons, but overall I consider myself and my family privileged and am very grateful for that. In terms of IT events, I planned to attend Grazer Linuxdays and DebConf in Haifa/Israel. Sadly Grazer Linuxdays didn't take place at all, and DebConf took place online instead (which I didn't really participate in for several reasons). I took part in the well organized DENOG12 + ATNOG 2020/1 online meetings. I still organize our monthly Security Treff Graz (STG) meetups, and for half of the year, those meetings took place online (which worked OK-ish overall IMO). Only at the beginning of 2020, I managed to play Badminton (still playing in the highest available training class (in german: "Kader") at the University of Graz / Universitäts-Sportinstitut, USI). For the rest of the year – except for ~2 weeks in October or so – the sessions couldn't occur. Plenty of concerts I planned to attend were cancelled for obvious reasons, including the ones I would have played myself. But I managed to attend Jazz Redoute 2020 – Dom im Berg, Martin Grubinger in Musikverein Graz and Emiliano Sampaio's Mega Mereneu Project at WIST Moserhofgasse (all before the corona situation kicked in). The concert from Tonč Feinig & RTV Slovenia Big Band occurred under strict regulations in Summer. At the beginning of 2020, I also visited Literaturshow "Roboter mit Senf" at Literaturhaus Graz.

Games: Familiars.io, Valve and Godot

Well this is quite unusual. You've played monster catching games before but not like this. Familiars.io put a fresh spin on it all and it's quite ingenious. Developed as a pixel-art retro-looking browser game, it's super accessible since you can play it on pretty much anything that can run some simple graphics in a browser window. It's an MMO too, so you can join up with others and chill out. When you want to, go off and catch some monsters, engage is some PvP and perhaps find a new favourite game waiting for you.

By now you've probably heard either through us in our previous article or elsewhere that Valve are cooking something up to help Linux gaming even further. We have an idea on what one part of it is. Valve already do quite a lot. There's the Steam Play Proton compatibility layer, the new container runtime feature to have Linux games both natively supported and Windows games in Proton run through a contained system to ensure compatibility, their work on Mesa drivers and much more. In Valve's review of Steam in 2020 that we covered in the link above, one thing caught our eye and has been gaining attention. Valve mentioned for 2021 they will be "putting together new ways for prospective users to get into Linux gaming and experience these improvements" so what exactly does that mean? Well, a big part of that might have already been suggested directly.

While our main focus stays on the 4.0 branch, the current stable 3.2 branch is receiving a lot of great improvements, and the upcoming 3.2.4 release is going to be packed with many new features.

Zeroshell 3.9.5 Released

Zeroshell 3.9.5 is ready. In this release TLS 1.0 has been disabled and TLS 1.2 enabled for HTTPS. This improves security and compatibility with new browser releases.