QBittorrent Support For BitTorrent 2.0 Is Looking Good
Submitted by Roy Schestowitz on Friday 5th of March 2021 04:18:26 PM
Filed under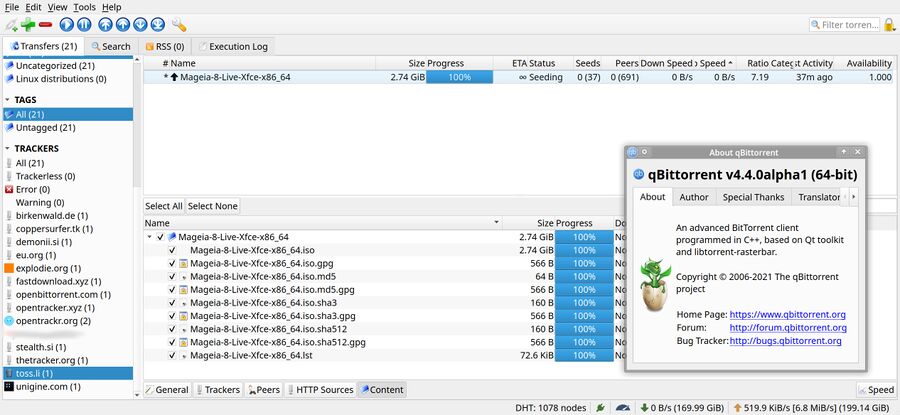 BitTorrent 2.0, defined in BEP52 all the way back in January 2008, is a big upgrade to the existing BitTorrent protocol. It uses SHA-256 instead of the now very insecure SHA-1 hash algorithm, it has a much more efficient directory structure in the .torrent files and the pieces of files within a torrent are represented by merkle hash trees.
One potentially fun advantage of the new .torrent file format is that individual files within a .torrent get their own hash. That could be used to participate in two or more public swarms if two or more torrents happen to contain the same file(s). There is no code for such a cross-leaching feature as of today, but is in theory quite possible.
BitTorrent clients have been very slow to implement the new BitTorrent 2.0 protocol. libtorrent-rasterbar 2.0, released in October 2020, was the first widely used BitTorrent library to full support it and all its features.
The popular qBittorrent client, available for macOS newer than High Sierra, Windows 7+ and Linux, is built on the libtorrent-rasterbar library. The latest stable v4.3.3 release from January 2021 uses libtorrent-rasterbar 1.2.
»
Printer-friendly version

1251 reads

PDF version
More in Tux Machines
today's leftovers

Linux 5.11.13, 5.10.29, 5.4.111, 4.19.186, 4.14.230, 4.9.266, and 4.4.266

Get involved with Mageia, become a Packager

With Mageia 8 just released and development for Mageia 9 getting underway in Cauldron, the unstable branch of Mageia, now is a great time to get involved with packaging. We are starting to look at the features that we want to include for Mageia 9, and as it is so early in the development cycle, now is the time for major developments, or big updates to key pieces of software. This is a great time to join the project as you can propose features you would like to see, help to implement large changes or see how a distribution evolves through development, stabilisation and then is released. If there is an application that you are interested in, if you want to help maintain part of the distribution, or if you want to learn something new, there are many opportunities to do so with the packaging team.

Google does not want you to tell your players about your donation page

I recently updated Pixel Wheels banner image on Google Play. That triggered a review of the game: shortly after the update I received a message telling me Pixel Wheels was "not compliant with Google Play Policies". What nefarious activity does the game engage in? Sneak on users? Mine bitcoins? [...] Meanwhile you can still get the game from F-Droid or itch.io, since they do not have a problem with a link to a donation page.