Macchina – Another Command Tool to Display Basic System Info in Linux
Submitted by Roy Schestowitz on Saturday 6th of March 2021 05:09:44 PM
Filed under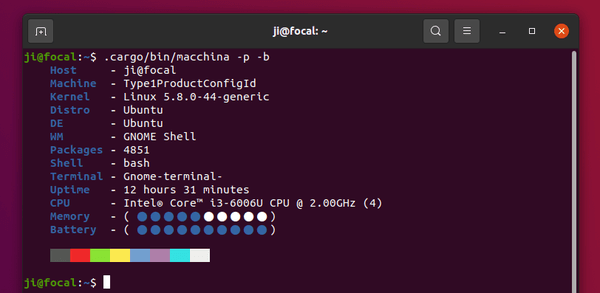 Macchina is another command line tool to fetch basic system information in Linux, similar to Neofetch, but focus on performance and minimalism.
The software is written in Rust, and it displays basic system information, including hostname, manufacturer, kernel version, uptime, desktop environment, processor, memory / battery status, and more. Macchina is pretty fast, it runs 8.53 ± 0.72 times faster than neofetch!
Macchina is a new project in active development. By adding --theme or -t flag, you can specify one of the supported themes. They are so far: default, alt, and long.
»
Printer-friendly version

2289 reads

PDF version
More in Tux Machines
Android Leftovers

Best Free Android Apps: Joplin – note taking and to-do application

There's a strict eligibility criteria for inclusion in this series. See the Eligibility Criteria section below. Joplin is a free, open source note taking and to-do application, which can handle a large number of notes organized into notebooks. The notes are searchable, can be copied, tagged and modified.

How I digitized my CD collection with open source tools

The restrictions on getting out and about during the pandemic occasionally remind me that time is slipping by—although some days, "slipping" doesn't quite feel like the right word. But it also reminds me there are more than a few tasks around the house that can be great for restoring the sense of accomplishment that so many of us have missed. One such task, in my home anyway, is converting our CD collection to FLAC and storing the files on our music server's hard drive. Considering we don't have a huge collection (at least, by some people's standards), I'm surprised we still have so many CDs awaiting conversion—even excluding all the ones that fail to impress and therefore don't merit the effort.

Hyperbola Linux Review: Systemd-Free Arch With Linux-libre Kernel

In the last month of 2019, the Hyperbola project took a major decision of ditching Linux in favor of OpenBSD. We also had a chat with Hyperbola co-founder Andre Silva, who detailed the reason for dropping Hyperbola OS and starting a new HyperbolaBSD. HyperbolaBSD is still under development and its alpha release will be ready by September 2021 for initial testing. The current Hyperbola GNU/Linux-libre v0.3.1 Milky Way will be supported until the legacy Linux-libre kernel reaches the end of life in 2022. I thought of giving it a try before it goes away and switches to BSD completely.