10 of the best IRC clients for Linux
Submitted by Roy Schestowitz on Monday 19th of July 2021 11:15:46 PM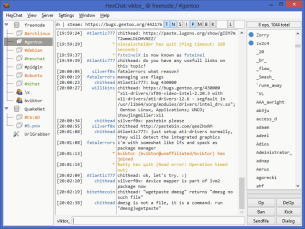 Internet Relay Chat is a client and a protocol for real-time Internet text messaging and synchronous conferencing. Users can connect with an IRC client to a global network of IRC servers for one-on-one or group chat. Same may consider IRC an old-fashioned way of communication, but it still has many users in the development community.
IRC is still under constant development, with IRCv3 promising some advanced client features such as instant notifications, improved security, and standard features like group communication in forums and channels, one-on-one communication via chat or private message, and data transfers via Direct Client-to-Client.
For file transfers in IRC, users can create file servers to share files using customized scripts or bots for their IRC client. I use IRC primarily to engage with the Linux community. You can share or engage directly with users or developers of applications and distros.
»
Printer-friendly version

2675 reads

PDF version
More in Tux Machines
Hardware/Modding and 3D Printing (RIP, Sanjay Mortimer)

Over the weekend, Sanjay Mortimer passed away. This is a tremendous blow to the many people who he touched directly and indirectly throughout his life. We will remember Sanjay as pioneer, hacker, and beloved spokesperson for the 3D printing community. If you've dabbled in 3D printing, you might recall Sanjay as the charismatic director and co-founder of the extrusion company E3D. He was always brimming with enthusiasm to showcase something that he and his company had been developing to push 3D printing further and further. But he was also thoughtful and a friend to many in the community. Let's talk about some of his footprints.

Today we're going to be taking a look at the reTerminal, by Seeed Studio. We'll unbox the device to see what is included and we'll then set up a weather dashboard on it using Grafana. We're going to use weather data that is being recorded by an ESP32 microcontroller and is being posted to an InfluxDB database. The reTerminal is a compact HMI (human-machine interface) device that is powered by a Raspberry Pi compute module 4 (CM4). It has a 5″ capacitive touch display, along with four physical function buttons, some status LEDs, and a host of IO options.

It's become something of a trope in our community, that the simplest way to bestow a level of automation or smarts to a project is to reach for an Arduino. The genesis of the popular ecosystem of boards and associated bootloader and IDE combination is well known, coming from the work of a team at the Interaction Design Institute Ivrea, in Northern Italy. The name "Arduino" comes from their favourite watering hole, the Bar di Re Arduino, in turn named for Arduin of Ivrea, an early-mediaeval king. As far as we can see the bar no longer exists and has been replaced by a café, which appears on the left in this Google Street View link. The bar named for Arduin of Ivrea is always mentioned as a side note in the Arduino microcontroller story, but for the curious electronics enthusiast it spawns the question: who was Arduin, and why was there a bar named after him in the first place? The short answer is that Arduin was the Margrave of Ivrea, an Italian nobleman who became king of Italy in 1002 and abdicated in 1014. The longer answer requires a bit of background knowledge of European politics around the end of the first millennium, so if you're ready we'll take Hackaday into a rare tour of medieval history.

Programming Leftovers

Servers: Kubernetes, Uptime/Availability Ranks, and EdgeX Foundry

The Kubernetes release train rolls on, and we look ahead to the release of 1.23 next week. As is our tradition, I'm pleased to bring you a look back at the process that brought us the previous version. The release team for 1.22 was led by Savitha Raghunathan, who was, at the time, a Senior Platform Engineer at MathWorks. I spoke to Savitha on the Kubernetes Podcast from Google, the weekly* show covering the Kubernetes and Cloud Native ecosystem. Our release conversations shine a light on the team that puts together each Kubernetes release. Make sure you subscribe, wherever you get your podcasts so you catch the story of 1.23. And in case you're interested in why the show has been on a hiatus the last few weeks, all will be revealed in the next episode!

Rackspace had the most reliable hosting company site in November 2021, with an average connection time of just 8ms across the month and no failed requests. Rackspace has appeared in the top 10 most reliable hosting company sites every month of the past 12 months, and has taken the number one spot in five of those. Rackspace offers a wide variety of cloud hosting solutions from over 40 data centres across the Americas, Europe, Asia and Australia. [...] Nine of the top 10 hosting company sites used Linux in October, continuing the dominance of Linux. In ninth place, New York Internet (NYI) used FreeBSD.

EdgeX Foundry, a Linux Foundation project under the LF Edge project umbrella, today announced the release of version 2.1 of EdgeX, codenamed 'Jakarta.' The project's ninth release, it follows the recent Ireland release, which was the project's second major release (version 2.0). Jakarta is significant in that it is EdgeX's first release to offer long term support (LTS).

Debian: Sparky's Annual Server Donations Drive and Latest Debian Development Reports