10 of the best IRC clients for Linux
Submitted by Roy Schestowitz on Monday 19th of July 2021 11:15:46 PM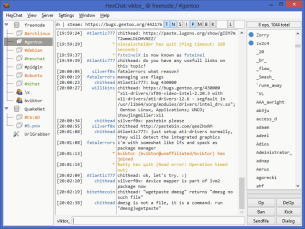 Internet Relay Chat is a client and a protocol for real-time Internet text messaging and synchronous conferencing. Users can connect with an IRC client to a global network of IRC servers for one-on-one or group chat. Same may consider IRC an old-fashioned way of communication, but it still has many users in the development community.
IRC is still under constant development, with IRCv3 promising some advanced client features such as instant notifications, improved security, and standard features like group communication in forums and channels, one-on-one communication via chat or private message, and data transfers via Direct Client-to-Client.
For file transfers in IRC, users can create file servers to share files using customized scripts or bots for their IRC client. I use IRC primarily to engage with the Linux community. You can share or engage directly with users or developers of applications and distros.
»
Printer-friendly version

2576 reads

PDF version
More in Tux Machines
New Videos: Kdenlive, Linux From Scratch, Ubuntu Budgie 21.10, and Ubuntu 21.10

Sculpt OS release 21.10

At the first glance, the just released Sculpt 21.10 looks and feels nearly identical to the time-tested previous version 21.03. However, a look at the installable packages reveals a firework of exciting new features. First and technically most exciting, the new version enables the use of hardware-accelerated graphics on Intel GPUs, paving the ground for graphics-intensive applications and games. The GPU support is based on the combination of the Mesa library stack with our custom GPU multiplexer as featured in Genode 21.08. Note that this fresh new feature should best be regarded as experimental and be used with caution. Also: Genode-Based Sculpt OS 21.10 Adds Intel GPU Acceleration, USB Web Camera Support - Phoronix

today's howtos

The 5 Best Remote Desktop Clients for Linux

Do you want to control a computer you don't have physical access to? Perhaps you're assisting a non-technical friend with their computer over voice call and want better control over their system. The solution to all these problems is a remote desktop client. On Linux, you can find a plethora of free and open-source remote desktop apps that allow you to establish connections and access a remote computer efficiently. But which one works the best and has superior functionalities to the rest? Let's find out.