Astro Pi 2: New Raspberry Pi hardware with updated camera, sensors to head to the ISS this year
Submitted by Roy Schestowitz on Monday 20th of September 2021 02:53:59 AM
Filed under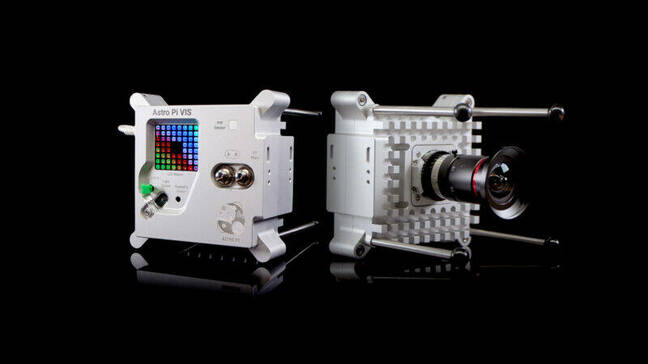 Good news for earthbound Pi-tinkerers hoping to get their code into orbit: a follow-up to 2015's Astro Pi is due to head to the International Space Station (ISS) this year.
Time has moved on a bit since the Principia mission of Tim Peake where the first units were installed aboard the orbiting outpost. While over 54,000 participants from 26 countries have since had code run on the hardware, the kit has fallen somewhat behind what is available on Earth.
To that end, some new units are due to be launched, replete with updated hardware. In this case, heading to orbit will be Raspberry Pi 4 Model B units with 8GB RAM, the Raspberry Pi High Quality Camera (a 12.3MP device) and the usual complement of gyroscope, accelerometer, magnetometer, humidity, temperature and pressure sensors for users to code against.
Also: Tracking Maximum Power Point For Solar Efficiency | Hackaday
»
Printer-friendly version

1668 reads

PDF version
More in Tux Machines
Security Leftovers

This Raspberry Pi add-on lets you control Lego robots

Raspberry Pi is releasing an add-on that will let you use many of its tiny, inexpensive computers to control certain Lego robot motors and sensors. The add-on is called the Build HAT (HAT stands for Hardware Attached on Top), and slotting it onto a Raspberry Pi's GPIO pins will give you four ports that you can use to control Lego Education's SPIKE components, which the HAT and its software are specially designed for. It'll also connect to most other parts that use an LPF2 connector, including the components from the Lego Mindstorms robot inventor kit. There's also a Python library (basically a set of commands you can use to control the robot) available to go alongside the HAT, which will let you write software to control the robot parts you've got hooked up. Programing Lego's SPIKE components with Python isn't a unique selling feature from Raspberry Pi — the SPIKE kit comes with a hub that supports connecting six devices (compared to the Build HAT's four) that can also store and run Python programs.

today's howtos

Games: Trine 3 on Linux, Stellaris: Aquatics Species Pack, Cassette Beasts, Julius 1.7