Extreme Overclocker Takes Raspberry Pi to 3 GHz
Submitted by Roy Schestowitz on Friday 15th of October 2021 12:29:20 PM
Filed under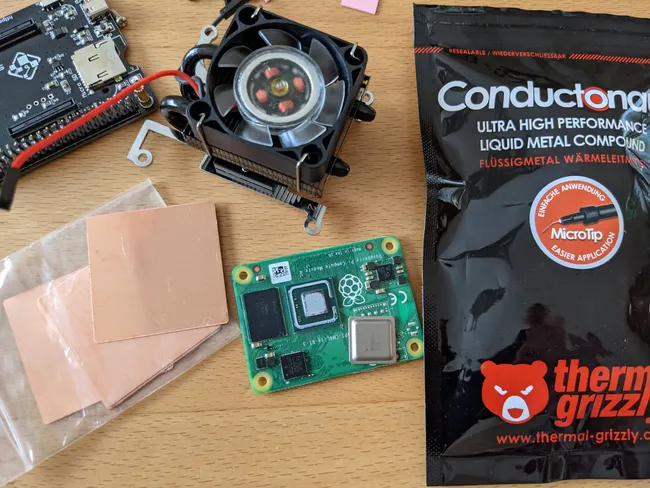 Some people will do anything for a speed boost, prying the lids off expensive i9s and subjecting them to all manner of chilly chemical concoctions to drag every last megahertz out of the silicon. We've not seen anybody do such an extreme overclock with a Raspberry Pi before, but there's a first time for everything. Claude Schwarz has overclocked his Raspberry Pi Compute Module 4 to an extraordinary 3 GHz.
[...]
Schwarz's earlier efforts saw him overclock the Compute Module 4 to 2.89 GHz, still an extreme speed boost over the stock 1.5 GHz. As well as using liquid metal thermal paste, Schwarz used active cooling on the Compute Module 4 in the form of a heatsink and fan designed for the Raspberry Pi (which could be a 52Pi model cooler). Taking the steps to overclock even further Schwarz disabled power management features to unlock a higher overclock, resulting in much higher CPU speeds than we can achieve with a typical overclock. We should probably say at this point that anyone doing this is on their own, as these extreme actions will definitely void your warranty, and we take no responsibility for whatever happens if you try it.
A little more fumbling in the Pi's firmware - what Schwarz refers to as "removing all safety nets" - and the CM4 is running at an impressive 2.4GHz at 26.2°C (79.16°F). Not bad for a board that started life at 1.5GHz and didn't require cooling.
»
Printer-friendly version

3292 reads

PDF version
More in Tux Machines
See Carla Schroder Talk Linux Online - and Maybe Win a Book or Other Cool Swag

Carla Schroder, Linux enthusiast and advocate, and the author several well known books on Linux and open source software (including her latest, Linux Cookbook Second Edition), has teamed up with the folks who produce the annual All Things Open conference in Raleigh. The result is a live online webinar — What's New in Linux: the Most Significant Changes in the Past Ten Years — that's scheduled to take place at noon Eastern Time/9 am Pacific Time on December 14. The event is completely free (actually better than free, since they'll be giving away a number of copies of her new Linux cookbook, as well as some cool All Things Open t-shirts and stickers, all shipped postage paid), but you'll need to register to attend.

4 Stat Commands in Linux with Example for Beginner Users

A stat command displays information about a file or a file system. With the stat command, you can get information like the file size, its permissions, the IDs of the group and user that have access, and the date and time that the file was created. Another feature of the stat command is that it can also provide information about the file system. When we want to know the information about a file, we should use this tool. So in this blog, you will get to know about the Stat command in Linux with appropriate examples.

Best Free and Open Source Alternatives to Corel AfterShot Pro

Corel Corporation is a Canadian software company specializing in graphics processing. They are best known for developing CorelDRAW, a vector graphics editor. They are also notable for purchasing and developing AfterShot Pro, PaintShop Pro, Painter, Video Studio, MindManager, and WordPerfect. Corel has dabbled with Linux over the years. For example they produced Corel Linux, a Debian-based distribution which bundled Corel WordPerfect Office for Linux. While Corel effectively abandoned its Linux business in 2001 they are not completely Linux-phobic.

KDDockWidgets 1.5.0 Released

KDDockWidgets is a development framework for custom-tailored docking systems in Qt, to use when you need advanced docking that is not supported by QDockWidgets. It was created by Sergio Martins as a time-saving alternative to QDockWidgets. The ease-of-use of KDDockWidgets can save you lots of frustration as well, in that you won't have to deal with the myriad bugs and the difficulties and complexities faced when working with QDockWidgets.