PineTime Smartwatch and Good Code Play Bad Apple
Submitted by Roy Schestowitz on Saturday 16th of October 2021 10:31:33 PM
Filed under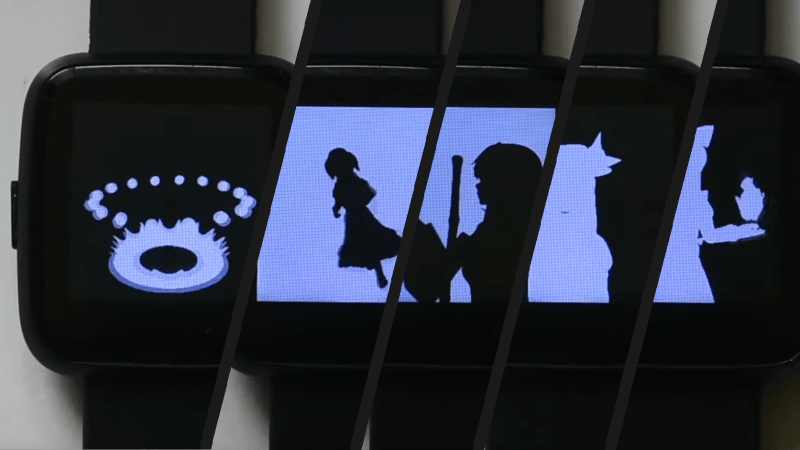 PineTime is the open smartwatch from our friends at Pine64. [TT-392] wanted to prove the hardware can play a full-motion music video, and they are correct, to a point. When you watch the video below, you should notice the monochromatic animation maintaining a healthy framerate, and there lies all the hard work. Without any modifications, video would top out at approximately eight frames per second.
To convert an MP4, you need to break it down into images, which will strip out the sound. Next, you load them into the Linux-only video processor, which looks for clusters of pixels that need changing and ignores the static ones. Relevant pixel selection takes some of the load off the data running to the display and boosts the fps since you don't waste time reminding it that a block of black pixels should stay the way they are. Lastly, the process will compress everything to fit it into the watch's onboard memory. Even though it is a few minutes of black and white pictures, compiling can take a couple of hours.
»
Printer-friendly version

2903 reads

PDF version
More in Tux Machines
Tender to optimize text layout performance for print and PDF export (#202112-01)

The Document Foundation (TDF) is the charitable entity behind the world's leading free/libre open source (FLOSS) office suite LibreOffice. We are looking for an individual or company to optimize text layout performance for print and PDF export. The text layout performance as currently implemented in LibreOffice has lots of issues. All over the codebase text shaping is done over and over again, although it consumes quite some compute cycles. Text shaping is done each time for measuring the text, measuring parts of text, finding line breaks, drawing text on screen. Especially for more involved scripts than Latin, this is problematic. The above issues are especially problematic for printing or PDF export. The time to export a PDF or print a Latin text has doubled since the Harfbuzz implementation.

Best Free and Open Source Alternatives to Apple Final Cut Pro

In 2020, Apple began the Apple silicon transition, using self-designed, 64-bit ARM-based Apple M1 processors on new Mac computers. Maybe it's the perfect time to move away from the proprietary world of Apple, and embrace the open source Linux scene. Final Cut Pro is a commercial proprietary video editing application which lets users log and transfer video, edit, process the video, and output to a wide variety of formats. What are the best free and open source alternatives?

Open source photo processing with Darktable

It's hard to say how good photographs happen. You have to be in the right place at just the right moment. You have to have a camera at the ready and an eye for composition. And that's just the part that happens in the camera. There's a whole other stage to great photography that many people don't think about. It used to happen with lights and chemicals in a darkroom, but with today's digital tools, post-production happens in darkroom software. One of the best photo processors is Darktable, and I wrote an intro to Darktable article back in 2016. It's been five years since that article, so I thought I'd revisit the application to write about one of its advanced features: masks. Darktable hasn't changed much since I originally wrote about it, which to my mind, is one of the hallmarks of a truly great application. A consistent interface and continued great performance is all one can ask of software, and Darktable remains familiar and powerful. If you're new to Darktable, read my introductory article to learn the basics.

What's the Difference Between Git Switch and Checkout?

When you start learning and using Git, you'll come across the common situation where you have to change branches. And here, things could become a bit confusing for you. If you look for how to switch branches in git, you'll come across some examples where git switch is used and some examples where git checkout is used. So, what's the difference between git switch and git checkout? If both can be used for switching branches, why are there two commands for the same purpose? Let me explain.