PineTime Smartwatch and Good Code Play Bad Apple
Submitted by Roy Schestowitz on Saturday 16th of October 2021 10:31:33 PM
Filed under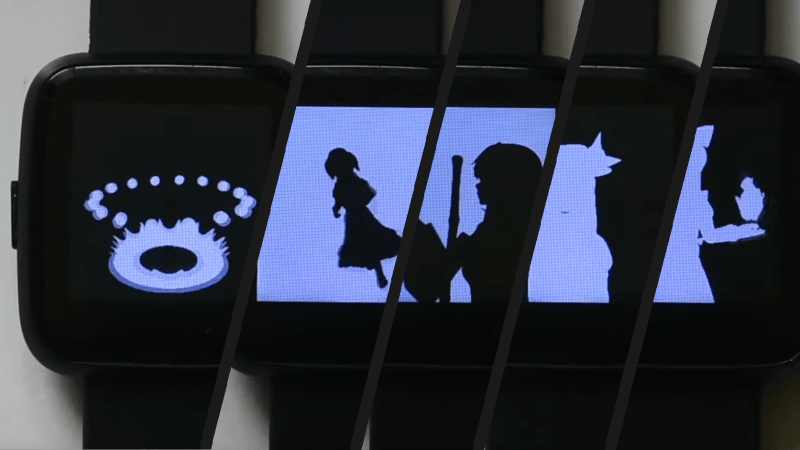 PineTime is the open smartwatch from our friends at Pine64. [TT-392] wanted to prove the hardware can play a full-motion music video, and they are correct, to a point. When you watch the video below, you should notice the monochromatic animation maintaining a healthy framerate, and there lies all the hard work. Without any modifications, video would top out at approximately eight frames per second.
To convert an MP4, you need to break it down into images, which will strip out the sound. Next, you load them into the Linux-only video processor, which looks for clusters of pixels that need changing and ignores the static ones. Relevant pixel selection takes some of the load off the data running to the display and boosts the fps since you don't waste time reminding it that a block of black pixels should stay the way they are. Lastly, the process will compress everything to fit it into the watch's onboard memory. Even though it is a few minutes of black and white pictures, compiling can take a couple of hours.
»
Printer-friendly version

3014 reads

PDF version
More in Tux Machines
Why we're migrating (many of) our servers from Linux to FreeBSD

There are many alternative operating systems to Linux and the *BSD family is varied and complete. FreeBSD, in my opinion, today is the "all rounder" system par excellence, i.e. well refined and suitable both for use on large servers and small embedded systems. The other BSDs have strengths that, in some fields, make them particularly suitable but FreeBSD, in my humble opinion, is suitable (almost) for every purpose.

So back to the main topic of this article, why am I migrating many of the servers we manage to FreeBSD? The reasons are many, I will list some of them with corresponding explanations.

today's howtos

Android Leftovers

Hot Free and Open Source Application Servers for Lua

An application server is computer software which provides the business logic for an application program. It offers services such as management of large distributed systems, data services, load balancing, transaction support, and network security. The application server is one part of a three-tier application, consisting of a graphical interface server, an application (business logic) server, and a database / transaction server. Many application servers support the Java platform, but they can be found in other environments. There are good reasons to deploy an application server in a corporate environment. At a high level, an application server enables updates and upgrades to applications to be distributed to all users. System administrators also benefit from the fact that changes to application configuration can take place centrally, which greatly simplifies technical support and ultimately the end user experience. Application servers also simplify user management, avoiding the need to set up and maintain user-management systems for applications. This type of software also enhances scalability and resource usage, and exposes business components via different deployment wrappers.