ModBerry 500 CM4 updated with more GbE, M.2, USB 3.0, and more
Submitted by Roy Schestowitz on Monday 29th of November 2021 09:47:25 PM
Filed under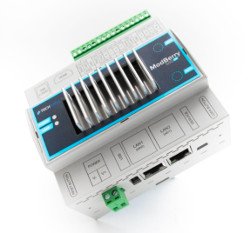 Techbase has updated its RPi CM4-based ModBerry 500 CM4 controller with options including a second GbE, 4x USB 3.0 ports, a second M.2 slot for NVMe, double the Excard I/O slots, PoE, and two outdoor enclosures.
Techbase has announced an updated version of its ModBerry 500 CM4 industrial controller, which once again runs Linux on the Raspberry Pi Compute Module 4. Highlights include options for more GbE, M.2, and Excard expansion slots, as well as options for PoE and a 4x USB 3.0 port hub. There are also two new outdoor enclosures, one of which offers IP68 protection.
»
Printer-friendly version

2111 reads

PDF version
More in Tux Machines
Review: UBports on the PinePhone

At the end of 2021 I posted a review about the PinePhone and what it was like running the device's default operating system: Manjaro Linux featuring the Plasma Mobile interface. While I've had decent experiences with Plasma Mobile in the past, the combination of Manjaro, the PinePhone, and this interface left a lot to be desired. It was slow, it was unstable, and there were issues with the battery charge indicator. To make matters worse, the default applications were not polished or well named. It was a rough experience and, though I can see where there is hope for Manjaro on the PinePhone, I was eager to try something different. In the past I have had mostly good experiences with the UBports distribution. UBports is a community project which has continued Canonical's Ubuntu Touch operating system for smart phones and tablets. Since I've run UBports on devices which didn't have any more memory or processing power than the PinePhone, I was optimistic about trying out the PinePhone with this alternative distribution.

Switching from OpenNTPd to Chrony

A friend recently reminded me of the existence of chrony, a "versatile implementation of the Network Time Protocol (NTP)".

today's howtos

Keyboards and Open-Source - Ignorance is bliss..

.

In my Keyboard Fun post from last year I talked a bit about my interest in mechanical keyboards. Since then, I played around with a few more keyboards/switches/keycaps/… Interesting enough, beside the actual hardware, naturally there is some software component to all these keyboards, too. Whereas most commercial keyboards still come with proprietary firmware, there is the trend within the keyboard enthusiast scene to go for open-source firmware. This allows you to properly update the firmware even from your Linux machine and do proper configuration of e.g. the keymap, too.