5 Best Terminal Based Linux Monitoring Tools
Submitted by Roy Schestowitz on Thursday 9th of December 2021 01:05:36 AM
Filed under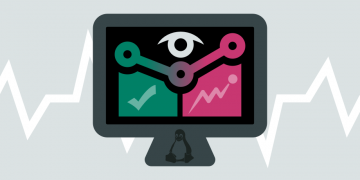 We are going to explore the 5 best terminal based monitoring tools that you can use on your Linux systems to keep you fully aware of their status.
Everyone will agree that Linux monitoring tools are required to ensure a healthy Linux infrastructure. Hence, a performance monitoring solution becomes important to observe the health, activities, and capability of your Linux systems.
Fortunately, there are many Linux monitoring tools available out there. In this article we are going to talk about 5 lightweight terminal-based and free-to-use tools to monitors servers and desktops running Linux.
»
Printer-friendly version

1689 reads

PDF version
More in Tux Machines
Today in Techrights

today's leftovers

Programming Leftovers

This End Times Cyberdeck Is Apocalypse-Ready'

In the cyberdeck world, some designs are meant to evoke a cyberpunk vibe, an aesthetic that's more lighthearted than serious. Some cyberdecks, though, are a little more serious about hardening their designs against adverse conditions. That's where something like the ARK-io SurvivalDeck comes into play. Granted, there does seem to be at least a little lightheartedness at play with the aptly named [techno-recluse]'s design. It's intended to be an "Apocalypse Repository of Knowledge", which may be stretching the point a bit. But it does contain an impressive amount of tech — wide-band software defined radio (SDR) covering HF to UHF, GPS module, a sensor for air pressure, temperature, and humidity, and a Raspberry Pi 3B running Kali Linux. Everything is housed in a waterproof ammo can; a 3D printed bezel holds an LCD touchscreen and a satisfying array of controls, displays and ports. The lid of the ammo can holds a keyboard, which was either custom-made to precisely fit the lid or was an incredibly lucky find.