I ditched Ubuntu for Pop_OS! and I haven't looked back since
Submitted by Rianne Schestowitz on Thursday 19th of May 2022 01:17:27 PM
Filed under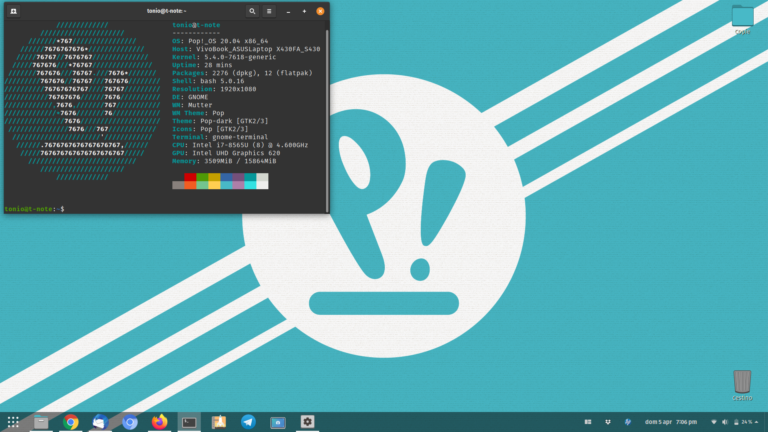 After getting comfortable with Ubuntu and getting to a point where I could find my way around and install tools that I used, I felt like I was outgrowing the simplicity. I needed something a little more robust, something more feature-packed. And that led me down the rabbit hole many Linuxers know all too well.
There are tons of distros and over the next few years, I hopped from one to another, just trying to have a feel of the developers' mindset and goals when designing the operating systems. I dailied many of the popular ones from Manjaro, Fedora, PearOS, CutefishOS, Linux Mint, and many more.
Linux can be exciting once you nail the basics and know a few tools that cut across these distros. This, aided by the robust community forums out here means that whatever issue you run into, you're often times mere clicks away from a solution. Also, should you not tinker with the system too much, you might never break it at all. That's just how stable some of these distros are.
»
Printer-friendly version

1238 reads

PDF version
More in Tux Machines
RHEL 9 delivers latest container technologies for development and production

Three years ago, with the release of Red Hat Enterprise Linux 8 (RHEL 8), we delivered a new set of container tools with a new concept called Application Streams. These new container tools enabled RHEL users to find, run, build and share containers. For more information on why RHEL moved from Docker to Podman (and the journey it took us to get there) see RHEL 8 enables containers with the tools of software craftsmanship.  In our previous release, What's new in Red Hat Enterprise Linux 8.5 Container Tools?, we introduced a lot of the foundational features and capabilities needed to get to RHEL 9.

Complete Upgrade Guide to Linux Mint 21 (Vanessa) from 20.3

A complete tutorial on how to upgrade to Linux Mint 21 (Vanessa) from Linux Mint 20.3 with the graphical method.

Red Hat Leftovers

today's leftovers

Getting ready to build the next 64-bit release of EasyOS, have been working on a few things and not documenting. So, had better report some of it...

A new release 0.2.11 of RcppCCTZ is now on CRAN. RcppCCTZ uses Rcpp to bring CCTZ to R. CCTZ is a C++ library for translating between absolute and civil times using the rules of a time zone. In fact, it is two libraries. One for dealing with civil time: human-readable dates and times, and one for converting between between absolute and civil times via time zones. And while CCTZ is made by Google(rs), it is not an official Google product. The RcppCCTZ page has a few usage examples and details. This package was the first CRAN package to use CCTZ; by now four others packages include its sources too. Not ideal, but beyond our control.

The GNU libc version 2.34 has just been accepted into unstable. Getting it ready has been more challenging than other versions, as this version integrates a few libraries (libpthread, libdl, libutil, libanl) into libc.