Will this be one of the world's first RISC-V laptops?
Submitted by Roy Schestowitz on Saturday 21st of May 2022 04:23:32 PM
Filed under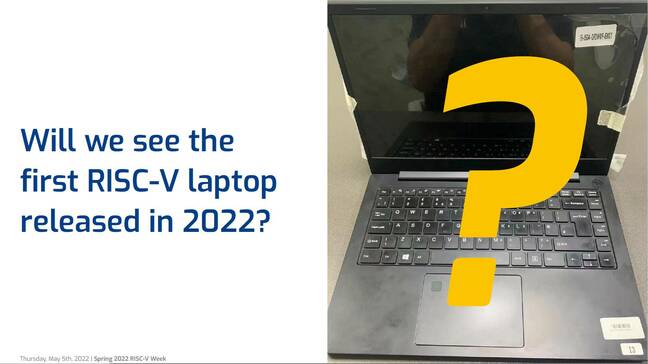 As Apple and Qualcomm push for more Arm adoption in the notebook space, we have come across a photo of what could become one of the world's first laptops to use the open-source RISC-V instruction set architecture.
In an interview with The Register, Calista Redmond, CEO of RISC-V International, signaled we will see a RISC-V laptop revealed sometime this year as the ISA's governing body works to garner more financial and development support from large companies.
It turns out Philipp Tomsich, chair of RISC-V International's software committee, dangled a photo of what could likely be the laptop in question earlier this month in front of RISC-V Week attendees in Paris.
»
Printer-friendly version

940 reads

PDF version
More in Tux Machines
9 Top Free and Open Source Elixir Web Frameworks

One of the types of software that's important for a web developer is the web framework. A framework "is a code library that makes a developer's life easier when building reliable, scalable, and maintainable web applications" by providing reusable code or extensions for common operations. By saving development time, developers can concentrate on application logic rather than mundane elements. A web framework offers the developer a choice about how to solve a specific problem. By using a framework, a developer lets the framework control portions of their application. While it's perfectly possible to code a web application without using a framework, it's more practical to use one.

Games: Valve, Kingdoms and Castles, and a Lot More

today's howtos

today's howtos