RISC OS is 35 but it's still kicking
Submitted by Roy Schestowitz on Tuesday 21st of June 2022 07:39:24 PM
Filed under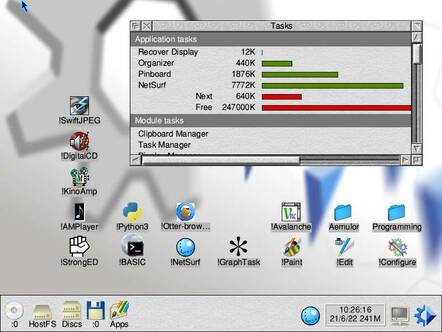 RISC OS, the operating system of the original Arm computer, the Acorn Archimedes, is still very much alive – and doing relatively well for its age.
In June 1987, Acorn launched the Archimedes A305 and A310, starting at £800 ($982) and running a new operating system called Arthur. At the time, it was a radical and very fast computer. In his review [PDF] for Personal Computer World, Dick Pountain memorably said: "It loads huge programs with a faint burping noise, in the time it takes to blink an eye."
Arthur was loosely related to Acorn's earlier MOS, the BBC Micro operating system but looked very different thanks to a prototype graphical desktop, implemented in BBC BASIC, that could charitably be called "technicolor."
Renamed RISC OS, version 2 followed in 1989 – the same year that Sun started selling its new SPARCstation 1 (a snip at £7,500c $9,200) and DEC launched the MIPS R2000-chipset-based DECstation 3100 (for £8,800/c $10,800).
RISC OS has had a rather convoluted history, partly due to Acorn spinning out Arm, eventually pulling out of the computer market, rebranding as Element 14 and being acquired by Broadcom, where Arm co-designer Sophie Wilson still works today. And partly due to drama over the ownership of the OS post-Acorn at one point.
»
Printer-friendly version

1950 reads

PDF version
More in Tux Machines
today's howtos

Red Hat Hires a Blind Software Engineer to Improve Accessibility on Linux Desktop

Accessibility on a Linux desktop is not one of the strongest points to highlight. However, GNOME, one of the best desktop environments, has managed to do better comparatively (I think). In a blog post by Christian Fredrik Schaller (Director for Desktop/Graphics, Red Hat), he mentions that they are making serious efforts to improve accessibility. Starting with Red Hat hiring Lukas Tyrychtr, who is a blind software engineer to lead the effort in improving Red Hat Enterprise Linux, and Fedora Workstation in terms of accessibility.

Today in Techrights

Android Leftovers