Winners of the 2011 Summer Tux Paint Contest
Submitted by srlinuxx on Friday 23rd of September 2011 12:44:45 AM
Filed under
We are pleased to announce the winners of the 2011 Tux Paint Summer Contest. We thank all the participants for thier entries. We must admit, judging was extremely difficult so we decided to add an additional 10 winners who will each get a Tux Paint t-shirt.
FIRST PLACE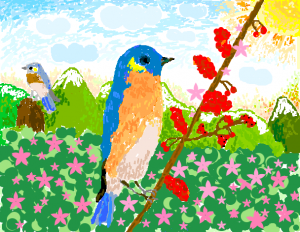 Artist's name: Tzujo Laurel Chang
Artist's age: 8 years
Title: The blue bird in our back yard
Country: USA
---
---
»
Printer-friendly version

3307 reads

PDF version
More in Tux Machines
Android/ChromeOS/Google Leftovers

Games: SC-Controller 0.4.2, Campo Santo, Last Epoch and More

Android Leftovers

Ryzen 7 2700X CPUFreq Scaling Governor Benchmarks On Ubuntu Linux

With this week's Ryzen 5 2600X + Ryzen 7 2700X benchmarks some thought the CPUFreq scaling driver or rather its governors may have been limiting the performance of these Zen+ CPUs, so I ran some additional benchmarks this weekend. Those launch-day Ryzen 5 2600X / Ryzen 7 2700X Ubuntu Linux benchmarks were using the "performance" governor, but some have alleged that the performance governor may now actually hurt AMD systems... Ondemand, of course, is the default CPUFreq governor on Ubuntu and most other Linux distributions. Some also have said the "schedutil" governor that makes use of the kernel's scheduler utilization data may do better on AMD. So I ran some extra benchmarks while changing between CPUFreq's ondemand (default), performance (normally the best for performance, and what was used in our CPU tests), schedutil (the newest option), and powersave (if you really just care about conserving power).