Canonical's Latest Carnival of Mistakes
Submitted by Roy Schestowitz on Monday 11th of November 2013 12:17:14 PM
Filed under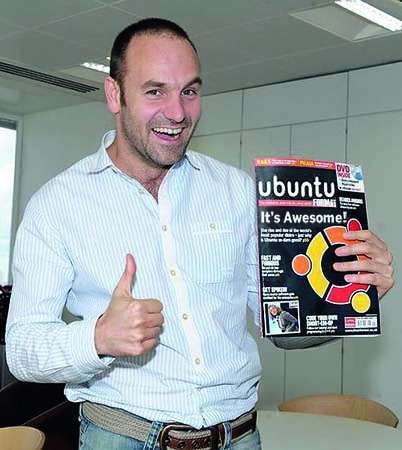 Photo by Andre urbano
Summary: Mark Shuttleworth apologises for some recent controversial behaviour of the company he founded to make "Linux for human beings"
THE STORY at hand seems like a familiar one. It is one of those cases where by "mistake" one means "we got caught, so it's a mistake." Canonical already went after derivatives of Ubuntu, such as "Satanic Edition" (to name just one example where later on Jono Bacon and other community figures tried to quell and put out the fire). Trademark bullying from Canonical is not something new and the company is repeating old mistakes, so these are probably not mistakes.
Mark Shuttleworth posted this long response ("Comments are closed," but some comments can be read via "Shuttleworth: Mistakes made and addressed" at LWN). It's a bit of hogwash, but some people still appreciate this and consider it to be a sufficient apology. This apology does not please everyone, but we should give this man the benefit of the doubt. Maybe the decision to go after FixUbuntu was not his at all. "In an encouraging and refreshing move," wrote Muktware, "Mark Shuttleworth, the founder of Ubuntu and Canonical has apologized for calling Mir opponents the "open source tea party" [...] He also apologized for the take down notice that was sent to EFF staffer Micah F Lee over fixubuntu website."
To quote Shuttleworth himself: "Last week, someone at Canonical made a mistake in sending the wrong response to a trademark issue out of the range of responses we usually take. That has been addressed, and steps are being taken to reduce the likelihood of a future repeat."
Muktware correctly points out that this created a controversy, but the author goes further by comparing Canonical to Apple. The author says: "That unprecedented move from Canonical (to sen[d] take down notice) had put Canonical in the league of Apple.
"All leading news sites criticized Canonical for this move and it turned out to be the worst PR disaster for Canonical."
Nothing actually gets done about the original mistake, which makes Ubuntu some kind of informant to the CIA/NSA (through Amazon) regarding local user searches -- a malicious behaviour that Windows has been 'renowned' for since about a decade ago (Microsoft is an exceptionally strong NSA ally, whereas Amazon is better known for its new CIA ties as official dossiers host/architect).
Bradley Kuhn (formerly FSF and SFLC) took note of Canonical's behaviour, having done so before when it comes to copyrights. He also wrote about trademarks in other contexts. Kuhn said: "I was disturbed to read that Canonical, Ltd.'s trademark aggression, which I've been vaguely aware of for some time, has reached a new height. And, I say this as someone who regularly encourages Free Software projects to register trademarks, and to occasionally do trademark enforcement and also to actively avoid project policies that might lead to naked licensing. Names matter, and Free Software projects should strive to strike a careful balance between assuring that names mean what they are supposed to mean, and also encourage software sharing and modification at the same time.
"However, Canonical, Ltd.'s behavior shows what happens when lawyers and corporate marketing run amok and fail to strike that necessary balance. Specifically, Canonical, Ltd. sent a standard cease and desist (C&D) letter to Micah F. Lee, for running fixubuntu.com, a site that clearly to any casual reader is not affiliated with Canonical, Ltd. or its Ubuntu® project. In fact, the site is specifically telling you how to undo some anti-privacy stuff that Canonical, Ltd. puts into its Ubuntu, so there is no trademark-governed threat to its Ubuntu branding. Lee fortunately got legal assistance from the EFF, who wrote a letter explaining why Canonical, Ltd. was completely wrong."
This trademarks issue/dispute which we previously covered (as did others, including some pretty major news sites [1, 2]) is not going away any time soon. Canonical is doing what's known as "damage control" right now. As Wired put it, even Ubuntu boosters shy away: "The editor of the Ubuntu news site, OMG! Ubuntu!, says that Canonical's email to Fixubuntu.com "does make for uncomfortable reading," but Joey-Elijah Sneddon believes that the company is trying to preserve its trademark rights, not silence critics. Although OMG! Ubuntu has been critical of the privacy issues, Canonical hasn't sent him a nastygram. Were "Canonical really out to suppress criticism, they'd have given me a bit of a prod before now," he said in an email interview."
The comments on this article -- like many articles of this kind -- have been rather hard-hitting too. To quote just the top 2 (not to quote selectively): "Canonical has become a total joke. What started out as a great effort, has degenerated to a disgrace for the whole Linux community." Another person says: "Canonical and Ubuntu have jumped the shark."
Ubuntu is a project that I install a lot for clients, even on the servers (not my choice), so I sure hope that Canonical will get its act together and make it comfortable -- ethically -- to do this. KDE developers, who have just reached some new milestones [1,2], feel similarly. Upsetting KDE developers [3,4,5] is not a smart thing to do, especially by comparing them to far right-wing politics. Based on a link that Will Hill shared with us (development portal), even Debian developers are growing increasingly impatient with Canonical/Ubuntu.
Muktware, a longtime Ubuntu booster (until Canonical called it a "troll" for not towing the party line 100% of the time), said:
Canonical has sent Micah. F.Lee, a staff technologist at EFF, a take-down notice for a website he started to educate people about fixing the privacy invasive feature Canonical has built in Ubuntu.

Lee started a website called fixubuntu.com, which he describes as "a place to quickly and easily learn how to disable the privacy-invasive features that are enabled by default in Ubuntu."

He received an email from Canonical which asked him to practically shutdown the site as it uses the name Ubuntu in the domain and also showcases Ubuntu logo.
People who accuse Canonical critics of being "divisive" should take a deep look at Canonical itself. Calling people "trolls" or "Tea Party" for simply not agreeing is not just divisive; it is offensive.
Canonical could save itself a lot of trouble by just listening to many users who are upset about the privacy violations of trust, which are probably not worth the money Canonical gets from Amazon (its partners in other areas too). Why this insistence despite the backlash? Is Canonical telling the full story? We don't know the terms of the deal/s between those two companies and we know that the CIA funds US companies to help spy on customers (based on a new report from the New York Times). The behaviour of the search bar has been controversial and widely vilified well before the EFF spoke out about it (the FSF weighed in much later, and only after I had spoken to Stallman about the subject). The solution is simple and the mistake is well known; the big mistake is not trademark bullying, it is privacy violation. It is worth focusing on the real mistakes. They are technical -- not just ethical -- mistakes. █
Related/contextual items from the news:
The conflict that has been brewing between the KDE developers and Canonical has finally exploded in a flurry of statements which show just how many problems the Mir display server has caused.

One of the most important KDE developers, Martin Gräßlin, has written a message to the Ubuntu developers, saying goodbye.

Following Mark Shuttleworth's critical comments about those opposed to Mir and his statements being challenged, multiple KDE developers in particular have been expressing their outrage.

Aaron Seigo was the KDE developer to challenge Mark Shuttleworth to a public debate over his colorful comments regarding those opposed to Canonical's Mir Display Server for Ubuntu. Two weeks have passed since suggesting this public debate and there's still been no public response by Mark Shuttleworth, though Jono Bacon and others have commented on the matter.
»
Printer-friendly version

2547 reads

PDF version
More in Tux Machines
Server: GNU/Linux Dominance in Supercomputers, Windows Dominance in Downtime

A supercomputer, of course, isn't really a "computer." It's not one giant processor sitting atop an even larger motherboard. Instead, it's a network of thousands of computers tied together to form a single whole, dedicated to a singular set of tasks. They tend to be really fast, but according to the folks at the International Supercomputing Conference, speed is not a prerequisite for being a supercomputer. But speed does help them process tons of data quickly to help solve some of the world's most pressing problems. Summit, for example, is already booked for things such as cancer research; energy research, to model a fusion reactor and its magnetically confined plasma tohasten commercial development of fusion energy; and medical research using AI, centering around identifying patterns in the function and evolution of human proteins and cellular systems to increase understanding of Alzheimer's, heart disease, or addiction, and to inform the drug discovery process.

 

Some users are complaining that O365 is "completely unusable" with others are reporting a noticeable slowdown, whinging that it's taking 30 minutes to send and receive emails.  

Google: VR180, Android and the Asus Chromebook Flip C101

To help folks who are supporting Google's VR180 format along, the company has just released a tool for macOS and Linux (Windows will surely come soon) that allows users to plug their VR180 raw content in, then convert it for use in Adobe's Premiere Pro, or Apple's Final Cut Pro. Here's the tool in Linux (unfortunately, we didn't have VR180 content to plug in):

The Asus Chromebook Flip C101 is an all-aluminium 10.1-inch 2-in-1 with the same processor (OP1/Rockchip RK339) as the Samsung Chromebook Plus. The Flip gets its name from its 360° hinge that allows you to use the device in the standard laptop mode, a tent mode, a tablet mode, and a stand mode.

Security Leftovers

Recently, the iPhone-maker announced a security feature to prevent unauthorized cracking of iPhones. When the device isn't unlocked for an hour, the Lightning port can be used for nothing but charging. The feature is a part of the iOS 12 update, which is expected to launch later this month.

Apple confirmed to The New York Times Wednesday it was going to introduce a new security feature, first reported by Motherboard. USB Restricted Mode, as the new feature is called, essentially turns the iPhone's lightning cable port into a charge-only interface if someone hasn't unlocked the device with its passcode within the last hour, meaning phone forensic tools shouldn't be able to unlock phones. Naturally, this feature has sent waves throughout the mobile phone forensics and law enforcement communities, as accessing iPhones may now be substantially harder, with investigators having to rush a seized phone to an unlocking device as quickly as possible. That includes GrayKey, a relatively new and increasingly popular iPhone cracking tool. But forensics experts suggest that Grayshift, the company behind the tech, is not giving up yet.

KDE: Usability and Productivity initiative, Kraft and Konsole

This has been a bit of a light week for KDE's Usability and Productivity initiative, probably because everyone's basking in the warm glow of a well-received release: KDE Plasma 5.13 came out on Tuesday and is getting great reviews!

I am happy to announce the release of Kraft version 0.81. Kraft is a Qt based desktop application that helps you to handle documents like quotes and invoices in your small business. Version 0.81 is a bugfix release for the previous version 0.80, which was the first stable release based on Qt5 and KDE Frameworks5. Even though it came with way more new features than just the port, it's first release has proven it's stability in day-to-day business now for a few month.

I started to hack in Konsole, and first I was afraid, I was petrified. You know, touching those hardcore apps that are the center of the KDE Software Collection. I started touching it mostly because some easy to fix bugs weren't fixed, and as every cool user knows, this is free software. So I could pay for someone to fix my bugs, or I could download the source code and try to figure out what the hell was wrong with it. I choosed the second approach.