Easter egg: DSL router patch merely hides backdoor instead of closing it
Submitted by Rianne Schestowitz on Tuesday 22nd of April 2014 11:35:15 AM
Filed under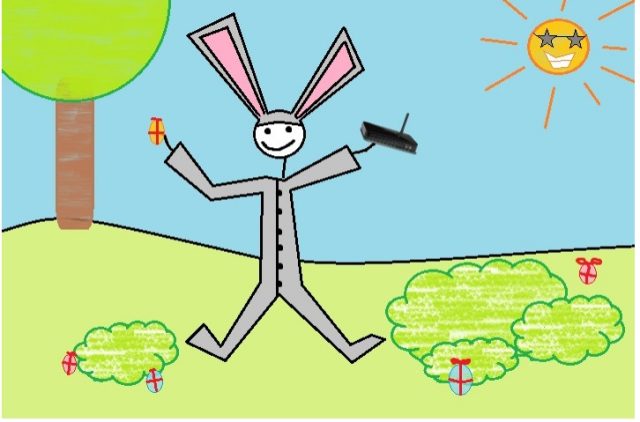 First, DSL router owners got an unwelcome Christmas present. Now, the same gift is back as an Easter egg. The same security researcher who originally discovered a backdoor in 24 models of wireless DSL routers has found that a patch intended to fix that problem doesn't actually get rid of the backdoor—it just conceals it. And the nature of the "fix" suggests that the backdoor, which is part of the firmware for wireless DSL routers based on technology from the Taiwanese manufacturer Sercomm, was an intentional feature to begin with.
Back in December, Eloi Vanderbecken of Synacktiv Digital Security was visiting his family for the Christmas holiday, and for various reasons he had the need to gain administrative access to their Linksys WAG200G DSL gateway over Wi-Fi. He discovered that the device was listening on an undocumented Internet Protocol port number, and after analyzing the code in the firmware, he found that the port could be used to send administrative commands to the router without a password.
After Vanderbecken published his results, others confirmed that the same backdoor existed on other systems based on the same Sercomm modem, including home routers from Netgear, Cisco (both under the Cisco and Linksys brands), and Diamond. In January, Netgear and other vendors published a new version of the firmware that was supposed to close the back door.
»
Printer-friendly version

1036 reads

PDF version
More in Tux Machines
Huawei, Fuchsia and More

"In order to deliver the best user experience and prevent users from experiencing possible issues that could arise from ROM flashing, including system failure, stuttering, worsened battery performance, and risk of data being compromised, Huawei will cease providing bootloader unlock codes for devices launched after May 25, 2018. [...]"

 

Fuchsia, by its nature, comes with the potential for a handful of new opportunities for ad targeting. Let's peer into the dark side of Fuchsia's innovative features.

 

So the past month or two? The Quarterly results cycle came in. The item often of great interest is the Apple iPhone performance. 52.2 million iPhones shipped and that gives roughly a flat market share compared to the year before, so about 14%-15%. I'll come and do the full math later of the quarterly data. That race is no longer in any way interesting.

But two Top 10 smartphone brands ARE in the news. One who is facing imminent death and the other who is making a miraculous return-from-dead. So imminent death and current Top 10 brand first. ZTE. The Trump administration has put a massive squeeze on ZTE and the company is in serious trouble of imminent collapse. Then bizarrely, Trump reversed course and felt he needed to protect CHINESE employment (???) and after yet another typical Trump-mess, we now are at a Never-Neverland where Trump's own party Republicans are revolting against their President and well, ZTE may end up a casualty of this mess. We'll keep an eye on it.

 

What is an Arduino Board

Gone are the days when prototyping your electronic gadget required you to fiddle with the breadboard. Dirty design, unsteady wire connections and having to do too much to get simple stuff working. Arduino has solved all of that today.

How Linux Can Make Your Life Easier

Linux is an Operating System (more specifically a kernel) that provides an interface between the computer hardware and the user. Like Microsoft Windows and OS X, Linux provides a platform to the users, enabling them to carry out their daily chores on their beloved computer. And in case you dual-booted or installed Linux on your computer or are just curious to know how Linux can make your life easier, then, you are at the right place.

Fedora and Red Hat News