Easter egg: DSL router patch merely hides backdoor instead of closing it
Submitted by Rianne Schestowitz on Tuesday 22nd of April 2014 11:35:15 AM
Filed under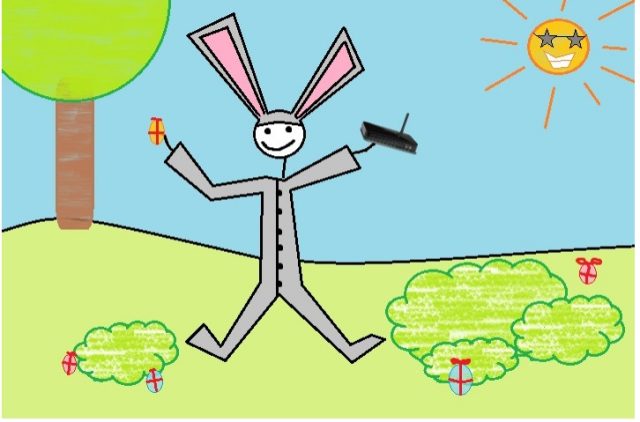 First, DSL router owners got an unwelcome Christmas present. Now, the same gift is back as an Easter egg. The same security researcher who originally discovered a backdoor in 24 models of wireless DSL routers has found that a patch intended to fix that problem doesn't actually get rid of the backdoor—it just conceals it. And the nature of the "fix" suggests that the backdoor, which is part of the firmware for wireless DSL routers based on technology from the Taiwanese manufacturer Sercomm, was an intentional feature to begin with.
Back in December, Eloi Vanderbecken of Synacktiv Digital Security was visiting his family for the Christmas holiday, and for various reasons he had the need to gain administrative access to their Linksys WAG200G DSL gateway over Wi-Fi. He discovered that the device was listening on an undocumented Internet Protocol port number, and after analyzing the code in the firmware, he found that the port could be used to send administrative commands to the router without a password.
After Vanderbecken published his results, others confirmed that the same backdoor existed on other systems based on the same Sercomm modem, including home routers from Netgear, Cisco (both under the Cisco and Linksys brands), and Diamond. In January, Netgear and other vendors published a new version of the firmware that was supposed to close the back door.
More in Tux Machines
Eight great Linux gifts for the holiday season

Do you want to give your techie friend a very Linux holiday season? Sure you do! Here are some suggestion to brighten your favorite Tux fan's day. Also: More Random Gift Ideas For Linux Enthusiasts & Others Into Tech Which open source gift is at the top of your holiday wish list?

Ubuntu-Based ExTiX OS Updated for Intel Compute Sticks with Improved Installer

GNU/Linux developer Arne Exton announced this past weekend the release of an updated build of his Ubuntu-based ExTiX Linux distribution for Intel Compute Stick devices. Last month, we reported on the initial availability of a port of the ExTiX operating system for Intel Compute Sticks, boasting the lightweight and modern LXQt 0.10.0 desktop environment and powered by the latest Linux 4.8 kernel, tweaked by Arne Exton for Intel Atom processors. And now, ExTiX Build 161203 is out as a drop-in replacement for Build 161119, bringing a much-improved Ubiquity graphics installer that should no longer crash, as several users who attempted to install the Ubuntu-based GNU/Linux distro on their Intel Compute Stick devices reported. Also: Debian-Based SparkyLinux 4.5 Brings Support for exFAT Filesystems, systemd 232 4MLinux 20.1 Linux Distro Released with Kernel 4.4.34 LTS to Restore PAE Support

Today in Techrights

Canonical Releases Snapcraft 2.23 Snap Creator for Ubuntu 16.04 LTS and 16.10

Canonical's Snappy development team have released a new maintenance version of the Snapcraft 2.x tool that lets applications developers package their apps as Snap packages for Ubuntu and other GNU/Linux distributions that support Snaps.