Easter egg: DSL router patch merely hides backdoor instead of closing it
Submitted by Rianne Schestowitz on Tuesday 22nd of April 2014 11:35:15 AM
Filed under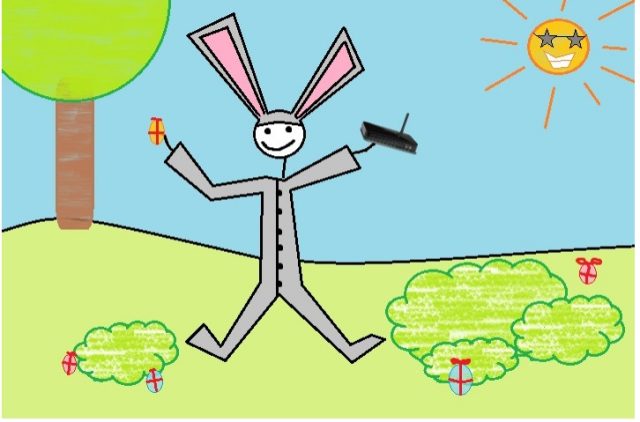 First, DSL router owners got an unwelcome Christmas present. Now, the same gift is back as an Easter egg. The same security researcher who originally discovered a backdoor in 24 models of wireless DSL routers has found that a patch intended to fix that problem doesn't actually get rid of the backdoor—it just conceals it. And the nature of the "fix" suggests that the backdoor, which is part of the firmware for wireless DSL routers based on technology from the Taiwanese manufacturer Sercomm, was an intentional feature to begin with.
Back in December, Eloi Vanderbecken of Synacktiv Digital Security was visiting his family for the Christmas holiday, and for various reasons he had the need to gain administrative access to their Linksys WAG200G DSL gateway over Wi-Fi. He discovered that the device was listening on an undocumented Internet Protocol port number, and after analyzing the code in the firmware, he found that the port could be used to send administrative commands to the router without a password.
After Vanderbecken published his results, others confirmed that the same backdoor existed on other systems based on the same Sercomm modem, including home routers from Netgear, Cisco (both under the Cisco and Linksys brands), and Diamond. In January, Netgear and other vendors published a new version of the firmware that was supposed to close the back door.
More in Tux Machines
MongoDB success stories

The open source MongoDB NoSQL database is powering an increasing number of websites and services. Here are nine examples of organizations transforming their business with MongoDB.

Black Lab Software Announces Linux-Based Mac Mini-Competitor Black Lab BriQ v5

We have been informed by Black Lab Software, the creators of the Ubuntu-based Black Lab Linux operating system about the general availability of their new class of hardware, the Black Lab BriQ version 5.

PC Gaming Reaches Next Level Through Open Source

Valve, the U.S.-based video game company, altered the gaming field with the 2013 release of its operating system (SteamOS) and Steam Machines, which are hardware platforms for playing computer video games. SteamOS, which was created with Linux, the open source platform, allows smaller gaming companies, such as Alienware, CyberPowerPC and Webhallena, to create unique gaming systems (Steam Machines) by utilizing Valve's open source operating system. This enables them to compete with large competitors such as Microsoft and Sony.

Debian Live After Debian Live

After this happened, my next step was to get re-involved in Debian Live to help it carry on after the loss of Daniel. Here's a quick update on some team progress, notes that could help people building Stretch images right now, and what to expect next.