Easter egg: DSL router patch merely hides backdoor instead of closing it
Submitted by Rianne Schestowitz on Tuesday 22nd of April 2014 11:35:15 AM
Filed under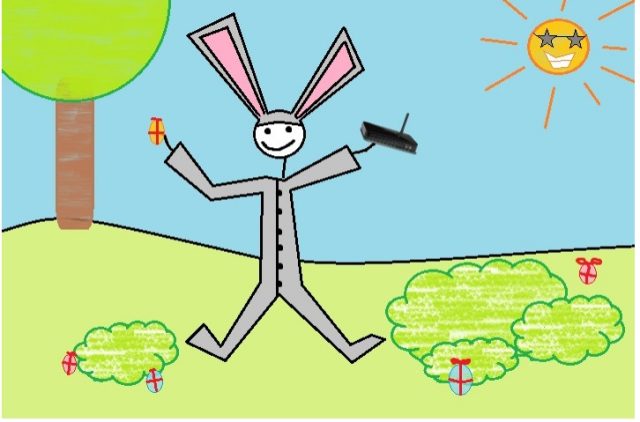 First, DSL router owners got an unwelcome Christmas present. Now, the same gift is back as an Easter egg. The same security researcher who originally discovered a backdoor in 24 models of wireless DSL routers has found that a patch intended to fix that problem doesn't actually get rid of the backdoor—it just conceals it. And the nature of the "fix" suggests that the backdoor, which is part of the firmware for wireless DSL routers based on technology from the Taiwanese manufacturer Sercomm, was an intentional feature to begin with.
Back in December, Eloi Vanderbecken of Synacktiv Digital Security was visiting his family for the Christmas holiday, and for various reasons he had the need to gain administrative access to their Linksys WAG200G DSL gateway over Wi-Fi. He discovered that the device was listening on an undocumented Internet Protocol port number, and after analyzing the code in the firmware, he found that the port could be used to send administrative commands to the router without a password.
After Vanderbecken published his results, others confirmed that the same backdoor existed on other systems based on the same Sercomm modem, including home routers from Netgear, Cisco (both under the Cisco and Linksys brands), and Diamond. In January, Netgear and other vendors published a new version of the firmware that was supposed to close the back door.
More in Tux Machines
Security Leftovers

10 hot Android smartphones that got price cuts recently

With numerous smartphone getting launched each month, brands always adjust prices to give slightly competitive edge to older smartphone models and also to clear inventories. Here are 10 smartphones that got price cuts recently.

Debian and Ubuntu News

Welcome to this year's third issue of DPN, the newsletter for the Debian community.

Last week, we took a look at the initial release of the "portal" framework developed for Flatpak, the application-packaging format currently being developed in GNOME. For comparison, we will also explore the corresponding resource-control framework available in the Snap format developed in Ubuntu. The two packaging projects have broadly similar end goals, as many have observed, but they tend to vary quite a bit in the implementation details. Naturally, those differences are of particular importance to the intended audience: application developers. There is some common ground between the projects. Both use some combination of techniques (namespaces, control groups, seccomp filters, etc.) to restrict what a packaged application can do. Moreover, both implement a "deny by default" sandbox, then provide a supplemental means for applications to access certain useful system resources on a restricted or mediated basis. As we will see, there is also some overlap in what interfaces are offered, although the implementations differ. Snap has been available since 2014, so its sandboxing and resource-control implementations have already seen real-world usage. That said, the design of Snap originated in the Ubuntu Touch project aimed at smartphones, so some of its assumptions are undergoing revision as Snap comes to desktop systems. In the Snap framework, the interfaces that are defined to provide access to system resources are called, simply, "interfaces." As we will see, they cover similar territory to the recently unveiled "portals" for Flatpak, but there are some key distinctions. Two classes of Snap interfaces are defined: one for the standard resources expected to be of use to end-user applications, and one designed for use by system utilities. Snap packages using the standard interfaces can be installed with the snap command-line tool (which is the equivalent of apt for .deb packages). Packages using the advanced interfaces require a separate management tool.

MATE HUD, a Unity HUD-like tool that allows searching through an application's menu, was recently uploaded to the official Yakkety Yak repositories, and is available (but not enabled) by default in Ubuntu MATE 16.10.

Tablet review: BQ Aquaris M10 Ubuntu Edition

As employees have become more and more flexible in recent years thanks to the power and performance of mobile devices, the way we work has changed dramatically. We frequently chop and change between smartphones, tablets and laptops for different tasks, which has led to the growth of the hybrid market – devices such as Microsoft's Surface Pro 3 and Apple's iPad Pro – that provide the power and functionality of a laptop with the mobility and convenience of a tablet.