Easter egg: DSL router patch merely hides backdoor instead of closing it
Submitted by Rianne Schestowitz on Tuesday 22nd of April 2014 11:35:15 AM
Filed under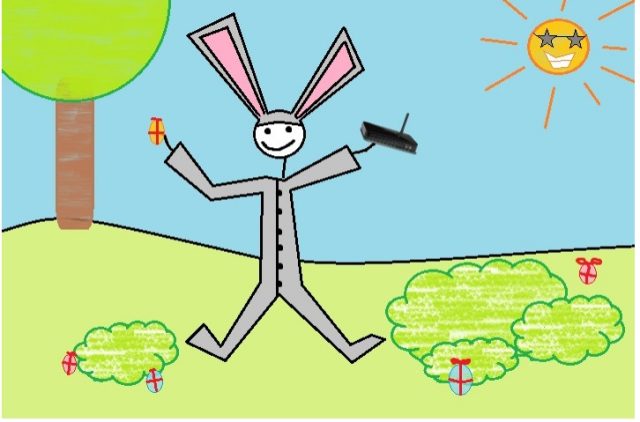 First, DSL router owners got an unwelcome Christmas present. Now, the same gift is back as an Easter egg. The same security researcher who originally discovered a backdoor in 24 models of wireless DSL routers has found that a patch intended to fix that problem doesn't actually get rid of the backdoor—it just conceals it. And the nature of the "fix" suggests that the backdoor, which is part of the firmware for wireless DSL routers based on technology from the Taiwanese manufacturer Sercomm, was an intentional feature to begin with.
Back in December, Eloi Vanderbecken of Synacktiv Digital Security was visiting his family for the Christmas holiday, and for various reasons he had the need to gain administrative access to their Linksys WAG200G DSL gateway over Wi-Fi. He discovered that the device was listening on an undocumented Internet Protocol port number, and after analyzing the code in the firmware, he found that the port could be used to send administrative commands to the router without a password.
After Vanderbecken published his results, others confirmed that the same backdoor existed on other systems based on the same Sercomm modem, including home routers from Netgear, Cisco (both under the Cisco and Linksys brands), and Diamond. In January, Netgear and other vendors published a new version of the firmware that was supposed to close the back door.
»
Printer-friendly version

1014 reads

PDF version
More in Tux Machines
Purism Librem 13: A Security-Focused Powerhouse of a Linux Laptop

I have to say, I came out of my Librem 13 experience really impressed. Not only is the laptop top notch, the PureOS distribution does an outstanding job of adding to the security features baked into the hardware. If you're seriously concerned with mobile security, the Purism Librem 13 or 15 would serve you well.

ONS 2018 Q&A: Dan Rodriguez, Intel

In my role as vice president and general manager of the Communications Infrastructure Division within Intel's Data Center Group, we guide the network transformation strategy for various market segments, including wireless core, edge, cable infrastructure, routers and switches and network security, among others. We focus on delivering processors, networking IP and software, and partner with many groups within Intel to deliver platform-level solutions, including field-programmable gate arrays (FPGAs), network interface controllers (NICs), solid state drives (SSDs) and others. Collectively we support network functions virtualization (NFV), and workload convergence on the path towards 5G. Intel has an incredibly rich history supporting the development of open platforms, standards and the communities and ecosystems that shape them. We contribute time, resources and intellectual property to a wide variety of open source projects from OpenStack to the LF Networking Fund (LFN). Thousands of Intel developers contribute to over 70 open source projects, and we are recognized as one of the top contributors to the Linux Kernel.

How to Install Raspberry Pi Headless and Wireless Using Debian Linux

A step by step guide showcasing how to install Raspberry Pi without a keyboard and monitor i.e. headless setup of Raspberry Pi using Linux.

Kraft out of KDE

Following my last blog about Krafts upcoming release 0.80 I got a lot of positive reactions. There was one reaction however, that puzzles me a bit and I want to share my thoughts here. It is about a comment about my announcement that I prefer to continue to develop Kraft on Github. The commenter reminded my friendly that there is still Kraft code on KDE infrastructure, and that switching to a different repository might waste peoples time when they work with the KDE repo. That is a fair statement, of course I don't want to waste peoples time. What sounds a bit strange to me is the second paragraph, that says that if I decide to stay with Github, I should let KDE people know that I wish Kraft to not be a KDE project anymore. But … I never felt that Kraft should not be a KDE project any more.