Easter egg: DSL router patch merely hides backdoor instead of closing it
Submitted by Rianne Schestowitz on Tuesday 22nd of April 2014 11:35:15 AM
Filed under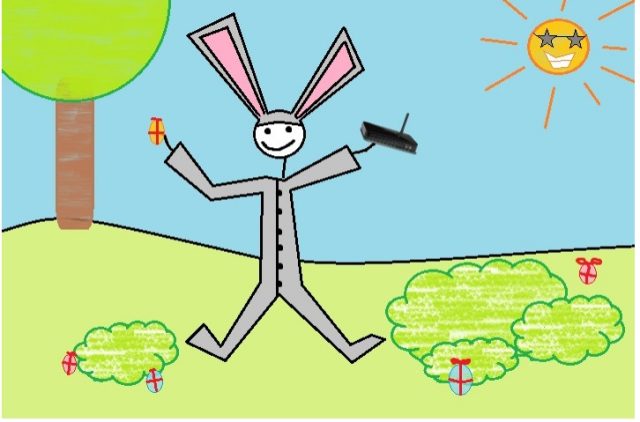 First, DSL router owners got an unwelcome Christmas present. Now, the same gift is back as an Easter egg. The same security researcher who originally discovered a backdoor in 24 models of wireless DSL routers has found that a patch intended to fix that problem doesn't actually get rid of the backdoor—it just conceals it. And the nature of the "fix" suggests that the backdoor, which is part of the firmware for wireless DSL routers based on technology from the Taiwanese manufacturer Sercomm, was an intentional feature to begin with.
Back in December, Eloi Vanderbecken of Synacktiv Digital Security was visiting his family for the Christmas holiday, and for various reasons he had the need to gain administrative access to their Linksys WAG200G DSL gateway over Wi-Fi. He discovered that the device was listening on an undocumented Internet Protocol port number, and after analyzing the code in the firmware, he found that the port could be used to send administrative commands to the router without a password.
After Vanderbecken published his results, others confirmed that the same backdoor existed on other systems based on the same Sercomm modem, including home routers from Netgear, Cisco (both under the Cisco and Linksys brands), and Diamond. In January, Netgear and other vendors published a new version of the firmware that was supposed to close the back door.
More in Tux Machines
Operating System U Fails To Live Up To Its Goals

After launching last month on Kickstarter, the project has turned into a failure and all development has ceased. Operating System U by Andrew Bernstein only raised $1,948 of its $50,000 goal over the month-long period for the OS that claimed numerous advantages over Ubuntu and Windows 8. Andrew then posted, "Unfortunately OS U was unsuccessful. I truly, truly appreciate everyone who backed us, but unfortunately since we where unsuccessful, combined with other circumstances, OS U will not have any more continued development."

Calculate Intro, OpenMandriva Review, and Mageia Delay

Today in Linux news Jessie Smith has a nice article on Gentoo-derivative Calculate Linux 14 in this week's Distrowatch Weekly. Linuxbsdos.com has a review of OpenMandriva Lx 2014.1, released last week. Mageia 5 Beta 1 is delayed and openSUSE 11.4 is "truly, finally dead." We have all this and more in tonight's Linux news recap.

Early Morning Linux Voodoo at Denny's

I could tell that he wasn't comfortable turning over control of his laptop to a stranger, but after a few seconds I got a slight nod to the affirmative. I pulled the Acer over to my part of the counter and booted the Linux Mint KDE LTS I keep for just such purposes. As the computer accepted the DataStick as the boot option, I explained to Ed what I was doing. It was obvious he had no idea what I was talking about so we waited in awkward silence for the next few seconds. Finally, the Mint logo appeared on the screen. I opened Dolphin and located the Windows drive then asked him for the name of the file. He couldn't remember but was sure it was a PDF. A few minutes later, I pulled a pen from my pocket and wrote down the number he needed and slid it back over to him with his laptop.

Leftovers: Proprietary Software and Command Line

Adobe's popular Photoshop software landed on Linux sort of today with a streaming version that will be available to Chromebook users running Chrome OS.

The Adobe Reader is no longer an item of interest for the Linux users and the company that makes it removed the Linux platform from the list of supported OSes.