Easter egg: DSL router patch merely hides backdoor instead of closing it
Submitted by Rianne Schestowitz on Tuesday 22nd of April 2014 11:35:15 AM
Filed under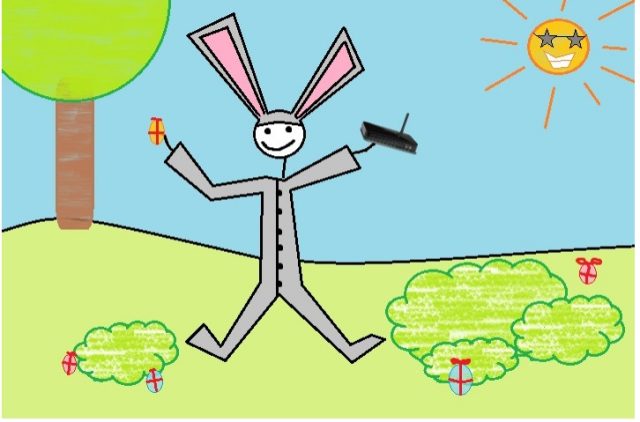 First, DSL router owners got an unwelcome Christmas present. Now, the same gift is back as an Easter egg. The same security researcher who originally discovered a backdoor in 24 models of wireless DSL routers has found that a patch intended to fix that problem doesn't actually get rid of the backdoor—it just conceals it. And the nature of the "fix" suggests that the backdoor, which is part of the firmware for wireless DSL routers based on technology from the Taiwanese manufacturer Sercomm, was an intentional feature to begin with.
Back in December, Eloi Vanderbecken of Synacktiv Digital Security was visiting his family for the Christmas holiday, and for various reasons he had the need to gain administrative access to their Linksys WAG200G DSL gateway over Wi-Fi. He discovered that the device was listening on an undocumented Internet Protocol port number, and after analyzing the code in the firmware, he found that the port could be used to send administrative commands to the router without a password.
After Vanderbecken published his results, others confirmed that the same backdoor existed on other systems based on the same Sercomm modem, including home routers from Netgear, Cisco (both under the Cisco and Linksys brands), and Diamond. In January, Netgear and other vendors published a new version of the firmware that was supposed to close the back door.
More in Tux Machines
Blackphone unveils a new phone and tablet running secure, encrypted Android

Today at Mobile World Congress, the encrypted phone system Blackphone announced a new phone and tablet, along with a new business focus on enterprise. The phone is called the Blackphone 2, a successor to the first Blackphone shown at MWC last year, but adds a new processor, better screen, and a larger profile overall. The tablet, called the Blackphone+, is slated for release in the fall. Both run Blackphone's secure OS, forked off of Android, which is designed to protect metadata and provide end-to-end encryption throughout.

Oracle VirtualBox Updates to run on Linux 4.0 Kernel

The open-source VirtualBox virtualization project is out with its 4.3.24 update today providing a number of important updates and bug fixes.

Qbo Is an AI-Driven Ubuntu-Powered Cute Little Robot - Video

We've seen some interesting devices coming out of the Mobile World Congress in Barcelona and the small Ubuntu-powered Qbo robot is just one them. Linux fans already kind of knew what to expected to see in Barcelona. Many Ubuntu fans were looking to check out the first Meizu MX4 Ubuntu Edition phone and their curiosity was satisfied, but now we have something that it's equally interesting, and that is a small robot.

Ubuntu MATE Is One of the Last Major Distros to Officially Support PowerPC

Ubuntu MATE has been providing PowerPC support for some time now, but the developers have made some serious improvements to this particular feature in the latest 15.04 Beta 1 update.