Easter egg: DSL router patch merely hides backdoor instead of closing it
Submitted by Rianne Schestowitz on Tuesday 22nd of April 2014 11:35:15 AM
Filed under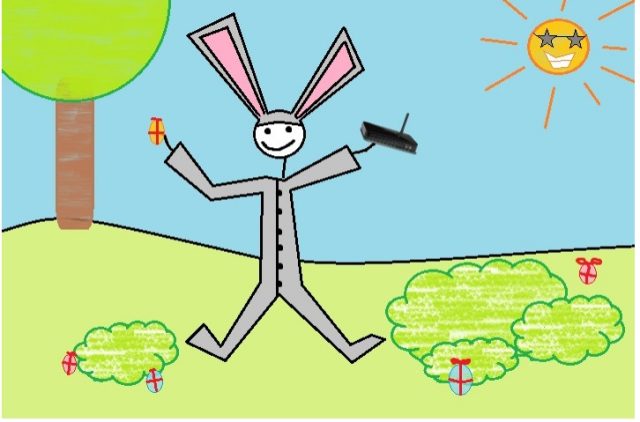 First, DSL router owners got an unwelcome Christmas present. Now, the same gift is back as an Easter egg. The same security researcher who originally discovered a backdoor in 24 models of wireless DSL routers has found that a patch intended to fix that problem doesn't actually get rid of the backdoor—it just conceals it. And the nature of the "fix" suggests that the backdoor, which is part of the firmware for wireless DSL routers based on technology from the Taiwanese manufacturer Sercomm, was an intentional feature to begin with.
Back in December, Eloi Vanderbecken of Synacktiv Digital Security was visiting his family for the Christmas holiday, and for various reasons he had the need to gain administrative access to their Linksys WAG200G DSL gateway over Wi-Fi. He discovered that the device was listening on an undocumented Internet Protocol port number, and after analyzing the code in the firmware, he found that the port could be used to send administrative commands to the router without a password.
After Vanderbecken published his results, others confirmed that the same backdoor existed on other systems based on the same Sercomm modem, including home routers from Netgear, Cisco (both under the Cisco and Linksys brands), and Diamond. In January, Netgear and other vendors published a new version of the firmware that was supposed to close the back door.
More in Tux Machines
Intel Sandy Bridge Gets A Surprise Boost From Linux 3.17

Besides the recent work to support OpenGL Geometry Shaders for Sandy Bridge in Mesa, users of Intel "Sandy Bridge" HD Graphics can also be thankful for the forthcoming Linux 3.17 kernel. Early testing of Linux 3.17 has revealed that for at least some Intel Sandy Bridge hardware are OpenGL performance improvements with the newer kernel code.

Open Source Okavango14: The Heartbeat of the Delta

We can hear this heartbeat by listening to what the environment tells us through sensors and testing. I proposed that we build low cost sensors using open source hardware and software. In recent years there has been quite a disruption in computing ability as a result of the prevalence of smartphones. Increasingly small and powerful components and processors have created an opportunities that we would have never thought possible. One of the results of that is the single-board Raspberry Pi computer. Originally, the Raspberry Pi was created to enable students to learn hardware and software development. For the Okavango Wilderness Project, we are using them to take environmental readings and send those to us for inclusion into the Into The Okavango website. Jer will cover this more in his expedition post. We are using them to measure water temperature, pH, conductivity, total dissolved solids, salinity, and specific gravity.

Kochi innovator Arvind Sanjeev makes Google Glass clone for Rs 4,500

Instead of commercializing the product and with the intention of contributing to the community, Sanjeev posted a blog explaining how his 'Smart Cap' can be built by anyone using opensource hardware such as a Rasberry Pi computer, an Arduino board and Android software.

Alfresco Raises A Fresh $45M To Fuel Open-Source Enterprise Content Management

Alfresco, an open source, enterprise content management startup, is today announcing a new round of funding of $45 million — a Series D round that is more than twice as big as all of its previous rounds put together. The UK-based company competes against legacy services like Documentum (which was co-founded by one of Alfresco's co-founders, John Newton) and Sharepoint to help large organisations manage their disparate document storage both in the cloud and on-premises, and also offer versioning control and other compliance requirements across mobile, PC and other devices. Alfresco will use the new funding to step its business up a gear, with new sales and marketing efforts, and moves into more cloud-based services that could see it competing more directly also against the likes of Dropbox, Box and Huddle.