Easter egg: DSL router patch merely hides backdoor instead of closing it
Submitted by Rianne Schestowitz on Tuesday 22nd of April 2014 11:35:15 AM
Filed under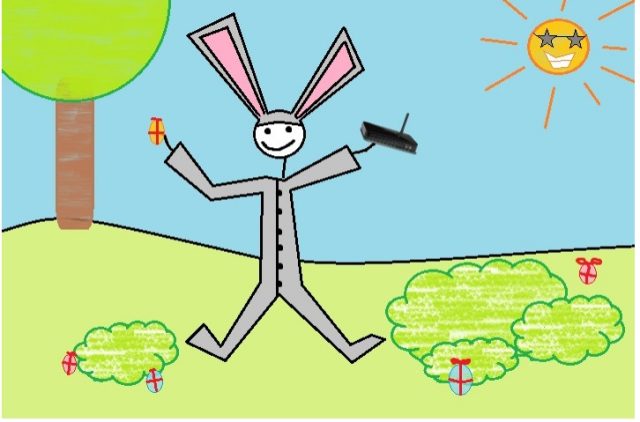 First, DSL router owners got an unwelcome Christmas present. Now, the same gift is back as an Easter egg. The same security researcher who originally discovered a backdoor in 24 models of wireless DSL routers has found that a patch intended to fix that problem doesn't actually get rid of the backdoor—it just conceals it. And the nature of the "fix" suggests that the backdoor, which is part of the firmware for wireless DSL routers based on technology from the Taiwanese manufacturer Sercomm, was an intentional feature to begin with.
Back in December, Eloi Vanderbecken of Synacktiv Digital Security was visiting his family for the Christmas holiday, and for various reasons he had the need to gain administrative access to their Linksys WAG200G DSL gateway over Wi-Fi. He discovered that the device was listening on an undocumented Internet Protocol port number, and after analyzing the code in the firmware, he found that the port could be used to send administrative commands to the router without a password.
After Vanderbecken published his results, others confirmed that the same backdoor existed on other systems based on the same Sercomm modem, including home routers from Netgear, Cisco (both under the Cisco and Linksys brands), and Diamond. In January, Netgear and other vendors published a new version of the firmware that was supposed to close the back door.
More in Tux Machines
Android Leftovers

It took me almost two years longer than my Microsoft-watching colleagues Ed Bott and Tom Warren, but I've given up using Windows Phones as my daily driver. As of about a month ago, I'm now sporting a Nexus 6P (made by Huawei). I'm still on Verizon. But my Lumia Icon is now in a desk drawer.

At the recent Beijing Auto Show, manufacturer of things that are luxurious, Bentley, was on hand to show off the new Mulsanne First Edition. This is a car for the ultra wealthy, and the ultra wealthy that like to travel in ultimate style and comfort. It's one of those cars that it's better to sit in the back of.

Fairphone launched the Fairphone 2 earlier this year, and developers that owned the phone were able to throw on the in-development, open source OS that the company was working on over at code.fairphone.com. Now the OS has been released for everyone to have fun with. This OS from Fairphone is open sourced and it is based off of Android 5.1 Lollipop. However according to the blog post that Fairphone put up on their site, the open source OS doesn't include Google Mobile Services. This means no Google Play Store, Google Maps, or anything Google related. Essentially, it could be seen as a forked version of Android.

today's howtos

Mozilla News

Mozilla has announced that for Firefox 48 their WebExtensions API is considered to be in a stable state. They encourage developers looking to develop browser add-ons to begin using this new API. WebExtensions is an API for implementing new browser add-ons/extensions that makes it easier to port to/from other browsers, is compatible with Firefox's Electroloysis, and should be easier to work with than the current APIs. In particular, Google designed portions of the WebExtensions API around Google's Blink extension API.

The good news is that the folks at Mozilla seem to be determined to find Thunderbird a good home where it will be able to grow and find newfound success. This isn't surprising. As Surman pointed out in his post, the project is quite popular among those associated with the foundation — but that popularity is also contributing to the problem Mozilla has with keeping the project in-house.