Easter egg: DSL router patch merely hides backdoor instead of closing it
Submitted by Rianne Schestowitz on Tuesday 22nd of April 2014 11:35:15 AM
Filed under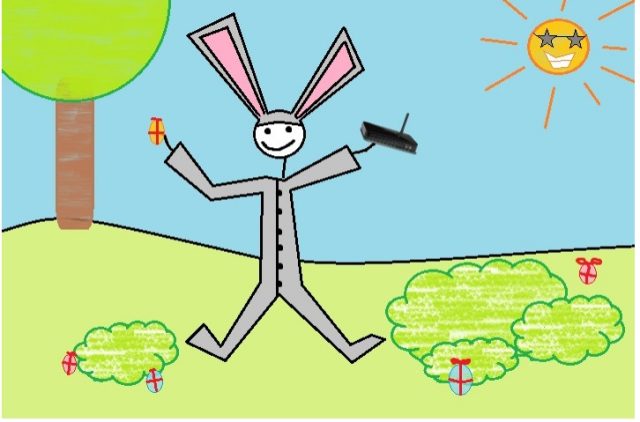 First, DSL router owners got an unwelcome Christmas present. Now, the same gift is back as an Easter egg. The same security researcher who originally discovered a backdoor in 24 models of wireless DSL routers has found that a patch intended to fix that problem doesn't actually get rid of the backdoor—it just conceals it. And the nature of the "fix" suggests that the backdoor, which is part of the firmware for wireless DSL routers based on technology from the Taiwanese manufacturer Sercomm, was an intentional feature to begin with.
Back in December, Eloi Vanderbecken of Synacktiv Digital Security was visiting his family for the Christmas holiday, and for various reasons he had the need to gain administrative access to their Linksys WAG200G DSL gateway over Wi-Fi. He discovered that the device was listening on an undocumented Internet Protocol port number, and after analyzing the code in the firmware, he found that the port could be used to send administrative commands to the router without a password.
After Vanderbecken published his results, others confirmed that the same backdoor existed on other systems based on the same Sercomm modem, including home routers from Netgear, Cisco (both under the Cisco and Linksys brands), and Diamond. In January, Netgear and other vendors published a new version of the firmware that was supposed to close the back door.
More in Tux Machines
Games and Emulation

Even though it was supposed to be delayed until April, GSC Game World have announced that there will be a public beta of the Linux version on Friday. We also have a spare key to throw at you!

Blazing Chrome is a new co-op run 'n gun being developed by JoySmasher [Official Site] and they are planning a Linux version.

The latest game from Orangepixel, Meganoid [Official Site, itch.io, Steam], will launch soon with day-1 Linux support and I have to say for a platform it looks really damn good.

HEVN [Official Site] was pointed out by GOL follower micha and after taking a look I was impressed, so I spoke to the developer about their Linux plans for this first-person sci-fi adventure game.

The MAME (Multiple Arcade Machine Emulator) development team announced today the release and immediate availability of MAME 0.184, a new maintenance update that adds support for new arcade games and other improvements. Among the improvements implemented in the MAME 0.184 release, we can mention emulation improvements the Agat-7 Apple II and Famicom clones, various enhancements to the BBC and PC software lists, as well as a much faster -romident verb with support for identifying ROMs for emulated slot devices.

Wine Staging's Michael Müller have announced today that he and his colleague have been working lately on a brand-new and more advanced build system that will allow them to release packages faster after a new version is announced. Some of you interested in Wine Staging might have noticed that, with each new update, the team mentioned at the end of the announcement something like "Binary packages are in the process of being built, and will appear soon at their respective download locations." Well, that was a problem, and it's not fixed.

Linux Devices

Aaeon's two Linux-ready "OMNI" touch-panel computers run on Intel Skylake or Bay Trail chips, and offer a choice of touchscreens and 12 expansion modules. Aaeon launched the first in its line of modular, customizable OMNI Series Box Kit touchscreen panel-PCs with the Intel Bay Trail based OMNI-2155.

We needed a router and wifi access point in the office, and simultaneously both I and my co-worker Ivan needed such a thing at our respective homes. After some discussion, and after reading articles in Ars Technica about building PCs to act as routers, we decided to do just that.

Koozali SME Server 8.2 Reaches End of Life on March 31, Upgrade to Koozali SME 9

Koozali Foundation, through Terry Fage, announced the availability of a final set of updates for the Koozali SME Server 8.2 operating system, which will reach end of life this week. Patching some of the reported bugs, the new packages released today for Koozali SME Server 8.2 are e-smith-ibays-2.2.0-16.el5.sme.noarch.rpm, e-smith-manager-2.2.0-14.el5.sme.noarch.rpm, smeserver-clamav-2.2.0-15.el5.sme.noarch.rpm, smeserver-locale-*-2.2.0-56.el5.sme.noarch.rpm, and smeserver-yum-2.2.0-26.el5.sme.noarch.rpm.

Development News

I'm a relative newcomer to GCC, so I thought it was worth documenting some of the hurdles I ran into when I started working on GCC, to try to make it easier for others to start hacking on GCC. Hence this guide.

Last month, Brian Ripley announced on r-devel that registration of routines would now be tested for by R CMD check in r-devel (which by next month will become R 3.4.0). A NOTE will be issued now, this will presumably turn into a WARNING at some point. Writing R Extensions has an updated introduction) of the topic.

Although Builder clearly is The Future as GNOME IDE, I still all my coding in Emacs, mostly because I have been using it for such a long time that my brain is to all the shortcuts and workflows. But Emacs can be a good IDE too. The most obvious everyday features that I want from an IDE are good source code navigation and active assistance while editing. In the first category are tasks like jumping to symbol's definition, find all callers of a function and such things. For editing, auto-completion, immediate warnings and error reporting, semantic-aware re-factoring are a must. Specifically for GNOME related development, I need all this to also work with JHBuild.