Red Hat CEO Jim Whitehurst doubles as a cloud computing evangelist and entrepreneur advisor
Submitted by Rianne Schestowitz on Monday 5th of May 2014 06:51:16 AM
Filed under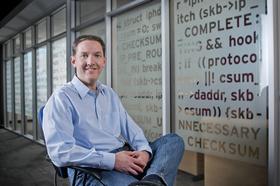 Jim Whitehurst, the CEO of open-source software developer Red Hat, is more than the guy who brought a tech giant to downtown Raleigh.
He's an entrepreneur-advising, cloud-computing evangelist who once aspired to be a pro football player.
Whitehurst, a STEM (science, technology, engineering and math) education enthusiast, took the time to give us our own education into what makes him tick.
»
Printer-friendly version

793 reads

PDF version
More in Tux Machines
fail0verflow turns a Nintendo Switch into a full-fledged Linux PC

Less than two weeks after demonstrating an exploit that allows Linux to be loaded unto a Nintendo Switch game console, fail0verflow is back with a new video showing what appears to be a full-fledged GNU/Linux-based operating system running on Nintendo's tablet. The video shows a Switch running the KDE Plasma desktop environment, complete with support for touchscreen input, internet connectivity, and 3D graphics.

LMMS Guide Part 1: Creating Simple Melodies Using Sounds And Instruments

​LMMS stands for Linux Multimedia Studio. It is a very good open-source program that is used to create music tracks using sound files, predefined instruments, and sound effects. LMMS has versions for Windows and macOS in addition to Linux. Their website, of course, lists all of their features offered to users. This article will attempt to provide practical guides and tips for composing songs using LMMS.

How To Create Shell Scripts

Having to type the same command over and over again can be a daunting task and tiresome for that matter. The shell scripts are really easy to create and run saving you from a lot of misery and anguish if you really prefer using the terminal over using the GUI for running tasks.

Today in Techrights