Put portable pwning power in your pocket with the Pwn Phone
Submitted by Roy Schestowitz on Monday 5th of May 2014 11:09:45 AM
Filed under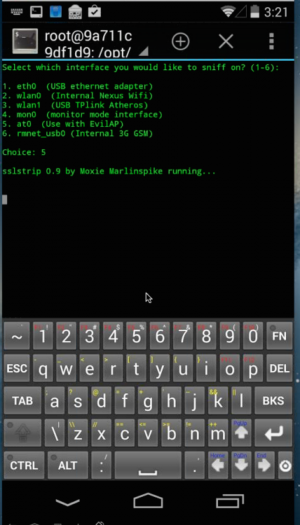 Mobile technology has made it possible for people to do an amazing amount with tablets and smartphones within the workplace—including hacking the living daylights out of the corporate network and other people's devices. Pwnie Express is preparing to release a tool that will do just that. Its Pwn Phone aims to help IT departments and security professionals quickly get a handle on how vulnerable their networks are in an instant. All someone needs to do is walk around the office with a smartphone.
Pwnie Express' Kevin Reilly gave Ars a personal walk-through of the latest Pwn Phone, the second generation of the company's mobile penetration testing platform. While the 2012 first-generation Pwn Phone was based on the Nokia N900 and its Maemo 5 Linux-based operating system, the new phone is based on LG Nexus 5 phone hardware. However, it doesn't exactly use Google's vanilla Android.
More in Tux Machines
Wine 2.7 Has Been Released

Canonical Releases Snapd 2.25 Snappy Daemon for Ubuntu Linux, Here Is What's New

Canonical's Snappy team, through Michael Vogt, announced today, April 28, 2017, the release and immediate availability of the Snapd 2.25 Snappy daemon for all supported Ubuntu Linux OSes, as well as other GNU/Linux distributions.

Ubuntu Devs Work on Rebasing Ubuntu 17.10 (Artful Aardvark) to Linux Kernel 4.11

It looks like the Ubuntu Kernel team is back at work after taking a short break, and they recently published another installation of their bi-weekly newsletter to inform the Ubuntu Linux community about what to expect in the coming weeks.

Linux Mint-using terror nerd awaits sentence for training Islamic State

A paranoid Welsh Muslim who wore gloves while typing on his laptop, admitted being part of Islamic State, and, gasp, harbored a copy of Linux Mint, has been described as a "new and dangerous breed of terrorist." Samata Ullah, 34, who also used voice modulation software to disguise his thick Welsh accent while making instructional videos about encryption, pleaded guilty to five terrorism charges at Cardiff Crown Court. He was due to be sentenced Friday afternoon.