30-way Intel/AMD/NVIDIA Linux 2D Performance Comparison
Submitted by Roy Schestowitz on Sunday 8th of June 2014 06:21:23 PM
Filed under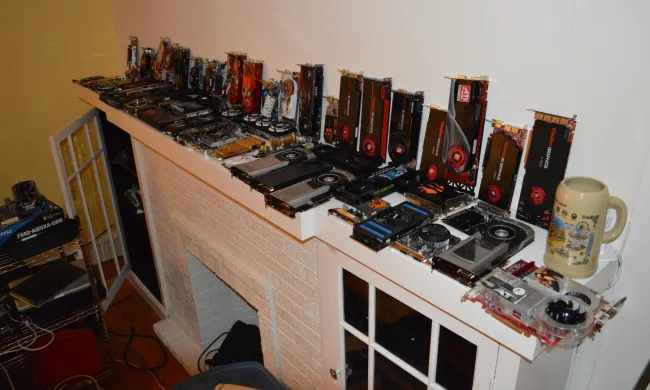 The tested graphics processors for this article included the:
1: Intel HD 4600
2: NVIDIA GeForce 8600GT
3: NVIDIA GeForce 9500GT
4: NVIDIA GeForce 9800GT
5: NVIDIA GeForce 9800GTX
6: NVIDIA GeForce GT 220
7: NVIDIA GeForce GTX 460
8: NVIDIA GeForce GT 520
9: NVIDIA GeForce GTX 550 Ti
10: NVIDIA GeForce GTX 650
11: NVIDIA GeForce GTX 680
12: NVIDIA GeForce GTX 760
13: NVIDIA GeForce GTX 770
14: NVIDIA GeForce GTX TITAN
15: AMD Radeon X1800XT
16: AMD Radeon HD 4550
17: AMD Radeon HD 4670
18: AMD Radeon HD 4770
19: AMD Radeon HD 4830
20: AMD Radeon HD 4850
21: AMD Radeon HD 4870
22: AMD Radeon HD 4890
23: AMD Radeon HD 5770
24: AMD Radeon HD 5830
25: AMD Radeon HD 6450
26: AMD Radeon HD 6570
27: AMD Radeon HD 6770
28: AMD Radeon HD 6870
29: AMD Radeon HD 6950
30: AMD Radeon HD 7850
More in Tux Machines
Native Netflix, Ts'o on Systemd, and Fedora 21 Alpha a Go

In today's Linux news OMG!Ubuntu! is reporting that Netflix is coming to Linux, this time natively. Jack Germain reviews Opera 12.16. Steven J. Vaughan-Nichols talks to Theodore Ts'o about systemd. A preview of new Kmail show radical redesign. And finally today, Fedora 21 Alpha was approved for release!

Ubuntu gets closer to debut in Meizu MX4 phone

The Ubuntu project announced a stable build for Ubuntu Touch phones, a week after Meizu tipped an Ubuntu version of the Meizu MX4 phone due in December. The Ubuntu for Phones team at the Canonical's Ubuntu Project announced the arrival of the first image from the Ubuntu-rtm (release to manufacturing) distribution for phones. The announcement followed last week's tease from Meizu, saying a version of the Android-based Meizu MX4 was on schedule for shipping with Ubuntu in December.

Android L Will Keep Your Secrets Safer

Hard on the heels of increased security measures in Apple's newly released iOS 8, Google this week confirmed that encryption will be turned on by default in the next release of Android. Android has offered encryption for more than three years, and keys are not stored off the device, so they can't be shared with law enforcement, Google said. In the next Android release, encryption will be enabled by default.

WHAT THE GNOME RELEASE TEAM IS DOING

At the release team BoF at this years Guadec, I said I would write a blog post about the whats and hows and ifs of release team work. I'm a little late with this, but here it is: a glimpse into the life of a GNOME release team member. We are in the end phase of the development cycle, when the release team work is really kicking into high gear.