30-way Intel/AMD/NVIDIA Linux 2D Performance Comparison
Submitted by Roy Schestowitz on Sunday 8th of June 2014 06:21:23 PM
Filed under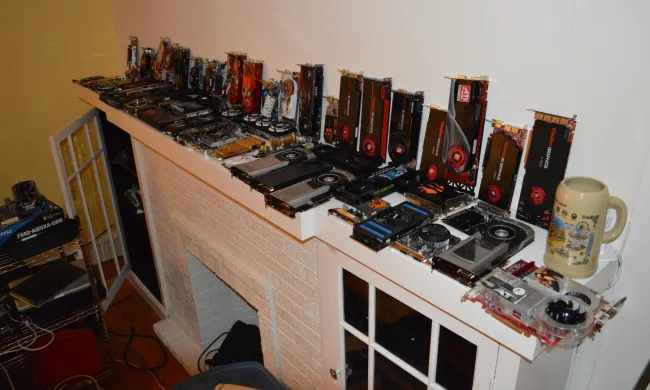 The tested graphics processors for this article included the:
1: Intel HD 4600
2: NVIDIA GeForce 8600GT
3: NVIDIA GeForce 9500GT
4: NVIDIA GeForce 9800GT
5: NVIDIA GeForce 9800GTX
6: NVIDIA GeForce GT 220
7: NVIDIA GeForce GTX 460
8: NVIDIA GeForce GT 520
9: NVIDIA GeForce GTX 550 Ti
10: NVIDIA GeForce GTX 650
11: NVIDIA GeForce GTX 680
12: NVIDIA GeForce GTX 760
13: NVIDIA GeForce GTX 770
14: NVIDIA GeForce GTX TITAN
15: AMD Radeon X1800XT
16: AMD Radeon HD 4550
17: AMD Radeon HD 4670
18: AMD Radeon HD 4770
19: AMD Radeon HD 4830
20: AMD Radeon HD 4850
21: AMD Radeon HD 4870
22: AMD Radeon HD 4890
23: AMD Radeon HD 5770
24: AMD Radeon HD 5830
25: AMD Radeon HD 6450
26: AMD Radeon HD 6570
27: AMD Radeon HD 6770
28: AMD Radeon HD 6870
29: AMD Radeon HD 6950
30: AMD Radeon HD 7850
More in Tux Machines
Red Hat News

BlockApps, a Blockchain-as-a-Service platform and a provider of Ethereum enterprise software, is collaborating with Red Hat in order to make it easier for enterprises to build blockchain applications that can be deployed in production across hybrid cloud environments — spanning both public and private clouds.

Kernel Space/Linux

Greg KH sent out his Linux 4.11 pull requests today for the different areas of the Linux kernel he maintains, including the staging area updates.

There was some work years ago for supporting Intel's own INTEL_performance_query OpenGL extension it was dropped in January for a rework and now is back in Mesa 17.1-devel.

Timothy Arceri who has been working on the Mesa on-disk shader cache for months and most recently began working for Valve on the AMD Linux driver stack has landed support in Mesa 17.1-devel for the GLSL/TGSI on-disk shader cache for the R600g and RadeonSI Gallium3D drivers.

today's howtos

Ten Years as Desktop Linux User: My Open Source World, Then and Now

I've been a regular desktop Linux user for just about a decade now. What has changed in that time? Keep reading for a look back at all the ways that desktop Linux has become easier to use -- and those in which it has become more difficult -- over the past ten years. I installed Linux to my laptop for the first time in the summer of 2006. I started with SUSE, then moved onto Mandriva and finally settled on Fedora Core. By early 2007 I was using Fedora full time. There was no more Windows partition on my laptop. When I ran into problems or incompatibilities with Linux, my options were to sink or swim. There was no Windows to revert back to.