30-way Intel/AMD/NVIDIA Linux 2D Performance Comparison
Submitted by Roy Schestowitz on Sunday 8th of June 2014 06:21:23 PM
Filed under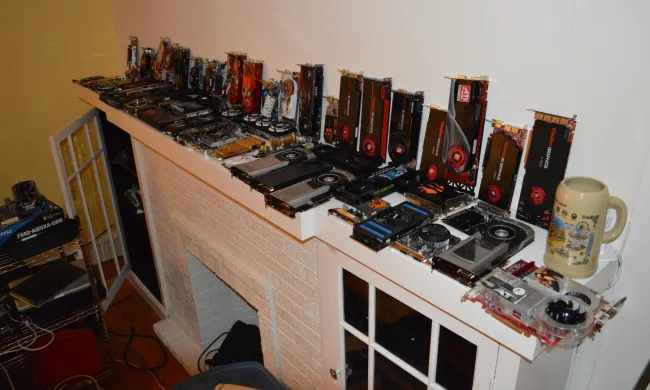 The tested graphics processors for this article included the:
1: Intel HD 4600
2: NVIDIA GeForce 8600GT
3: NVIDIA GeForce 9500GT
4: NVIDIA GeForce 9800GT
5: NVIDIA GeForce 9800GTX
6: NVIDIA GeForce GT 220
7: NVIDIA GeForce GTX 460
8: NVIDIA GeForce GT 520
9: NVIDIA GeForce GTX 550 Ti
10: NVIDIA GeForce GTX 650
11: NVIDIA GeForce GTX 680
12: NVIDIA GeForce GTX 760
13: NVIDIA GeForce GTX 770
14: NVIDIA GeForce GTX TITAN
15: AMD Radeon X1800XT
16: AMD Radeon HD 4550
17: AMD Radeon HD 4670
18: AMD Radeon HD 4770
19: AMD Radeon HD 4830
20: AMD Radeon HD 4850
21: AMD Radeon HD 4870
22: AMD Radeon HD 4890
23: AMD Radeon HD 5770
24: AMD Radeon HD 5830
25: AMD Radeon HD 6450
26: AMD Radeon HD 6570
27: AMD Radeon HD 6770
28: AMD Radeon HD 6870
29: AMD Radeon HD 6950
30: AMD Radeon HD 7850
More in Tux Machines
Raspberry Pi analog input board has weather station option

RasPi.TV has Kickstartered a $12 "RasPiO Analog Zero" Raspberry Pi add-on board the size of an Raspberry Pi Zero. It offers eight 10-bit analog inputs. The RasPiO Analog Zero has surpassed its Kickstarter goals, and is available through May 31 starting at 8 Pounds ($12). Designed for reading up to eight analog sensors simultaneously on a Raspberry Pi, the add-on board is matched to the size of the 65 x 30mm Raspberry Pi Zero. However, it plugs into any Pi with a 40-pin expansion connector, and can work with older 26-pin Pi models with the help of an adapter.

GhostBSD 10.3 Development Continues, Now with UEFI Support for 64-bit Platforms

Today, May 25, 2016, GhostBSD maintainer Eric Turgeon announced the general availability of the second Alpha release of the upcoming GhostBSD 10.3 operating system.

Samsung still undecided on their Android Wear future

Yesterday the Internet lit up like a Christmas tree with the news that Samsung was no longer going to use Android Wear for any of its Smartwatches, but it seems that might not be quite the case. The report from Fast Company cited some Samsung executives confirming that Samsung was not looking into developing any further Android Wear products. Now, In a statement provided to the Engadget website Samsung states: "We disagree with Fast Company's interpretation. Samsung has not made any announcement concerning Android Wear and we have not changed our commitment to any of our platforms."

Meizu Pro 5 Ubuntu Edition review

The Meizu Pro 5 is the latest flagship smartphone to run on Canonical's Ubuntu operating system. Ubuntu is designed to work across all device types – including mobile, tablets, convertibles and desktops – using a common core code. This is similar to Microsoft Windows 10 Mobile. However, unlike Microsoft's code, Ubuntu is totally open source and has largely been developed and improved by the desktop OS's millions-strong user base. This means the OS is capable of evolving and changing at a great pace and has update cycles that would make most sysadmins weep.