30-way Intel/AMD/NVIDIA Linux 2D Performance Comparison
Submitted by Roy Schestowitz on Sunday 8th of June 2014 06:21:23 PM
Filed under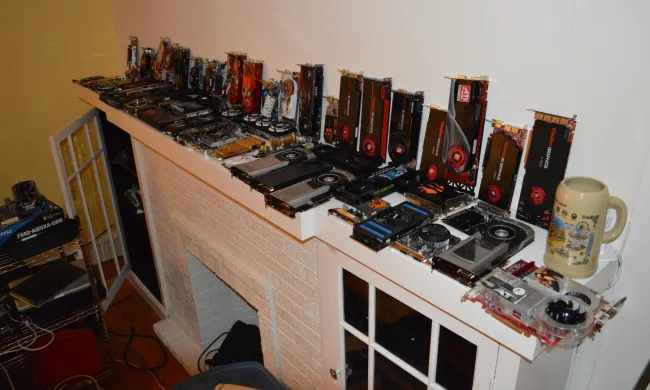 The tested graphics processors for this article included the:
1: Intel HD 4600
2: NVIDIA GeForce 8600GT
3: NVIDIA GeForce 9500GT
4: NVIDIA GeForce 9800GT
5: NVIDIA GeForce 9800GTX
6: NVIDIA GeForce GT 220
7: NVIDIA GeForce GTX 460
8: NVIDIA GeForce GT 520
9: NVIDIA GeForce GTX 550 Ti
10: NVIDIA GeForce GTX 650
11: NVIDIA GeForce GTX 680
12: NVIDIA GeForce GTX 760
13: NVIDIA GeForce GTX 770
14: NVIDIA GeForce GTX TITAN
15: AMD Radeon X1800XT
16: AMD Radeon HD 4550
17: AMD Radeon HD 4670
18: AMD Radeon HD 4770
19: AMD Radeon HD 4830
20: AMD Radeon HD 4850
21: AMD Radeon HD 4870
22: AMD Radeon HD 4890
23: AMD Radeon HD 5770
24: AMD Radeon HD 5830
25: AMD Radeon HD 6450
26: AMD Radeon HD 6570
27: AMD Radeon HD 6770
28: AMD Radeon HD 6870
29: AMD Radeon HD 6950
30: AMD Radeon HD 7850
More in Tux Machines
Linux 4.8.14

Turns out I'm going to be on a very long flight early tomorrow morning, so I figured it would be good to get this kernel out now, instead of delaying it by an extra day. So, I'm announcing the release of the 4.8.14 kernel. All users of the 4.8 kernel series must upgrade. The updated 4.8.y git tree can be found at: git://git.kernel.org/pub/scm/linux/kernel/git/stable/linux-stable.git linux-4.8.y and can be browsed at the normal kernel.org git web browser: http://git.kernel.org/?p=linux/kernel/git/stable/linux-st... Also: Linux 4.4.38 Linux Kernel 4.8.14 Hits the Streets with Numerous Networking Improvements, More

An Everyday Linux User Review Of Zorin 12

This version of Zorin is a great step forward. It has a renewed sense of purpose and stands out in its own right as a decent Linux distribution. I think Zorin should follow Mint's lead and stick with aligning itself to the Ubuntu LTS release. This gives the developers more time to push it along at their own pace. All in all a decent alternative to Linux Mint and Ubuntu.