30-way Intel/AMD/NVIDIA Linux 2D Performance Comparison
Submitted by Roy Schestowitz on Sunday 8th of June 2014 06:21:23 PM
Filed under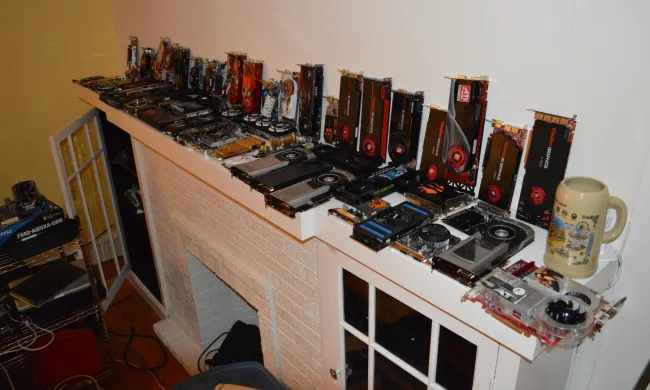 The tested graphics processors for this article included the:
1: Intel HD 4600
2: NVIDIA GeForce 8600GT
3: NVIDIA GeForce 9500GT
4: NVIDIA GeForce 9800GT
5: NVIDIA GeForce 9800GTX
6: NVIDIA GeForce GT 220
7: NVIDIA GeForce GTX 460
8: NVIDIA GeForce GT 520
9: NVIDIA GeForce GTX 550 Ti
10: NVIDIA GeForce GTX 650
11: NVIDIA GeForce GTX 680
12: NVIDIA GeForce GTX 760
13: NVIDIA GeForce GTX 770
14: NVIDIA GeForce GTX TITAN
15: AMD Radeon X1800XT
16: AMD Radeon HD 4550
17: AMD Radeon HD 4670
18: AMD Radeon HD 4770
19: AMD Radeon HD 4830
20: AMD Radeon HD 4850
21: AMD Radeon HD 4870
22: AMD Radeon HD 4890
23: AMD Radeon HD 5770
24: AMD Radeon HD 5830
25: AMD Radeon HD 6450
26: AMD Radeon HD 6570
27: AMD Radeon HD 6770
28: AMD Radeon HD 6870
29: AMD Radeon HD 6950
30: AMD Radeon HD 7850
More in Tux Machines
Android Leftovers

After many delays, all four major mobile Linux alternatives to Android have finally arrived on smartphones. Mozilla's Firefox OS was first out of the gate two years ago, followed by Jolla's Sailfish OS, and this year they were joined by the first Ubuntu and Tizen phones. Yet, a fifth open source mobile Linux platform may have already eclipsed them all. The CyanogenMod flavor of Android is rapidly expanding from its role as the most popular alternative mobile phone mod for flashing onto Android phones to being a much sought after pre-installed OS.

It's been a little over a year since we the first crop of Android Wear smartwatches popped up around the time of Google I/O 2014. While many of us are expecting followups to some these devices by now (Samsung's got a new Tizen powered smartwatch with a round face ready to go) it almost feels like we're waiting on something. It could be that Android Wear's biggest OEMs — Motorola, LG, ASUS, and Huawei — are planning to introduce their new round of smartwatches during this year's IFA 2015.

Samsung's new smartphones and tablets might not offer enough to entice current iPhone and iPad users to switch, but they keep Samsung at the head of the class among Android gadget makers. The new Galaxy devices come weeks before comparable updates from Apple are expected. In a sense, if Samsung can't beat the competition in sales, it can at least beat it to store shelves.

Google has transformed Android search for apps and now displays the results in a pictorial, grid-like fashion. For instance, searching for "music apps" (either in Now or a browser) brings up the above grid, and clicking on a given app will take you straight to Google Play, as you'd expect. The feature, spotted by Android Police, appears to have rolled out over the last few days. Regular search results are still displayed below, but the grid images take up the entire first page, in much the same way as Google's Knowledge Graph. It only works on Android, so far -- doing a similar search on iOS yields a regular app list with the option to install.

YouTube isn't the only one to introduce a live-streaming app this week. Just days after YouTube Gaming was outed, Japan's DeNA — a prolific producer of games itself — has entered the scene with its own take, called Mirrativ.

The Huawei Watch, another nice-looking, round Android Wear smartwatch, is now up for preorder at Amazon. Pricing starts at $349 for a stainless steel model with black leather strap and goes all the way up to $799 for a gold-plated stainless steel watch with matching gold-plated steel band. That's soundly Apple Watch territory, so it'll be interesting to see what type of demand exists for an ultra-premium Android Wear device. Amazon says the Huawei Watch will begin shipping September 2nd.

NetworkManager 1.0.6 brings metered connections API and more

Lubomir Rintel informs users about the release and immediate availability for download of the sixth maintenance version of the open-source NetworkManager network connection management utility for GNU/Linux operating systems.

Wayland in Fedora 23 Linux Allows for Use of Multiple Monitors with Different DPIs

Fedora Project, through Christian Schaller, was proud to report on the progress made for the next-generation Wayland display server that it might be used by default on the upcoming major release of the Fedora Linux operating system, Fedora 23.

GNOME Developers Discuss Codenames, GNOME 3.18 Might be Dubbed "Gothenburg"

Allan Day, a GNOME UX designer working for Red Hat and renowned GNOME developer/contributor, opened an interesting discussion on the official GNOME mailing list, about possible codenames for upcoming releases of the acclaimed desktop environment for GNU/Linux operating systems.