30-way Intel/AMD/NVIDIA Linux 2D Performance Comparison
Submitted by Roy Schestowitz on Sunday 8th of June 2014 06:21:23 PM
Filed under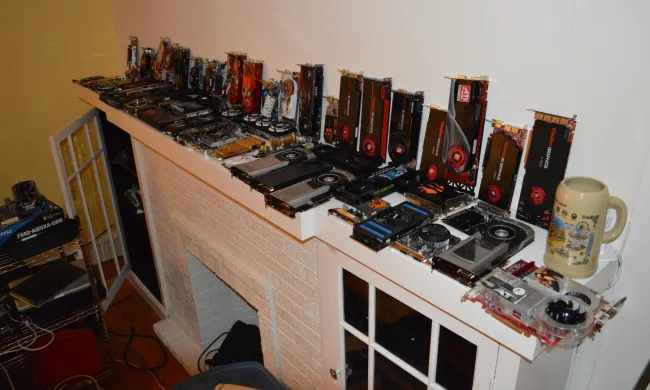 The tested graphics processors for this article included the:
1: Intel HD 4600
2: NVIDIA GeForce 8600GT
3: NVIDIA GeForce 9500GT
4: NVIDIA GeForce 9800GT
5: NVIDIA GeForce 9800GTX
6: NVIDIA GeForce GT 220
7: NVIDIA GeForce GTX 460
8: NVIDIA GeForce GT 520
9: NVIDIA GeForce GTX 550 Ti
10: NVIDIA GeForce GTX 650
11: NVIDIA GeForce GTX 680
12: NVIDIA GeForce GTX 760
13: NVIDIA GeForce GTX 770
14: NVIDIA GeForce GTX TITAN
15: AMD Radeon X1800XT
16: AMD Radeon HD 4550
17: AMD Radeon HD 4670
18: AMD Radeon HD 4770
19: AMD Radeon HD 4830
20: AMD Radeon HD 4850
21: AMD Radeon HD 4870
22: AMD Radeon HD 4890
23: AMD Radeon HD 5770
24: AMD Radeon HD 5830
25: AMD Radeon HD 6450
26: AMD Radeon HD 6570
27: AMD Radeon HD 6770
28: AMD Radeon HD 6870
29: AMD Radeon HD 6950
30: AMD Radeon HD 7850
More in Tux Machines
Today in Techrights

Edubuntu Vs UberStudent: Return To College With The Best Linux Distro

Importantly, there are a handful of programs that are on Edubuntu that UberStudent doesn't have, such as KAlgebra, Kazium, KGeography, and Marble. Instead, UberStudent has a smaller collection of applications but it does include some useful items when it comes to writing papers that Edubuntu does not have. So ultimately, Edubuntu includes more programs that are information-heavy, while UberStudent includes more tools that can aid students in their studies but doesn't directly give them any sort of information.

Zotac Nvidia Jetson TK1 review

The Jetson TK1, Nvidia's first development board to be marketed at the general public, has taken a circuitous route to our shores. Unveiled at the company's Graphics Technology Conference earlier this year, the board launched in the US at a headline-grabbing price of $192 but its international release was hampered by export regulations. Zotac, already an Nvidia partner for its graphics hardware, volunteered to sort things out and has partnered with Maplin to bring the board to the UK. In doing so, however, the price has become a little muddled. $192 – a clever dollar per GPU core – has become £199.99. Compared to Maplin's other single-board computer, the sub-£30 Raspberry Pi, it's a high-end item that could find itself priced out of the reach of the company's usual customers.

New Human Interface Guidelines for GNOME and GTK+

I've recently been hard at work on a new and updated version of the GNOME Human Interface Guidelines, and am pleased to announce that this will be ready for the upcoming 3.14 release. Over recent years, application design has evolved a huge amount. The web and native applications have become increasingly similar, and new design patterns have become the norm. During that period, those of us in the GNOME Design Team have worked with developers to expand the range of GTK+'s capabilities, and the result is a much more modern toolkit.