30-way Intel/AMD/NVIDIA Linux 2D Performance Comparison
Submitted by Roy Schestowitz on Sunday 8th of June 2014 06:21:23 PM
Filed under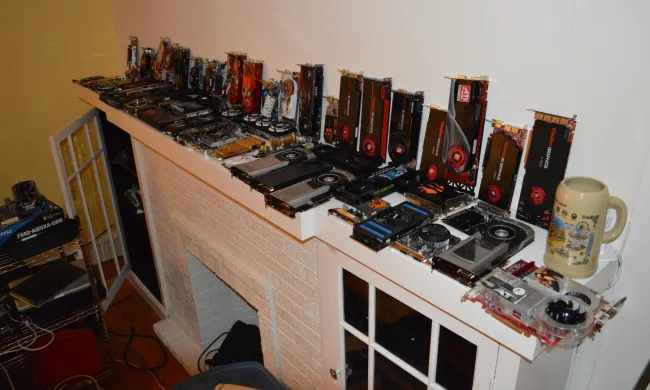 The tested graphics processors for this article included the:
1: Intel HD 4600
2: NVIDIA GeForce 8600GT
3: NVIDIA GeForce 9500GT
4: NVIDIA GeForce 9800GT
5: NVIDIA GeForce 9800GTX
6: NVIDIA GeForce GT 220
7: NVIDIA GeForce GTX 460
8: NVIDIA GeForce GT 520
9: NVIDIA GeForce GTX 550 Ti
10: NVIDIA GeForce GTX 650
11: NVIDIA GeForce GTX 680
12: NVIDIA GeForce GTX 760
13: NVIDIA GeForce GTX 770
14: NVIDIA GeForce GTX TITAN
15: AMD Radeon X1800XT
16: AMD Radeon HD 4550
17: AMD Radeon HD 4670
18: AMD Radeon HD 4770
19: AMD Radeon HD 4830
20: AMD Radeon HD 4850
21: AMD Radeon HD 4870
22: AMD Radeon HD 4890
23: AMD Radeon HD 5770
24: AMD Radeon HD 5830
25: AMD Radeon HD 6450
26: AMD Radeon HD 6570
27: AMD Radeon HD 6770
28: AMD Radeon HD 6870
29: AMD Radeon HD 6950
30: AMD Radeon HD 7850
More in Tux Machines
More hands-on with the Raspberry Pi Zero: Loading, booting and configuring

Today I share more information and first-hand experiences with the Raspberry Pi Zero, including loading, booting, configuring and using the PiHub for both USB expansion and power.

Red Hat Financial News

Baird maintained its 85 price target and outperform rating, but Red Hat fell 1.3% in the stock market today, to 81.41. Red Hat stock hit an all-time high of 83 on Nov. 5 and is up 18% this year.

Red Hat, Inc. (NYSE:RHT), of the Technology sector was at a price of 82.5 today, marking a change of -0.02%. Red Hat, Inc. forecasts a earnings per share growth of 2.20% over the next year. Its return on investment is currently 8.70% and its debt to equity is currently 0.53. Red Hat, Inc. has a market cap of 15081 and its gross margin is 84.80%.

Leftovers: FSF/GNU

Finding the right tool for the job

I've worked on many projects in my life so far, and almost all of them involve open source somewhere along the line. Below is a brief summary of some of the projects I worked on and the tools I used to work on projects in my own time, outside of work.