A NEW DEFAULT THEME FOR GTK+
Submitted by Rianne Schestowitz on Saturday 14th of June 2014 06:47:07 AM
Filed under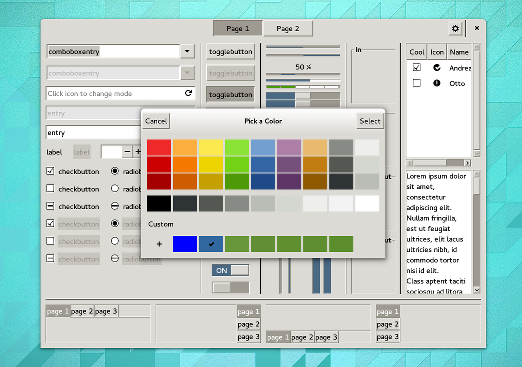 This may not be such a big deal on Linux, where distributions generally have 'their' theme, not to mention the many packaged and readily available themes. So, basically no Linux user ever sees the default GTK+ theme. The situation is very different on other platforms, where GTK+ is often bundled with applications, and it may not be easy to install themes, or get the bundled GTK+ to use them.
For a very long time, we've held onto the belief that the theming system is a way to make applications blend smoothly into the platform, and that there should be a native theme for each major platform that GTK+ can run on.
More in Tux Machines
LXQt 0.11.0 Desktop Environment Arrives After Almost One Year of Development

After being in development for the past eleven months, the next major release of the lightweight, Qt-based LXQt desktop environment has been officially released and it's available for download.

Antivirus Live CD 20.0-0.99.2 Uses ClamAV 0.99.2 to Protect Your PC from Viruses

Today, September 25, 2016, 4MLinux developer Zbigniew Konojacki informs Softpedia about the immediate availability for download of a new, updated version of his popular, independent, free, and open source Antivirus Live CD.

How to: Install Google Chrome web browser on Ubuntu Linux (and uninstall Firefox)

Ubuntu comes with a lot of quality software pre-installed. Unfortunately, the default web browser, Mozilla Firefox, has been on the decline -- it is slow and clunky. On Linux, Google Chrome is now the top web browser, and it is the best way to experience Adobe Flash content too (if you still need it). Installing Google Chrome on the Linux-based operating system is not totally straightforward. This is unfortunate, as the search-giant's web browser is an important part of having an overall quality experience on Ubuntu. Don't worry, however, as we will help you to both install the wonderful Google Chrome and uninstall the disappointing Mozilla Firefox.

Parsix GNU/Linux 8.10 "Erik" Gets the Latest Debian Security Fixes, Update Now

A few minutes ago, the development team behind the Debian-based Parsix GNU/Linux computer operating system announced that new security fixes are now available for the Parsix GNU/Linux 8.10 "Erik" release.