A NEW DEFAULT THEME FOR GTK+
Submitted by Rianne Schestowitz on Saturday 14th of June 2014 06:47:07 AM
Filed under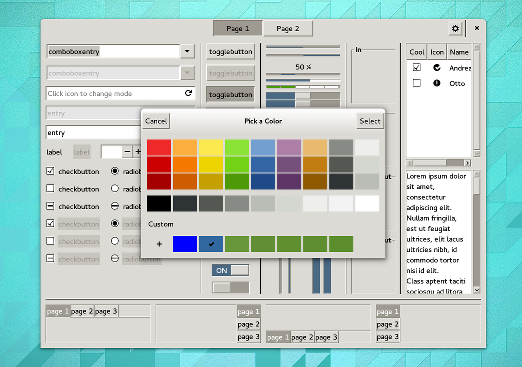 This may not be such a big deal on Linux, where distributions generally have 'their' theme, not to mention the many packaged and readily available themes. So, basically no Linux user ever sees the default GTK+ theme. The situation is very different on other platforms, where GTK+ is often bundled with applications, and it may not be easy to install themes, or get the bundled GTK+ to use them.
For a very long time, we've held onto the belief that the theming system is a way to make applications blend smoothly into the platform, and that there should be a native theme for each major platform that GTK+ can run on.
More in Tux Machines
Opinion: Why open source is the future of MBaaS

The open-source advantages of Linux have spurred enterprise adoption of the OS. For many of the same reasons, an open-source Mobile-Backend-as-a-Service (MBaaS) framework is also the right choice for enterprise companies looking to support their branded apps.

GIMP 2.10 Development Started, Will Bring GEGL-Based Tools, OpenEXR Support

After turning 20 years of activity, the GIMP developers have been happy to announce that the development cycle of the upcoming GIMP 2.10 open-source and cross-platform image editor software has started with the immediate availability of GIMP 2.9.2.

Kwort Linux 4.3 Is Based on CRUX 3.2, Adds Chromium 47.0 and Linux Kernel 4.1.13

David Cortarello of the Kwort project has announced today, November 27, the release and immediate availability for download of the Kwort Linux 4.3 computer operating system.

Elive 2.6.12 beta released

This version includes bugfixes in the installer handling special cases and some improvements in the overall speed process. The desktop has now the clock by default included and there's some improved configurations by default too. We still working on the packaging for the other architectures like 64bit and different distros to keep the updates and fixes more reliable in the future.