A NEW DEFAULT THEME FOR GTK+
Submitted by Rianne Schestowitz on Saturday 14th of June 2014 06:47:07 AM
Filed under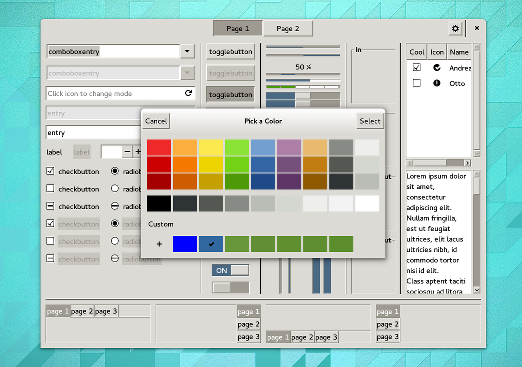 This may not be such a big deal on Linux, where distributions generally have 'their' theme, not to mention the many packaged and readily available themes. So, basically no Linux user ever sees the default GTK+ theme. The situation is very different on other platforms, where GTK+ is often bundled with applications, and it may not be easy to install themes, or get the bundled GTK+ to use them.
For a very long time, we've held onto the belief that the theming system is a way to make applications blend smoothly into the platform, and that there should be a native theme for each major platform that GTK+ can run on.
More in Tux Machines
today's howtos

Leftovers: Software

Leftovers: Gaming

Natural Selection 2, an immersive, multiplayer shooter that pits aliens against humans in a strategic and action-packed struggle for survival, is now available on Steam for Linux with a 75% discount.

The developer of Garry's Mod, a game that has been available on the Linux platform for more than a year, has revealed some sales numbers, including for Linux.

I've play tested a bit of it since it was free (why not!), and it's surprisingly well made. You take control of Natalie a seemingly smart military officer who has been stuck on a crappy assignment while many of her old classmates have been off fighting in war.

SK Telecom to Open a New "Do-it-yourself" Era in Network Equipment

The network operating system will be based on Linux, with that solution that can offer a variety of features such as switching, routing, load balancing, firewall, and distributed denial-of-service. In addition, network virtualization, software-defined network controller, and other related features will be made available. Atto Research, the specialist in software-defined networking, will take the job of development work.