A NEW DEFAULT THEME FOR GTK+
Submitted by Rianne Schestowitz on Saturday 14th of June 2014 06:47:07 AM
Filed under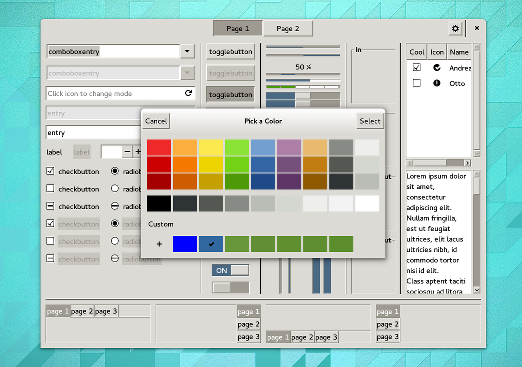 This may not be such a big deal on Linux, where distributions generally have 'their' theme, not to mention the many packaged and readily available themes. So, basically no Linux user ever sees the default GTK+ theme. The situation is very different on other platforms, where GTK+ is often bundled with applications, and it may not be easy to install themes, or get the bundled GTK+ to use them.
For a very long time, we've held onto the belief that the theming system is a way to make applications blend smoothly into the platform, and that there should be a native theme for each major platform that GTK+ can run on.
More in Tux Machines
Ubuntu-Based BackBox Linux 4.6 Launches with Updated Hacking Tools, Kernel 4.2

Raffaele Forte, the maintainer of the Ubuntu-based BackBox Linux operating system designed for penetration testing and forensic analysis operations, announced the release of BlackBox Linux 4.6. Also: BQ Aquaris M10 Ubuntu Edition review

Red Hat News

CentOS Linux 6.8, based on Red Hat Enterprise Linux 6.8, is now available for download. This release comes with many important features and changes that include the support for up to 300TB data on XFS filesystems and lots of security fixes.

Red Hat Inc. has updated its recently acquired Ansible technology, launching a new version that comes with enhanced support for Docker containers and also Microsoft's Azure cloud platform. Ansible was only acquired by Red Hat in October of last year, and the new Ansible 2.1 update is actually the second new version of the DevOps IT automation technology since then. Ansible 2.0 was released last January, with a cleaner code architecture, but today's release offers a lot more practical functionality.

Kernel Space Graphics

The X.Org Server Git code finally has the threaded input support that's long been a work-in-progress.

We reported earlier today, May 26, 2016, that Valve pushed build 2.80 of its SteamOS gaming operating system to the Brewmaster Beta channels for early adopters and public beta testers.

Earlier this month I wrote about much faster tessellation coming for AMD's RadeonSI Gallium3D driver and now that code has landed.

GNOME Desktop/GTK

The GNOME devs are working around the clock these days to release the second milestone towards the GNOME 3.22 desktop environment, which is expected to land for various GNU/Linux operating systems later this year.

Polari developer Florian Müllner informs the community about the general availability of the second snapshot towards the major 3.22 release of the open-source and straightforward IRC client designed for GNOME 3.