A NEW DEFAULT THEME FOR GTK+
Submitted by Rianne Schestowitz on Saturday 14th of June 2014 06:47:07 AM
Filed under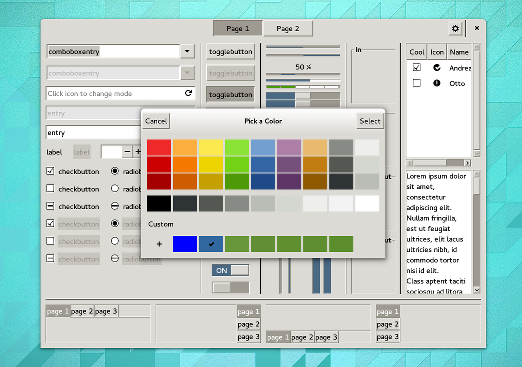 This may not be such a big deal on Linux, where distributions generally have 'their' theme, not to mention the many packaged and readily available themes. So, basically no Linux user ever sees the default GTK+ theme. The situation is very different on other platforms, where GTK+ is often bundled with applications, and it may not be easy to install themes, or get the bundled GTK+ to use them.
For a very long time, we've held onto the belief that the theming system is a way to make applications blend smoothly into the platform, and that there should be a native theme for each major platform that GTK+ can run on.
More in Tux Machines
Linux Kernel News

Dell Has Sold 'Tens of Millions' Dollars' Worth of Linux Laptops

So popular Linux personality Bryan Lunduke, who recently took an hour out to talk to Dell's Senior Architect in the office of CTO — try saying that with a mouthful of doughnut — Barton George. What did he learn? Well, for one, Dell says it has 'no plans' to start shipping its Linux-powered developer laptops with anything other than Ubuntu.

Open-source voting is the answer to hacking concerns

Will we ever have a voting system that is completely error-proof and impenetrable from malicious forces? Not likely. But the security breaches that are increasingly a part of daily life serve as a call to action. Every day brings a new report of hacking or suspicious activity, and increasingly with fingers pointing to international actors. Whether it is statewide voter registration databases (Illinois and Arizona; some say more); national party organizations (the Democratic National Committee); utilities (Vermont's Burlington Electric); or Russia's state-run television station (RT) suddenly interrupting C-SPAN last week — the incident is still under investigation and not confirmed as a hack — it is all very unsettling and leaves us feeling vulnerable.

The Many, the Humble, the Ubuntu Users

I have never been much of a leading-edge computing person. In fact, I first got mildly famous online writing a weekly column titled "This Old PC" for Time/Life about making do with used gear — often by installing Linux on it — and after that an essentially identical column for Andover.net titled "Cheap Computing," which was also about saving money in a world where most online computing columns seemed to be about getting you to spend until you had no money left to spend on food.