A free photo editor worth trying: Getting started with GIMP
Submitted by Rianne Schestowitz on Wednesday 18th of June 2014 03:25:09 AM
Filed under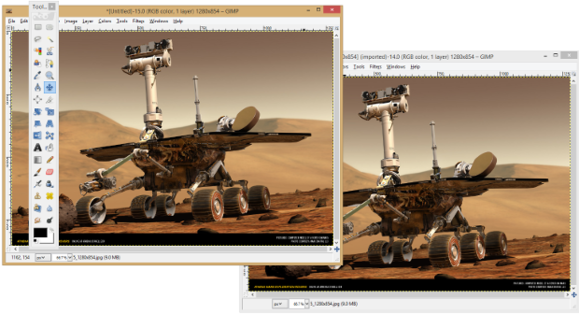 When most of us are looking for a photo-editing tool, we immediately think of Photoshop. Adobe's program is powerful and popular, but it's pricey at $100—and that's for the "light" version called Photoshop Elements.
Meanwhile, $20 per month is the standard charge for individual one-app subscriptions to Photoshop Creative Cloud. Adobe offers a free in-browser version called Photoshop Express Editor, but it's very limited and only allows you to edit JPEG files.
A better free alternative is to turn to the open-source world and a popular program called GIMP. The GNU Image Manipulation Program is the standard photo-editing tool included or available to most Linux distributions. GIMP is also available for Windows (XP and up) and Mac.
»
Printer-friendly version

7489 reads

PDF version
More in Tux Machines
Linux App Touchégg v2.0.2 Released With Touchscreen Support

Last month, we reported about a Linux multi-touch gesture recognizer app called Touchégg. A completely revised version 2.0.0 arrived as a major update after more than years of gap. As the rewritten version of Touchégg became compatible with the latest Linux desktop tech stack, its developer José Expósito has now announced a new Touchégg v2.0.2 with more important enhancements. Before I speak about v2.0.2, those who're unfamiliar with Touchégg, it's a Linux app that runs in the background and transforms the gestures you make on your touchpad into visible actions on your desktop. For example, you can swipe up with 3 fingers to maximize a window or swipe left with 4 fingers to switch to the next desktop.

Android Leftovers

GNOME 40 Desktop Environment Slated for Release on March 24th, 2021

Public testers will be able to get their hands on the GNOME 40 alpha release as soon as early January 2021, while the beta and RC releases are expected to hit the streets in mid-February and March respectively. The final release of the GNOME 40 desktop environment series is set for March 24th, 2021, just in time for the Ubuntu 21.04 (Hirsute Hippo) operating system, due for release on April 22nd, or Fedora 34, due for release on April 27th.

Freespire 7.0 Released with the Xfce Desktop, Based on Ubuntu 20.04 LTS

Arriving more than nine months after Freespire 6.0, the Freespire 7.0 release is based on the Ubuntu 20.04 LTS (Focal Fossa) operating system series with the long-term supported Linux 5.4 kernel and uses the latest Xfce 4.14 desktop environment by default. Freespire 7.0 is packed with many popular applications, including the latest Chromium 86 web browser, Mozilla Thunderbird 68.12 email client, Synaptic package manager, Abiword word processor, Gnumeric spreadsheet editor, Parole media player, Transmission torrent downloader, KolourPaint digital painting app, as well as the KPatience card sorting game and DreamChess chess game.