​How to Try Firefox OS Apps on Android
Submitted by Roy Schestowitz on Saturday 21st of June 2014 07:39:58 AM
Filed under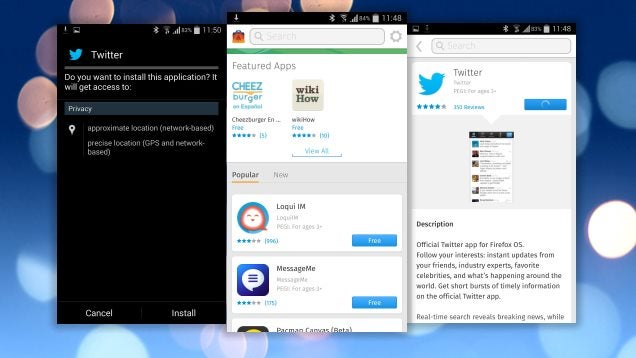 Android: Mozilla is best known for its web browser, but the company also produces Firefox OS for a limited number of handsets. With a little sideways thinking, though, you can try some of its apps in Android.
Much like Google Chrome, Firefox supports webapps—the OS and apps are built with the same technology—and this is how you can bring Firefox OS to Android. Apps work like browser extensions, so they take up very little room making them ideal for older devices or those with limited storage. Download a copy of Firefox for Android from the Google Play Store, or update your existing copy to 29 or above.
Fire up Firefox and visit the Firefox Marketplace, the Firefox version of Google Play or the Chrome Web Store. Take a browse through the Marketplace and tap an app that takes your fancy. Just as with regular Android apps, Firefox OS apps let you know about the permissions they need, and you have to accept this before you install anything.
»
Printer-friendly version

1304 reads

PDF version
More in Tux Machines
AndEX Puts Android Marshmallow 6.0.1 64-Bit on Your PC with GAPPS and Netflix

GNU/Linux developer Arne Exton has released a new build of his Android-x86 fork AndEX that leverages Google's Android Marshmallow 6.0.1 mobile operating system for 64-bit PCs with various updates and improvements.

today's leftovers

today's howtos

Korora 26

Korora Linux distro is a derivative of popular Fedora operating system. It ships with lots of additional packages that are provided by Fedora community and helps the users to get a complete out-of-the-box experience. The developers of Korora Linux distro have just shipped Korora 26 "Bloat." Bloat codename has been derived from the characters of the movie "Finding Nemo."

Korora developer Jim Dean announced the release and general availability of the Korora Linux 26 operating system for personal computers, a release based on the latest Fedora Linux version and packed full of goodies. Dubbed "Bloat," Korora Linux 26 comes more than nine months after the release of Korora 25, it's based on Red Hat's Fedora 26 Linux operating system and ships with the latest versions of popular desktop environments, including GNOME 3.24. Also included are the KDE Plasma 5.10, Xfce 4.12, Cinnamon 3.4, and MATE 1.18 desktop environments, all of them shipping pre-loaded with a brand-new backup tool designed to keep your most important files safe and secure from hackers or government agencies.