​How to Try Firefox OS Apps on Android
Submitted by Roy Schestowitz on Saturday 21st of June 2014 07:39:58 AM
Filed under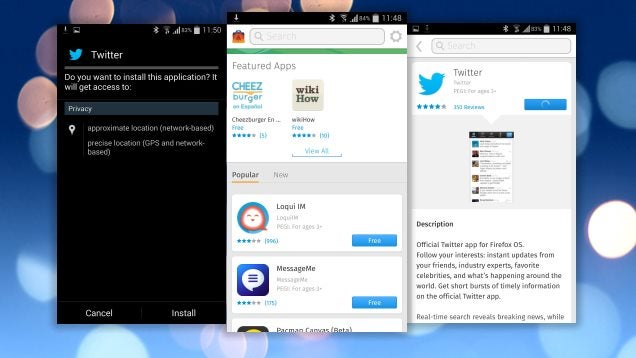 Android: Mozilla is best known for its web browser, but the company also produces Firefox OS for a limited number of handsets. With a little sideways thinking, though, you can try some of its apps in Android.
Much like Google Chrome, Firefox supports webapps—the OS and apps are built with the same technology—and this is how you can bring Firefox OS to Android. Apps work like browser extensions, so they take up very little room making them ideal for older devices or those with limited storage. Download a copy of Firefox for Android from the Google Play Store, or update your existing copy to 29 or above.
Fire up Firefox and visit the Firefox Marketplace, the Firefox version of Google Play or the Chrome Web Store. Take a browse through the Marketplace and tap an app that takes your fancy. Just as with regular Android apps, Firefox OS apps let you know about the permissions they need, and you have to accept this before you install anything.
More in Tux Machines
Linux 4.10-rc5

Things seem to be calming down a bit, and everything looks nominal. There's only been about 250 changes (not counting merges) in the last week, and the diffstat touches less than 300 files (with drivers and architecture updates being the bulk, but there's tooling, networking and filesystems in there too). Also: Linus Torvalds Announces Fifth Linux 4.10 Kernel RC, Everything Looks Nominal Linux 4.10-rc5 Released, Now Codenamed "Anniversary Edition"

Fedora 26 Linux to Enable TRIM for Better Performance of Encrypted SSD Disks

According to the Fedora 26 release schedule, the upcoming operating system is approaching an important milestone, namely the proposal submission deadline for system-wide changes, which is currently set for January 31. Also: Fedora 26 Planning To Enable TRIM/Discard On Encrypted Disks

New CloudLinux 7 and CloudLinux 6 Linux Kernel Security Updates Pushed Into Beta

CloudLinux's Mykola Naugolnyi is informing users of the CloudLinux 7 and CloudLinux 6 enterprise-ready operating systems to upgrade their kernel packages immediately if they are using the Beta channel.

KDE Neon Installer

KDE Neon has adopted distro-agnostic Linux installer 'Calamares' its unstable developer edition. Calamares replaces the Canonical-developed Ubiquity installer as the default graphical installer used when installing the Ubuntu-based OS on a new machine. The stylish install wizard is already in use on a number of other KDE-based Linux distributions, including Chakra Linux and Netrunner.

You voted for change and today we're bringing change. Today we give back the installer to the people. Today Calamares 3 was released. It's been a long standing wish of KDE neon to switch to the Calamares installer. Calamares is a distro independent installer used by various projects such as Netrunner and Tanglu. It's written in Qt and KDE Frameworks and has modules in C++ or Python.