​How to Try Firefox OS Apps on Android
Submitted by Roy Schestowitz on Saturday 21st of June 2014 07:39:58 AM
Filed under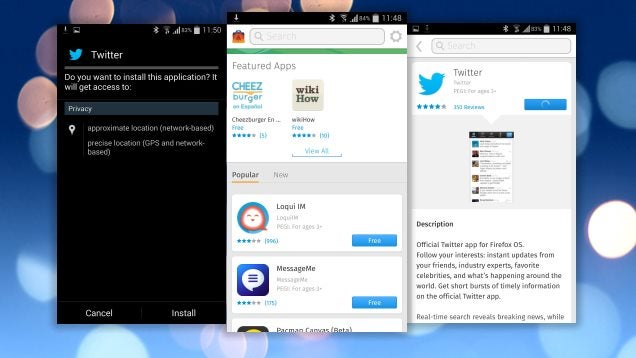 Android: Mozilla is best known for its web browser, but the company also produces Firefox OS for a limited number of handsets. With a little sideways thinking, though, you can try some of its apps in Android.
Much like Google Chrome, Firefox supports webapps—the OS and apps are built with the same technology—and this is how you can bring Firefox OS to Android. Apps work like browser extensions, so they take up very little room making them ideal for older devices or those with limited storage. Download a copy of Firefox for Android from the Google Play Store, or update your existing copy to 29 or above.
Fire up Firefox and visit the Firefox Marketplace, the Firefox version of Google Play or the Chrome Web Store. Take a browse through the Marketplace and tap an app that takes your fancy. Just as with regular Android apps, Firefox OS apps let you know about the permissions they need, and you have to accept this before you install anything.
More in Tux Machines
Today in Techrights

Gorgeous Live Voyager 16.04 Linux OS Comes Hot on the Heels of Ubuntu 16.04 LTS

The team of developers behind the Live Voyager desktop-oriented operating system have announced today, May 1, 2016, the release and immediate availability for download of Voyager 16.04 LTS.

BlackArch Linux Now Provides over 1,400 Penetration Testing Tools, New ISO Lands

The BlackArch Linux devs have been preparing this for months, but now it is finally here, the new ISO image of the Arch Linux-based operating system designed for hackers and security professionals.

If I needed to leave Android, I'd use Sailfish OS

Sailfish OS may be unknown to most people, but if Android was to disappear tomorrow, this would be the direction I'd head. Sailfish OS is an open source mobile operating system that offers speed and simplicity like no other. And, in my opinion, is the best alternative to Android.