​How to Try Firefox OS Apps on Android
Submitted by Roy Schestowitz on Saturday 21st of June 2014 07:39:58 AM
Filed under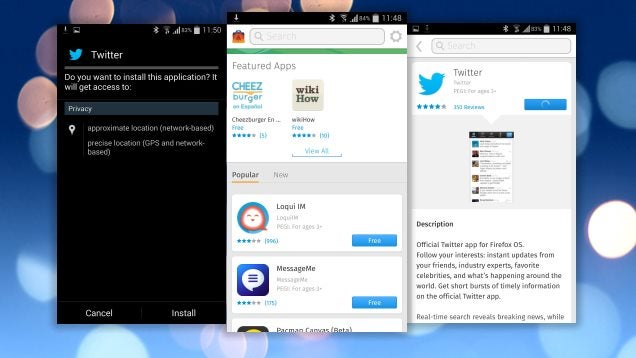 Android: Mozilla is best known for its web browser, but the company also produces Firefox OS for a limited number of handsets. With a little sideways thinking, though, you can try some of its apps in Android.
Much like Google Chrome, Firefox supports webapps—the OS and apps are built with the same technology—and this is how you can bring Firefox OS to Android. Apps work like browser extensions, so they take up very little room making them ideal for older devices or those with limited storage. Download a copy of Firefox for Android from the Google Play Store, or update your existing copy to 29 or above.
Fire up Firefox and visit the Firefox Marketplace, the Firefox version of Google Play or the Chrome Web Store. Take a browse through the Marketplace and tap an app that takes your fancy. Just as with regular Android apps, Firefox OS apps let you know about the permissions they need, and you have to accept this before you install anything.
»
Printer-friendly version

1449 reads

PDF version
More in Tux Machines
Android/ChromeOS/Google Leftovers

Games: SC-Controller 0.4.2, Campo Santo, Last Epoch and More

Android Leftovers

Ryzen 7 2700X CPUFreq Scaling Governor Benchmarks On Ubuntu Linux

With this week's Ryzen 5 2600X + Ryzen 7 2700X benchmarks some thought the CPUFreq scaling driver or rather its governors may have been limiting the performance of these Zen+ CPUs, so I ran some additional benchmarks this weekend. Those launch-day Ryzen 5 2600X / Ryzen 7 2700X Ubuntu Linux benchmarks were using the "performance" governor, but some have alleged that the performance governor may now actually hurt AMD systems... Ondemand, of course, is the default CPUFreq governor on Ubuntu and most other Linux distributions. Some also have said the "schedutil" governor that makes use of the kernel's scheduler utilization data may do better on AMD. So I ran some extra benchmarks while changing between CPUFreq's ondemand (default), performance (normally the best for performance, and what was used in our CPU tests), schedutil (the newest option), and powersave (if you really just care about conserving power).