​How to Try Firefox OS Apps on Android
Submitted by Roy Schestowitz on Saturday 21st of June 2014 07:39:58 AM
Filed under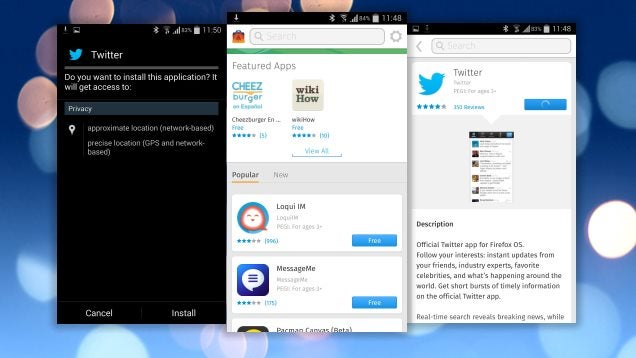 Android: Mozilla is best known for its web browser, but the company also produces Firefox OS for a limited number of handsets. With a little sideways thinking, though, you can try some of its apps in Android.
Much like Google Chrome, Firefox supports webapps—the OS and apps are built with the same technology—and this is how you can bring Firefox OS to Android. Apps work like browser extensions, so they take up very little room making them ideal for older devices or those with limited storage. Download a copy of Firefox for Android from the Google Play Store, or update your existing copy to 29 or above.
Fire up Firefox and visit the Firefox Marketplace, the Firefox version of Google Play or the Chrome Web Store. Take a browse through the Marketplace and tap an app that takes your fancy. Just as with regular Android apps, Firefox OS apps let you know about the permissions they need, and you have to accept this before you install anything.
More in Tux Machines
Why business should bet on open source

Among the benefits of OSS is that it is hardly ever a standalone product. Most OSS is built on other open-source projects. Because of the way it is licensed, these enhancements are then passed back to the open-source community, so the software constantly evolves. So, if such open-source technology is readily available, and has proved its scalability in webscale businesses, why reinvent the wheel? Open source is certainly more accepted in the enterprise, said Tony Lock, distinguished analyst at Freeform Dynamics. "It is suitable for all businesses, not just for webscale businesses."

Lubuntu 15.10 Beta 1 Still Doesn't Use LXQt, Now Powered by Linux Kernel 4.1 LTS

The development team of the Lubuntu Linux operating system were among the last to announce the release of the first Beta build of the Ubuntu 15.10 (Wily Werewolf) release for opt-in flavors.

NetworkManager 1.0.6 Adds Support for Wake-on-LAN Configurations, More

Lubomir Rintel informs users about the release and immediate availability for download of the sixth maintenance version of the open-source NetworkManager network connection management utility for GNU/Linux operating systems.

GNOME 3.17.91 beta tarballs due (and more) (responsible: jjardon)

We would like to inform you about the following: * GNOME 3.17.91 beta tarballs due * String Freeze Tarballs are due on 2015-08-31 before 23:59 UTC for the GNOME 3.17.91 beta release, which will be delivered on Wednesday. Modules which were proposed for inclusion should try to follow the unstable schedule so everyone can test them. Please make sure that your tarballs will be uploaded before Monday 23:59 UTC: tarballs uploaded later than that will probably be too late to get in 3.17.91. If you are not able to make a tarball before this deadline or if you think you'll be late, please send a mail to the release team and we'll find someone to roll the tarball for you!