Mozilla puts a development environment into the browser with WebIDE
Submitted by Rianne Schestowitz on Monday 23rd of June 2014 03:54:40 PM
Filed under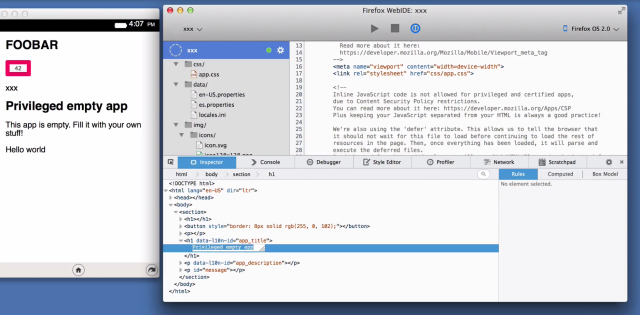 Mozilla cites two major advantages of using WebIDE as compared with developing apps for competing platforms. In-browser development tools are already familiar to the enormous number of Web developers that exist, so using them for application development minimizes the number of new tools and new skills that must be learned.
Second, they're extremely lightweight as development tools go. The substantial size of downloading tools such as Xcode or Visual Studio, in addition to the cost of developer licenses on other platforms, can limit their appeal and usability, especially in emerging markets. Putting the tools into the browser means that Mozilla's reach is near universal.
More in Tux Machines
Leftovers: Software

today's howtos

Leftovers: OSS

Leftovers: BSD

We usually don't see much of the scammy spam and malware. But that one time we went looking for them, we found a campaign where our OpenBSD greylisting setup was 100% effective in stopping the miscreants' messages. During August 23rd to August 24th 2016, a spam campaign was executed with what appears to have been a ransomware payload. I had not noticed anything particularly unusual about the bsdly.net and friends setup that morning, but then Xavier Mertens' post at isc.sans.edu Voice Message Notifications Deliver Ransomware caught my attention in the tweetstream, and I decided to have a look.