Mozilla puts a development environment into the browser with WebIDE
Submitted by Rianne Schestowitz on Monday 23rd of June 2014 03:54:40 PM
Filed under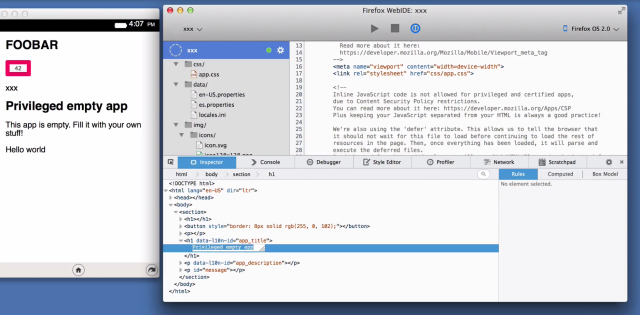 Mozilla cites two major advantages of using WebIDE as compared with developing apps for competing platforms. In-browser development tools are already familiar to the enormous number of Web developers that exist, so using them for application development minimizes the number of new tools and new skills that must be learned.
Second, they're extremely lightweight as development tools go. The substantial size of downloading tools such as Xcode or Visual Studio, in addition to the cost of developer licenses on other platforms, can limit their appeal and usability, especially in emerging markets. Putting the tools into the browser means that Mozilla's reach is near universal.
More in Tux Machines
FreeNAS 10 Enters Alpha, Brings Lots of New Technologies, Based on FreeBSD 10.2

FreeNAS' Jordan Hubbard was proud to announce the other day, October 8, the release and immediate availability for download of the first Alpha build of the upcoming FreeNAS open source Network Attached Storage (NAS) solution.

openSUSE Tumbleweed Gets New Major Snapshot, Leap 42.1 RC1 Coming Next Week

On October 9, Douglas DeMaio wrote about the latest major snapshot released for the rolling-release edition of the openSUSE Linux operating system, Tumbleweed, which adds some of the latest software versions.

Amazon's AWS IoT platform taps three Linux SBCs

Amazon's new "AWS IoT" cloud IoT platform offers Starter Kits built around Linux-ready SBCs like the BeagleBone Green, DragonBoard 410c, and Intel Edison. Amazon made its first big Internet of Things play by launching an IoT managed cloud platform for aggregating and processing IoT endpoint data, built around its Amazon Web Services (AWS) platform. Available now in beta form, AWS IoT, is being made available in the form of a series of AWS IoT Starter Kits, which bundle popular hacker boards with the AWS IoT Device SDK, and in some cases other hardware such as Grove sensors. Three of the 10 kits runs Linux, including kits for the DragonBoard 410c, BeagleBone Green, and Intel Edison (see farther below).

KDBUS Continues Maturing, But Will We See It For Linux 4.4?

New KDBUS patches continue being published for this in-kernel IPC mechanism based on D-Bus, but it hasn't been communicated yet whether Linux 4.4 is the next target for hoping to mainline this controversial code. Just yesterday was a set of 44 patches in attempting to cleanup the KDBUS code further. There's also been an assortment of other KDBUS patches floating around the kernel mailing list.