Mozilla puts a development environment into the browser with WebIDE
Submitted by Rianne Schestowitz on Monday 23rd of June 2014 03:54:40 PM
Filed under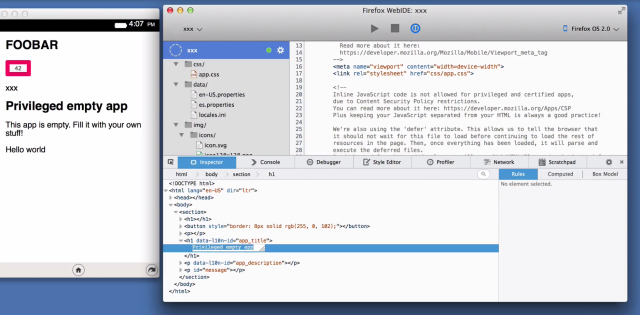 Mozilla cites two major advantages of using WebIDE as compared with developing apps for competing platforms. In-browser development tools are already familiar to the enormous number of Web developers that exist, so using them for application development minimizes the number of new tools and new skills that must be learned.
Second, they're extremely lightweight as development tools go. The substantial size of downloading tools such as Xcode or Visual Studio, in addition to the cost of developer licenses on other platforms, can limit their appeal and usability, especially in emerging markets. Putting the tools into the browser means that Mozilla's reach is near universal.
More in Tux Machines
CoreOS Releases Building Block For Distributed Systems

Hyperscale Linux operating system specialist CoreOS said it is releasing its latest open source component for sharing and managing configuration data and other functions used in distributed systems. San Francisco-based CoreOS announced its first stable release of etcd, or "etc distributed," an open-source distributed key value store that provides the backbone of CoreOS clusters and the etcd clients that run on each machine in a cluster. "Our goal with etcd has been to make building and using distributed systems easier," CoreOS CTO Brandon Philips said Wednesday (January 28) in announcing the release.

The 5 best open source email clients for Linux

Windows users have Outlook; Mac users have Mail. What options are there for Linux users? As it turns out, Linux land is rich with email clients. I have chosen five of the best, fully open source email clients (with two exceptions) for Linux users. Each has its pros and cons, and which email client is best for you is heavily dependent upon your needs.

LibreOffice 4.4 Released With Major UI Revamp

A new version of open-source office suite LibreOffice is now available for download and the hands behind it are calling it 'the most beautiful' release ever. Jan Holesovsky, leader of the LibreOffice design team, says "LibreOffice 4.4 has got a lot of UX and design love, and in my opinion is the most beautiful ever." The productivity suite, which was spun out of the slow moving OpenOffice project back in 2010, has certainly upped its game in the design department over the past few years, with each release of the 4.x series adding finesse.

Android shipments in 2014 exceed 1 billion for first time

Google's Android mobile operating system has reached a major milestone. For the first time ever, worldwide shipments of smartphones packing Android exceeded 1 billion units in 2014, a significant gain from the 780.8 million units that shipped around the world in 2013, researcher Strategy Analytics announced Thursday. Android dwarfed its second-place competitor, Apple's iOS, which mustered 192.7 million worldwide shipments in 2014.