Mozilla puts a development environment into the browser with WebIDE
Submitted by Rianne Schestowitz on Monday 23rd of June 2014 03:54:40 PM
Filed under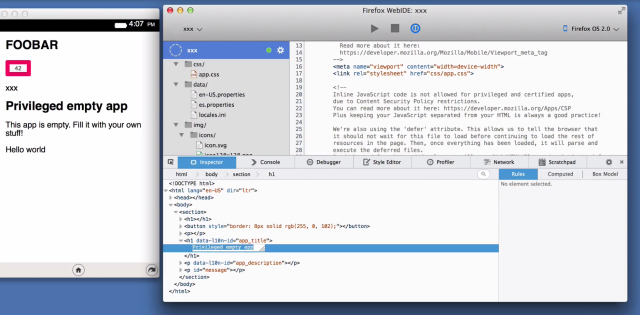 Mozilla cites two major advantages of using WebIDE as compared with developing apps for competing platforms. In-browser development tools are already familiar to the enormous number of Web developers that exist, so using them for application development minimizes the number of new tools and new skills that must be learned.
Second, they're extremely lightweight as development tools go. The substantial size of downloading tools such as Xcode or Visual Studio, in addition to the cost of developer licenses on other platforms, can limit their appeal and usability, especially in emerging markets. Putting the tools into the browser means that Mozilla's reach is near universal.
More in Tux Machines
Leftovers: Software

today's howtos

Canonical Makes It a Lot Easier for Newcomers to Discover the Ubuntu Flavours

Canonical's Michael Hall had the great pleasure of announcing that the ubuntu.com website has been redesigned to make it easier for Ubuntu newcomers to discover the flavours of the world's most popular free operating system.

Leftovers: Gaming

Free and open source first-person shooter Unvanquished combines real-time strategy elements with old-fashioned FPS gameplay. A new update has been released for the game as it moves closer to a Beta version.

The game engine uses Cryengine for graphics, which can generate 'photo-realistic' worlds — it's best known for being the engine behind the PC-crippling Crysis games.

Firewatch, a first person mystery adventure game released for Linux & SteamOS Posted by TheBoss, 9 February 2016 at 8:44 pm UTC / 462 views Share Firewatch looks awesome, for the style, the story and the gameplay. It's available day-1 for Linux and SteamOS. Sadly, the developer has not responded to my request for a key, so I am personally unable to cover it.