Mozilla puts a development environment into the browser with WebIDE
Submitted by Rianne Schestowitz on Monday 23rd of June 2014 03:54:40 PM
Filed under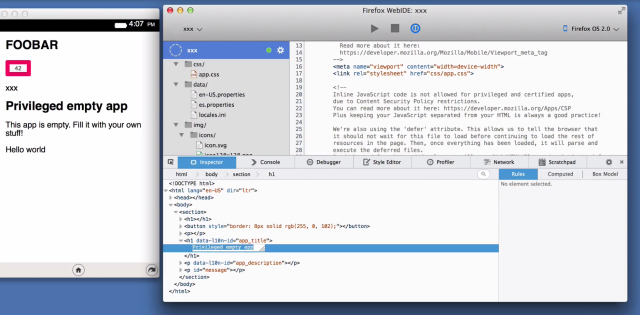 Mozilla cites two major advantages of using WebIDE as compared with developing apps for competing platforms. In-browser development tools are already familiar to the enormous number of Web developers that exist, so using them for application development minimizes the number of new tools and new skills that must be learned.
Second, they're extremely lightweight as development tools go. The substantial size of downloading tools such as Xcode or Visual Studio, in addition to the cost of developer licenses on other platforms, can limit their appeal and usability, especially in emerging markets. Putting the tools into the browser means that Mozilla's reach is near universal.
More in Tux Machines
Linux Foundation and Linux

A few moments ago, renowned Linux kernel maintainer Greg Kroah-Hartman had the pleasure of announcing the general availability of the Linux kernel 4.8.13 and Linux kernel 4.4.37 LTS maintenance updates. While many rolling GNU/Linux distributions have just received the Linux 4.8.12 kernel, it looks like Linux kernel 4.8.13 is now available with more improvements and bug fixes, but it's not a major milestone. According to the appended shortlog and the diff since last week's Linux 4.8.12 kernel release, a total of 46 files were changed, with 214 insertions and 95 deletions.

openSUSE Tumbleweed Users Get Git 2.11, Xfce 4.12.3, FFmpeg 3.2.1 & Mesa 13.0.2

openSUSE's Douglas DeMaio reports on the latest Open Source and GNU/Linux technologies that landed in the repositories of the openSUSE Tumbleweed rolling operating system.

What Is A VPN Connection? Why To Use VPN?

We all have heard about VPN sometime. Most of us normal users of internet use it. To bypass the region based restrictions of services like Netflix or Youtube ( Yes, youtube has geo- restrictions too). In fact, VPN is actually mostly used for this purpose only. ​

The Libreboot C201 from Minifree is really really really ridiculously open source

Open source laptops – ones not running any commercial software whatsoever – have been the holy grail for free software fans for years. Now, with the introduction of libreboot, a truly open source boot firmware, the dream is close to fruition. The $730 laptop is a bog standard piece of hardware but it contains only open source software. The OS, Debian, is completely open source and to avoid closed software the company has added an Atheros Wi-Fi dongle with open source drivers rather than use the built-in Wi-Fi chip.