Mozilla puts a development environment into the browser with WebIDE
Submitted by Rianne Schestowitz on Monday 23rd of June 2014 03:54:40 PM
Filed under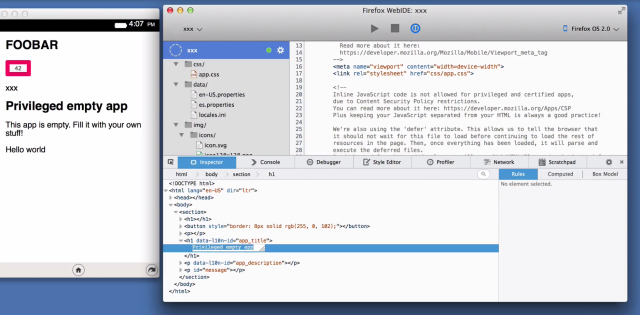 Mozilla cites two major advantages of using WebIDE as compared with developing apps for competing platforms. In-browser development tools are already familiar to the enormous number of Web developers that exist, so using them for application development minimizes the number of new tools and new skills that must be learned.
Second, they're extremely lightweight as development tools go. The substantial size of downloading tools such as Xcode or Visual Studio, in addition to the cost of developer licenses on other platforms, can limit their appeal and usability, especially in emerging markets. Putting the tools into the browser means that Mozilla's reach is near universal.
More in Tux Machines
Mycroft AI Intelligent Personal Assistant Now Available as a Raspberry Pi Image

It's been very quiet lately for the Mycroft project, an open-source initiative to bring a full-featured intelligent personal assistant to Linux desktops, but it looks like it's still alive and kicking, and it's now available as a Raspberry Pi image.

You Can Now Have All the Essential Ubuntu 14.04.5 LTS Flavors on a Single ISO

After informing Softpedia about the release of the Linux AIO Ubuntu 16.10 Live DVDs, Željko Popivoda from the Linux AIO team is now announcing the availability of Linux AIO Ubuntu 14.04.5.

Benchmarking Radeon Open Compute ROCm 1.4 OpenCL

Last month with AMD/GPUOpen's ROCm 1.4 release they delivered on OpenCL support, albeit for this initial release all of the code is not yet open-source. I tried out ROCm 1.4 with the currently supported GPUs to see how the OpenCL performance compares to just using the AMDGPU-PRO OpenCL implementation.

Canonical to Remove Old Unity 7 Scopes from Ubuntu Because They're Not Secure

Canonical's Will Cooke has revealed recently the company's plans on removing some old, unmaintained Unity 7 Scopes from the Ubuntu Linux archives because they could threaten the security of the entire operating system.