What's up with Open Standards?
Submitted by Rianne Schestowitz on Sunday 6th of July 2014 08:58:53 PM
Filed under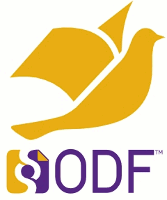 It is hard enough for people to understand what protocols such as TCP/IP do. These open standards however are invisible to most of them, even if they're using them on a daily basis. Other open standards, such as OpenDocument Format, are probably not conceivable by some people, who think that an office document is "an extension of Microsoft Office". I have even heard of teachers, here in France, who refused to even mention ODF because such a thing "could not possibly exist". The conceptual distinction between a file and an application has not permeated much, even in the twenty first century.
More in Tux Machines
4MLinux 12.0 Beta Arrives with Better Support for Watching and Downloading YouTube Videos

Zbigniew Konojacki had the pleasure of announcing today, March 28, on his Twitter account that the development cycle towards the 4MLinux 12.0 computer operating system has started with the Beta release for the 4MLinux Allinone Edition, 4MLinux Core, and 4MLinux distributions.

Gorgeous Live Voyager X Distro Brings Xfce 4.12 to Ubuntu 14.04 LTS - Video and Screenshot Tour

On March 27, 2015, French developer Rodolphe Bachelart, the creator of the Live Voyager series of GNU/Linux distributions based on Ubuntu/Xubuntu, was proud to announce the immediate availability for download of a new computer operating system, Live Voyager X 14.04.4 LTS.

Head 2 Head: Android OS vs. Chrome OS

A large part of Google's OS success hasn't been because of its awesomeness. No. Frankly, we think nothing speaks louder than the almighty dollar in this world. But both are "free," right? So this is tie? Not really. Although Android is technically free since Google doesn't charge device makers for it, there are costs associated with getting devices "certified." Oh, yeah, and then there's Apple and Microsoft, both of which get healthy payouts from device makers through patent lawsuits. Microsoft reportedly makes far more from Android sales than Windows Phone sales. You just generally don't see the price because it's abstracted by carriers. Chrome OS, on the other hand, actually is pretty much free. A top-ofthe-line Chromebook is $280, while a top-of-the-line Android phone full retail is usually $600. We're giving this one to Chrome OS because if it's generally cheaper for the builder, it's cheaper for you.