What's up with Open Standards?
Submitted by Rianne Schestowitz on Sunday 6th of July 2014 08:58:53 PM
Filed under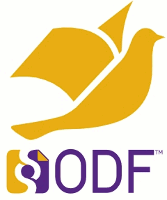 It is hard enough for people to understand what protocols such as TCP/IP do. These open standards however are invisible to most of them, even if they're using them on a daily basis. Other open standards, such as OpenDocument Format, are probably not conceivable by some people, who think that an office document is "an extension of Microsoft Office". I have even heard of teachers, here in France, who refused to even mention ODF because such a thing "could not possibly exist". The conceptual distinction between a file and an application has not permeated much, even in the twenty first century.
More in Tux Machines
Linux Kernel 3.19-Rc6 Released




One more rc released today shortening time period for the final release. Each release sees a new changes and fixes and this one is slightly smaller but as always better.

Ubuntu Flavors 15.04 Vivid Vervet Alpha 2 Released




Ubuntu flavors 15.04 alpha 2 has been released for testing. Ubuntu Unity does not take part in the alpha releases. Flavors like Kylin, Ubuntu Gnome, Lubuntu and Kubuntu alpha 2 relases are available.






MBARI testing the waters with open source camera

"There is a movement to have open source oceanographic equipment," said Chad Kecy, lead designer and MBARI engineer. "Anyone could take our designs and modify them for specific needs they have. It's just a less expensive and easier way of getting cameras in the water."

Fixing unperceived errors in my X Windows configuration

Last week I decided to bite the bullet and upgrade X Windows to the latest version available in the main Portage tree. After rebooting, X Windows, GLX and Direct Rendering worked fine as usual. So everything was good. Well, not quite. Although the installation was working properly, there were still some long-standing messages in the X.Org log file that indicated my installation was not configured completely correctly. I had ignored them for too long and resolved to find their causes and eliminate them. Here is what I did.