Plasma Next Accessibility
Submitted by Rianne Schestowitz on Sunday 6th of July 2014 11:07:34 PM
Filed under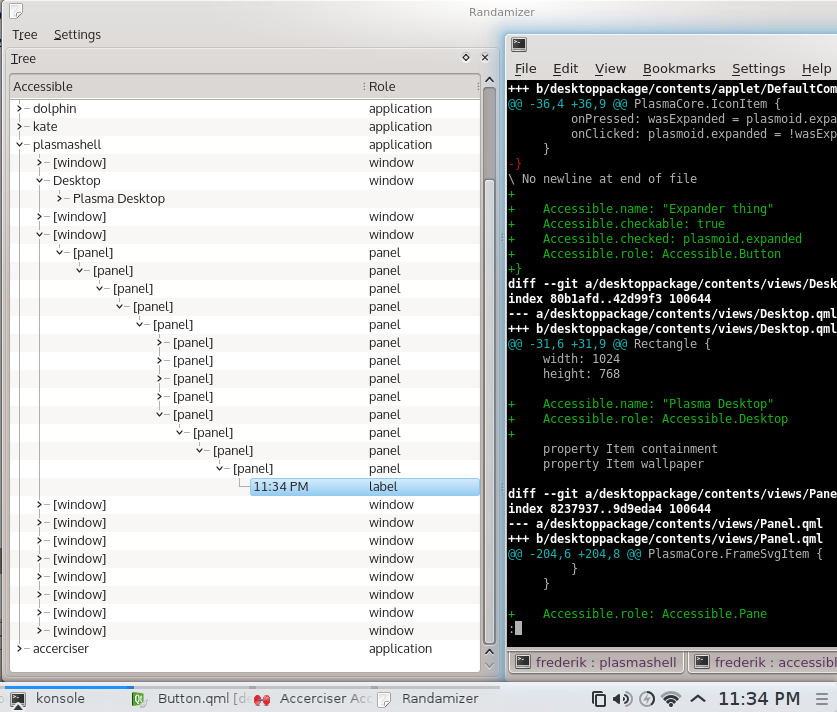 I've been wondering for quite some time though how the state of Plasma Next is when it comes to accessibility. In this case accessibility is mostly how the applications and desktop shell expose semantics to the accessibility framework via an API (on Linux the beast is called AT-SPI, a DBus API). The goal is that assistive technology such as a screen readers (Orca), the screen magnifier, or Simon can pick up what's going on and assist the user. This allows for example blind people to use the software. The big thing here is that while Qt never had good support for QGraphicsView accessibility, we plowed away at making things work well with Qt Quick. This afternoon I finally got around to looking at the next iteration of the KDE desktop for real. In fact I'm writing this in a running Plasma Next session on top of the frameworks 5 libraries. It feels a bit like the porting from KDE 3 to 4, except that most things seem to just work so far.
More in Tux Machines
Arch Linux 2015.03.01 Is Now Available for Download

A brand-new ISO image of the lightweight, highly customizable and powerful Arch Linux computer operating system has been released today, March 1, 2015, for those who want to deploy the acclaimed distribution on new computers.

Cuberox, App-Driven Linux-Based Cube, Has Six Touch Screens

Vancouver-based startup Cuberox launched a new Kickstarter campaign on Tuesday to raise funds for a Linux-based cube of the same name. This gadget sports a touch-enabled screen on each side and is capable of running six apps simultaneously. The campaign is shooting to acquire $150,000 in funding before the March 29, 2015 deadline.

Rancher Labs builds Linux system for Docker

As Docker continues to gain popularity, more and more minimalist operating systems are emerging to run the platform in production and at scale. Rancher Labs recently announced a new open-source operating system designed explicitly for Docker. While Docker is able run on almost any Linux distribution, RancherOS was conceptualized out of the company's own needs, according to Sheng Liang, founder and CEO of Rancher Labs.

The state of Linux gaming in the SteamOS era

For decades after Linux's early '90s debut, even the hardest of hardcore boosters for the open source operating system had to admit that it couldn't really compete in one important area of software: gaming. "Back in around 2010 you only had two choices for gaming on Linux," Che Dean, editor of Linux gaming news site Rootgamer recalls. "Play the few open source titles, Super Tux Kart and so on, or use WINE to play your Windows titles."