Plasma Next Accessibility
Submitted by Rianne Schestowitz on Sunday 6th of July 2014 11:07:34 PM
Filed under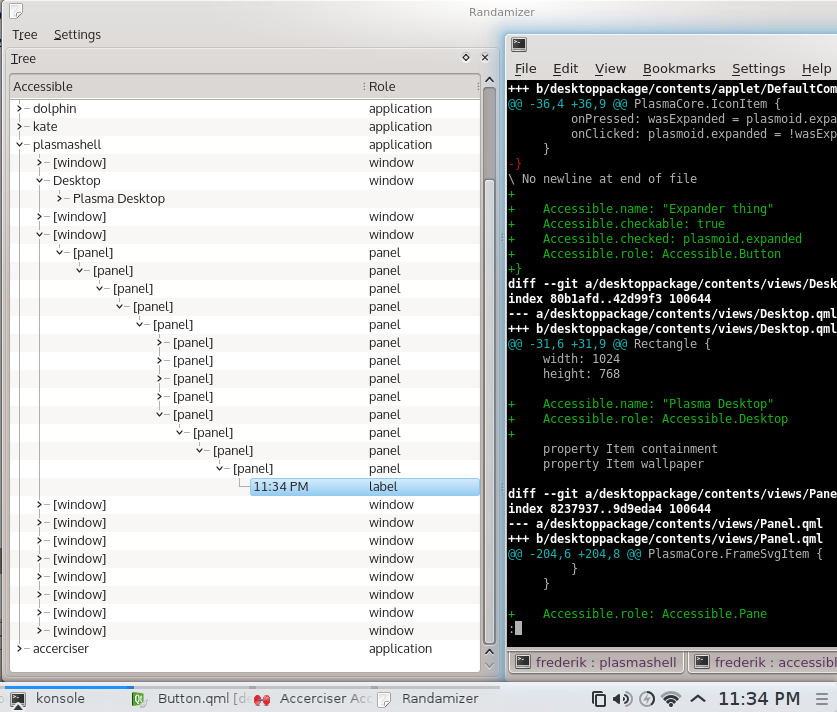 I've been wondering for quite some time though how the state of Plasma Next is when it comes to accessibility. In this case accessibility is mostly how the applications and desktop shell expose semantics to the accessibility framework via an API (on Linux the beast is called AT-SPI, a DBus API). The goal is that assistive technology such as a screen readers (Orca), the screen magnifier, or Simon can pick up what's going on and assist the user. This allows for example blind people to use the software. The big thing here is that while Qt never had good support for QGraphicsView accessibility, we plowed away at making things work well with Qt Quick. This afternoon I finally got around to looking at the next iteration of the KDE desktop for real. In fact I'm writing this in a running Plasma Next session on top of the frameworks 5 libraries. It feels a bit like the porting from KDE 3 to 4, except that most things seem to just work so far.
More in Tux Machines
This is the world's most stunning new Android phone – and it'll only cost you $5,000

While there's no question that the iPhone 6 and iPhone 6 Plus are beautiful smartphones, some might argue that Apple's 2012 iPhone 5 and last year's iPhone 5s feature an overall look that is more sleek and sophisticated. Now, imagine that sophisticated design was given harder lines, darker tones and a 5-inch full HD display, and it was built out of titanium and 18k gold instead of aluminum.

Ubuntu GNOME 15.04 Alpha 1 Prepares for GNOME 3.14, Go Forth and Test

The Ubuntu GNOME developers have released the first version of the 15.04 branch for their Linux distribution and it looks like this operating system is also going through some interesting changes, just like Ubuntu, although not on the same scale.

FSF's High Priority Project List Now Has A Committee

The Free Software Foundation has now built up a committee to review their "High Priority Projects" list and they're looking for more feedback from the community. Nearly ten years ago is when the Free Software Foundation began listing what they viewed as the High Priority Free Software Projects in a list. This list has over time contained some definite high-priority projects related to freeing Java and Adobe PDF support and open graphics drivers to some more obscure projects of high priority like a free version of Oracle Forms, a replacement to OpenDWG libraries for CAD files, automatic transcription software, etc. I've personally called out many of the FSF HPP for what they're worth with my thoughts over the years.

Latest Calibre eBook Reader and Converter Now Support Latest Kobo Firmware

The Calibre eBook reader, editor, and library management software has just reached version 2.13 and the developer has added an important driver and made quite a few fixes and improvements.