Dive in, penguins: Upstart builds Linux virtual SAN
Submitted by Rianne Schestowitz on Thursday 24th of July 2014 05:12:49 PM
Filed under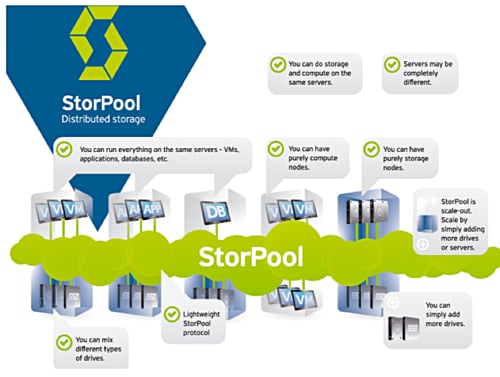 Three Bulgarian engineers who co-founded a firm called StorPool – which builds a virtual SAN using the aggregated storage of Linux KVM servers – are aiming to expand the reach of their three-year-old project.
Boyan Ivanov, CEO, Boyan Krosnov, chief product officer, and Yank Yankulov, the chief tech officer, started the firm in November 2011 with $261,600 seed funding. In February this year they raised an undisclosed amount of cash in an A-round. We'd guess it's in the $1m - $2.5m area.
More in Tux Machines
Snappy Open House Is Your Chance to Get Familiar with Ubuntu Snappy

Nicholas Skaggs had the great pleasure of announcing a couple of days ago yet another innovation from Canonical, Snappy Open House, a new way for Ubuntu developers, contributors, and members of the community to get familiar with the Snappy technology created by Canonical for its Ubuntu Linux operating system. Also: First Ubuntu Snappy Open House Announced, UbuCon Germany Planning Continues

Linux 4.2 Bringing Support For ARCv2, HS38 CPU Cores

The ARC architecture updates for the Linux 4.2 kernel have landed. With the ARC architecture updates in Linux 4.2 comes support for HS38 cores, which in turn are based on the Synopsys next-gen ISA known as ARCv2. The ARCv2 ISA is faster and more feature-rich than their original instruction set architecture. The HS38 cores have a 10-stage pipeline core with MMU support, SMP up to four cores, and other new features. The HS38 processor is still 32-bit and is "optimized for high-performance embedded applications running Linux." Also: Radeon & AMDGPU DRM Fixes Queue Up For Linux 4.2

Ubuntu Touch OTA-5 Will Bring a New Thumbnailer in Unity 8, Support for Refunds

Canonical's Alejandro J. Cura had the great pleasure of reporting a few hours ago that the upcoming OTA-5 update for the Ubuntu Touch mobile operating system will get some attractive new features in the Unity 8 user interface.

The July 2015 issue of the PCLinuxOS Magazine

With the exception of a brief period in 2009, The PCLinuxOS Magazine has been published on a monthly basis since September, 2006. The PCLinuxOS Magazine is a product of the PCLinuxOS community, published by volunteers from the community. The magazine is lead by Paul Arnote, Chief Editor, and Assistant Editor Meemaw. The PCLinuxOS Magazine is released under the Creative Commons Attribution-NonCommercial-Share-Alike 3.0 Unported license, and some rights are reserved.