What the UK Government's adoption of ODF really means
Submitted by Roy Schestowitz on Friday 25th of July 2014 08:07:04 AM
Filed under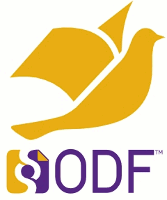 Most of the migrations from one office suite to another tend to happen without any coherent document management policy. Many organizations moving from, say, Microsoft Office to LibreOffice do not necessarily adopt ODF as their default format and will carry on supporting whatever version of the MS Office file format internally. This usually leads to frustrations and compatibility problems. This time, the UK Government decision takes a different approach. By deciding about the formats first, the UK creates the conditions necessary to have real choices for its government and its citizens, thus setting a level playing field for everyone. Many people have understood this decision as being a move against Microsoft. It is not or at least it should not be. Microsoft Office implements ODF files and its latest editions, as I'm being told are actually quite good at it. What this move does, however, is to ensure no other solution will be at a competitive disadvantage because of a technical or legal (aka patents) lock-in. Of course, it remains to be seen what concrete actions the UK Government will take in order to ensure a smooth transition between proprietary formats and open standards; and it remains to be seen how well it will ensure a proper change management across all of its departments so that its agents feel comfortable with ODF documents and whatever new office suites that may be adopted as a result of the decision. Much could be lost at that stage, but much could be gained as well. And of course, just like with the Netherlands, the decision itself might end up being toned down or take a somewhat different meaning.
More in Tux Machines
Canonical Patches Nvidia Graphics Drivers Vulnerability in All Ubuntu Releases

It's time to update your Ubuntu Linux operating system if you have a Nvidia graphics card running the Nvidia Legacy 340 or 304 binary X.Org drivers provided on the official software repositories.

Long-term Embedded Linux Maintenance andd New Device From CompuLab

Games for GNU/Linux

Imperium Galactica II: Alliances [GOG, Steam] just released for Linux & SteamOS and it looks like it's a native version. Note: My friends at GOG sent over a copy, so big thanks to them. There's no sign of DOSBox or Wine and I had no idea this game had ever been ported to Linux. Pretty awesome really for a game like this to get a proper Linux build when it gets a new release.

The problem here, for me, is that they later did a revamp of the title called Carmageddon: Max Damage. This was to fix some problems, boost sales again and port it to consoles. Carmageddon: Max Damage also never made it to Linux. Fun fact, they actually released a trailer where they just run over a ton of penguins, make from that what you will: Not saying this was trolling the entire Linux gaming community, but it sure felt like it after their previous trolling attempts directed at our official Twitter account.

Today Valve announced the availability of a new stable update of the Steam Client for all supported platforms, including the company's SteamOS operating system for Steam Machines, as well as GNU/Linux, macOS, and Microsoft Windows. Bringing all the new features during the Beta stages of development, the new Steam Client update improves the interaction between the Steam runtime and your GNU/Linux distribution's libraries. This is a huge and long-anticipated milestone for the Steam Client, which, unfortunately, did not work out-of-the-box on all Linux-based operating systems.

Robolinux 8.7.1 Linux OS Is Out and It's Based on Debian GNU/Linux 8.7 "Jessie"

The developers of the Robolinux GNU/Linux distribution have announced today, January 18, 2017, the release and immediate availability of a new stable update based on the latest Debian GNU/Linux 8 "Jessie" operating system series. Still offering a free installer, the Robolinux 8.7.1 "Raptor" edition is now available for download with the usual Cinnamon, MATE 3D, Xfce 3D, and LXDE flavors. It's based on the recently released Debian GNU/Linux 8.7.1 "Jessie" operating system, which means that it ships with its newest Linux 3.16 kernel and over 170 bug fixes and security patches. The GRUB bootloader and login screens have been refreshed too.