What the UK Government's adoption of ODF really means
Submitted by Roy Schestowitz on Friday 25th of July 2014 08:07:04 AM
Filed under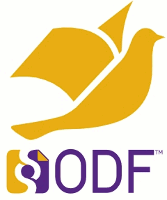 Most of the migrations from one office suite to another tend to happen without any coherent document management policy. Many organizations moving from, say, Microsoft Office to LibreOffice do not necessarily adopt ODF as their default format and will carry on supporting whatever version of the MS Office file format internally. This usually leads to frustrations and compatibility problems. This time, the UK Government decision takes a different approach. By deciding about the formats first, the UK creates the conditions necessary to have real choices for its government and its citizens, thus setting a level playing field for everyone. Many people have understood this decision as being a move against Microsoft. It is not or at least it should not be. Microsoft Office implements ODF files and its latest editions, as I'm being told are actually quite good at it. What this move does, however, is to ensure no other solution will be at a competitive disadvantage because of a technical or legal (aka patents) lock-in. Of course, it remains to be seen what concrete actions the UK Government will take in order to ensure a smooth transition between proprietary formats and open standards; and it remains to be seen how well it will ensure a proper change management across all of its departments so that its agents feel comfortable with ODF documents and whatever new office suites that may be adopted as a result of the decision. Much could be lost at that stage, but much could be gained as well. And of course, just like with the Netherlands, the decision itself might end up being toned down or take a somewhat different meaning.
More in Tux Machines
NetBSD 7.0.2 Operating System Officially Released, Available for Download Now

On October 27, 2016, NetBSD Project, through Soren Jacobsen, proudly announced the release and general availability of the second maintenance update to the NetBSD 7.0 operating system.

AMD Rolls Out AMDGPU-PRO 16.40 Driver for Ubuntu and Red Hat Enterprise Linux

AMD released a new version of its new AMDGPU-PRO graphics driver for GNU/Linux distribution, bringing support for the Red Hat Enterprise Linux (RHEL) operating system, besides Ubuntu.

Ubuntu Vs. Linux Mint - Which Is Better in 2016?

Ubuntu and Linux Mint are currently arguably 2 of the most popular Linux distros (with Debian) around. They are both quite user-friendly and for the Linux newbie, you couldn't be wrong choosing either. For a very long time, Ubuntu was considered the distro of choice by most Linux enthusiasts, but it has currently been surpassed by Linux Mint (and Debian) as the distro with most hits.

Docker 1.12.3 App Container Engine Updates Buildtags for Ubuntu 14.04 LTS ARMhf

Last week, we reported on the release of the second maintenance update to the stable Docker 1.12 series of the open source app container engine, and it now looks like Docker 1.12.3 has been released with more improvements and bug fixes.