What the UK Government's adoption of ODF really means
Submitted by Roy Schestowitz on Friday 25th of July 2014 08:07:04 AM
Filed under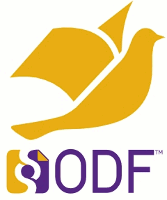 Most of the migrations from one office suite to another tend to happen without any coherent document management policy. Many organizations moving from, say, Microsoft Office to LibreOffice do not necessarily adopt ODF as their default format and will carry on supporting whatever version of the MS Office file format internally. This usually leads to frustrations and compatibility problems. This time, the UK Government decision takes a different approach. By deciding about the formats first, the UK creates the conditions necessary to have real choices for its government and its citizens, thus setting a level playing field for everyone. Many people have understood this decision as being a move against Microsoft. It is not or at least it should not be. Microsoft Office implements ODF files and its latest editions, as I'm being told are actually quite good at it. What this move does, however, is to ensure no other solution will be at a competitive disadvantage because of a technical or legal (aka patents) lock-in. Of course, it remains to be seen what concrete actions the UK Government will take in order to ensure a smooth transition between proprietary formats and open standards; and it remains to be seen how well it will ensure a proper change management across all of its departments so that its agents feel comfortable with ODF documents and whatever new office suites that may be adopted as a result of the decision. Much could be lost at that stage, but much could be gained as well. And of course, just like with the Netherlands, the decision itself might end up being toned down or take a somewhat different meaning.
More in Tux Machines
today's howtos

Leftovers: Software

Leftovers: Gaming

Natural Selection 2, an immersive, multiplayer shooter that pits aliens against humans in a strategic and action-packed struggle for survival, is now available on Steam for Linux with a 75% discount.

The developer of Garry's Mod, a game that has been available on the Linux platform for more than a year, has revealed some sales numbers, including for Linux.

I've play tested a bit of it since it was free (why not!), and it's surprisingly well made. You take control of Natalie a seemingly smart military officer who has been stuck on a crappy assignment while many of her old classmates have been off fighting in war.

SK Telecom to Open a New "Do-it-yourself" Era in Network Equipment

The network operating system will be based on Linux, with that solution that can offer a variety of features such as switching, routing, load balancing, firewall, and distributed denial-of-service. In addition, network virtualization, software-defined network controller, and other related features will be made available. Atto Research, the specialist in software-defined networking, will take the job of development work.