What the UK Government's adoption of ODF really means
Submitted by Roy Schestowitz on Friday 25th of July 2014 08:07:04 AM
Filed under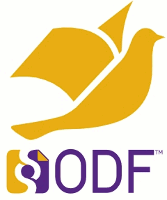 Most of the migrations from one office suite to another tend to happen without any coherent document management policy. Many organizations moving from, say, Microsoft Office to LibreOffice do not necessarily adopt ODF as their default format and will carry on supporting whatever version of the MS Office file format internally. This usually leads to frustrations and compatibility problems. This time, the UK Government decision takes a different approach. By deciding about the formats first, the UK creates the conditions necessary to have real choices for its government and its citizens, thus setting a level playing field for everyone. Many people have understood this decision as being a move against Microsoft. It is not or at least it should not be. Microsoft Office implements ODF files and its latest editions, as I'm being told are actually quite good at it. What this move does, however, is to ensure no other solution will be at a competitive disadvantage because of a technical or legal (aka patents) lock-in. Of course, it remains to be seen what concrete actions the UK Government will take in order to ensure a smooth transition between proprietary formats and open standards; and it remains to be seen how well it will ensure a proper change management across all of its departments so that its agents feel comfortable with ODF documents and whatever new office suites that may be adopted as a result of the decision. Much could be lost at that stage, but much could be gained as well. And of course, just like with the Netherlands, the decision itself might end up being toned down or take a somewhat different meaning.
»
Printer-friendly version

975 reads

PDF version
More in Tux Machines
Thunderbolt 3 in Fedora 28

Fedora 28 is around the corner and I wanted to highlight what we did to make the Thunderbolt 3 experience as smooth as possible. Although this post focuses on Fedora 28 for what is currently packaged and shipping, all changes are of course available upstream and should hit other distributions in the future.

Red Hat developers have managed to deliver on their goals around improving Thunderbolt support on the Linux desktop with the upcoming Fedora 28 distribution update. This has been part of their goal of having secure Thunderbolt support where users can authorize devices and/or restrict access to certain capabilities on a per-device basis, which is part of Red Hat's Bolt project and currently has UI elements for the GNOME desktop.

New Heptio Announcements

Today we are excited to announce Heptio Gimbal, an open source initiative to unify and manage internet traffic into hybrid cloud environments consisting of multiple Kubernetes clusters and traditional infrastructure technologies including OpenStack. Gimbal builds on established open source projects like Kubernetes, Heptio Contour, and Envoy to provide a robust multi-team load balancing solution that enables businesses to manage traffic across traditional and container-based infrastructure.

Heptio added a new load balancer to its stable of open-source projects Monday, targeting Kubernetes users who are managing multiple clusters of the container-orchestration tool alongside older infrastructure. Gimbal, developed in conjunction with Heptio customer Actapio, was designed to route network traffic within Kubernetes environments set up alongside OpenStack, said Craig McLuckie, co-founder and CEO of Heptio. It can replace expensive hardware load-balancers — which manage the flow of incoming internet traffic across multiple servers — and allow companies with outdated but stable infrastructure to take advantage of the scale that Kubernetes can allow.

Heptio this morning announces Gimbal, "an open source initiative to unify and scale the flow of network traffic into hybrid environments consisting of multiple Kubernetes clusters and traditional infrastructure technologies including OpenStack". The initiative is in collaboration with Actapio, a subsidiary of Yahoo Japan Corporation, and according to Craig McLuckie, founder and CEO of Heptio, "This collaboration demonstrates the full potential of cloud native technologies and open source as a way to not only manage applications, but address broader infrastructure considerations."

Android Leftovers

New Terminal App in Chome OS Hints at Upcoming Support for Linux Applications

According to a Reddit thread, a Chromebook user recently spotted a new Terminal app added to the app drawer when running on the latest Chrome OS Dev channel. Clicking the icon would apparently prompt the user to install the Terminal app, which requires about 200 MB of disk space. The installation prompt notes the fact that the Terminal app can be used to develop on your Chromebook. It also suggests that users will be able to run native apps and command-line tools seamlessly and securely. Considering the fact that Chrome OS is powered by the Linux kernel, this can only mean one thing.