What the UK Government's adoption of ODF really means
Submitted by Roy Schestowitz on Friday 25th of July 2014 08:07:04 AM
Filed under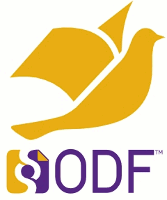 Most of the migrations from one office suite to another tend to happen without any coherent document management policy. Many organizations moving from, say, Microsoft Office to LibreOffice do not necessarily adopt ODF as their default format and will carry on supporting whatever version of the MS Office file format internally. This usually leads to frustrations and compatibility problems. This time, the UK Government decision takes a different approach. By deciding about the formats first, the UK creates the conditions necessary to have real choices for its government and its citizens, thus setting a level playing field for everyone. Many people have understood this decision as being a move against Microsoft. It is not or at least it should not be. Microsoft Office implements ODF files and its latest editions, as I'm being told are actually quite good at it. What this move does, however, is to ensure no other solution will be at a competitive disadvantage because of a technical or legal (aka patents) lock-in. Of course, it remains to be seen what concrete actions the UK Government will take in order to ensure a smooth transition between proprietary formats and open standards; and it remains to be seen how well it will ensure a proper change management across all of its departments so that its agents feel comfortable with ODF documents and whatever new office suites that may be adopted as a result of the decision. Much could be lost at that stage, but much could be gained as well. And of course, just like with the Netherlands, the decision itself might end up being toned down or take a somewhat different meaning.
»
Printer-friendly version

934 reads

PDF version
More in Tux Machines
Intel's "Utter Garbage" Code Bricks and Delays Linux, Torvalds Furious

today's leftovers

Compilers and CLI: LLVM, GCC and Bash

KDE/GNOME: Usability and Productivity, Krita Interview, GNOME Builder

This is your weekly status update for the KDE community's progress in the Usability and Productivity initiative. KDE contributors have been busy, and here's a sampling of features, improvements, and bugfixes relevant to the initiative that KDE developers landed over the past week-and-a-half...

How and when did you get to try digital painting for the first time? Probably when I first discovered Deviantart. I was already familiar with GIMP, which I used to create photo-manipulations with. But seeing all the amazingly talented artists on there made me want to try out digital painting for myself.

I've been very busy with Builder since returning from the holidays. As mentioned previously, we've moved to gitlab. I'm very happy about it. I can see how this is going to improve the engagement and communication between our existing community and help us keep new contributors. I made two releases of Builder so far this month. That included both a new stable build (which flatpak users are already using) and a new snapshot for those on developer operating systems like Fedora Rawhide.