Ripe Linux Nits To Pick
Submitted by Rianne Schestowitz on Saturday 26th of July 2014 08:06:40 PM
Filed under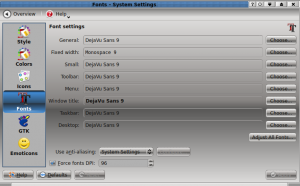 I remember when I dove into Linux at full tilt boogie. It was 2004. Nickelback could still be found in the top 10 charts, The Boston Red Sox broke the Curse of the Bambino and wireless support in Linux absolutely sucked. What a long way we've come. So these days, when people gripe about this or that not working in Linux, most of those complaints seem almost trivial.
More in Tux Machines
Open source software is for everyone – so where are the women?

We all know that there is a diversity problem in tech. The depressing stats from numerous reports and studies all point to stereotypes and bias hitting young girls' perceptions of STEM negatively, with this sitting alongside poor retention figures and a lack of women at the board level. However, one particular branch of tech may be struggling in more when it comes to diversity and inclusion – the one branch, in fact, which has inclusiveness at the very core of its ethos.

Google launches new site to showcase its open source projects and processes

Google is launching a new site today that brings all of the company's open source projects under a single umbrella. The code of these projects will still live on GitHub and Google's self-hosted git service, of course, with the new site functioning as a central directory for them. While this new project is obviously meant to showcase Google's projects, the company says it also wants to use it to provide "a look under the hood" of how it "does" open source.

Tizen and Android

A few days ago, a new variant of the Samsung Z2 has been WiFi certified, model number SM-Z200M/DS – Do you notice the new "M" in the model? The hardware version is listed as Revision1.0, so that is final and it is WiFi certified with connectivity b, g, n; WPA, WPA2 and WiFi Direct – basically the usual suspects.

Android Inc. cofounder and former CEO Andy Rubin has taken to Twitter to tease a new slim-bezeled smartphone. This is the first device we've seen from Rubin's new startup, called "Essential."

Day of Infamy, CRYENGINE, and Performance Tools

I was caught off-guard by just how fun I found Day of Infamy, for a more realistic and harsh experience it sells the brutalities of war damn well. From the chatter between the troops, to seeing your comrades burnt to a crisp by a flamethrower, it has a lot of variety to it.

People who follow the video game industry will have come across the CRYENGINE name before. This particular video game engine is used in the popular FarCry games. Crytek, the company responsible for developing the engine, made their product open source some time ago. Such a powerful technology needed to be made accessible to both large and indie game developers alike. A few years ago, licensing CRYENGINE was rather problematic, which is why Crytek decided to switch things up a bit.

Linux system optimizer and monitoring app Stacer has picked up a few new features — just in time for some early spring cleaning!